Jenna's journey to the PING dynasty
Tuesday, February 28, 2023
Media Contact: Stephen Howard | Manager of Communications | 405-744-4363 | stephen.howard@okstate.edu
The golden putter vault at PING headquarters in Phoenix is the stuff golf dreams are made of. Known as the "Fort Knox of Golf," the vault houses what is believed to be the most expensive collection of clubs on earth.
Karsten Solheim, the founder of the golf equipment giant and the namesake of Oklahoma State's campus course, created the vault back in the 1970s to celebrate each professional who swings a PING to victory. Two gold-plated clubs are made after each PING player's tour win — one for the golfer to keep and one for the vault. After 50 years, the room is now lined with about 3,000 golden clubs, including over 100 that commemorate major championships on the PGA, LPGA and Champions tours.
Golfers across the world dream of stepping foot into the shimmering vault. But to Spears School of Business MBA student Jenna Solheim, the vault was just another thing she had to clean and organize during her summers working at the family business — a business she plans on running someday.
"When I was growing up, I thought everyone had a gold putter vault," she said. "I just thought it was normal, because to me PING was our small, family business. If I saw someone wearing a PING hat I thought, 'Hey, they must know my dad.'"
PING is indeed a family business, but it's grown exponentially from the mom-and-pop operation Jenna's great-grandfather started in his garage nearly 70 years ago. An engineer by trade, Karsten imagined a new and better way to construct a putter. He used his engineering skills to build the club with an offset design that happened to make a "ping" sound when it struck the ball. It also transformed golf equipment forever.
Today, PING still carries that innovative spirit and is recognized as one of the top equipment manufacturers in the sport. Turn on a pro event and you're likely to see a dozen or more players repping PING gear, and the operation is now run by the Solheim family's second and third generations.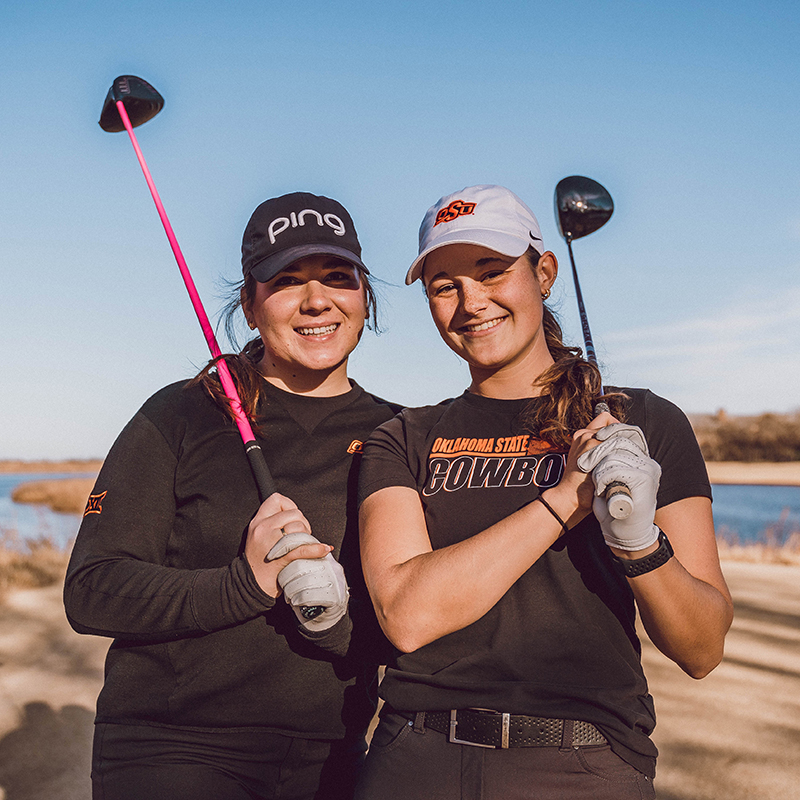 Jenna represents the fourth generation of the PING dynasty, and she's coming into her own as a student-athlete at OSU. In December 2022, she earned her bachelor's degree in marketing and management in three and a half years while also serving on the boards of the OSU Student-Athlete Advisory Committee and the Fellowship for Christian Athletes. She even earned "Lead Rider" recognition as one of the top Spears Business marketing students. She accomplished all that while also committing countless hours each week playing for the women's golf team.
They didn't draw it up this way, but Jenna ended up following in the footsteps of her father, Andy Solheim, who also played for the OSU golf team while earning his general business degree in 1994 and his MBA in 1998. He is now the executive vice president of business development at PING headquarters in Phoenix.
"Andy and Jenna remind me a lot of each other," said Greg Robertson, Cowgirl golf coach and Andy's former Cowboy golf teammate in the mid-1990s. "They both came to Oklahoma State as walk-ons, and while they only played in a few tournaments, they both developed a love for this place. He was an amazing teammate — someone you just love being around. Jenna is the exact same way. She comes out, she works hard, she's always got a smile on her face. That's what's been fun is her attitude about things. She's on track to do some really good things."
A relative newcomer to the game, Jenna's golf journey began in the summer of 2015 when she attended the Cowgirl Golf Camp after her sophomore year of high school. That week hooked her on both the sport and OSU, and it set her on a path to return to Stillwater as a member of the golf team in the fall of 2019. Jenna knew she wasn't going to be the team's star player, but her role as a walk-on gave her a front-row seat to train with and compete against some of the best players in the country. She not only honed her game, but she got a unique look at how elite players operated, and she learned how to support her teammates as they prepped and played in big events.
Jenna also got a history lesson. She learned about the outsized role her great-grandfather played in the legacy of OSU golf, and the friendship he formed with former Cowboy golf coach and OSU athletic director Mike Holder. Karsten committed much of the financing for Holder's dream facility, Karsten Creek Golf Club, and Holder made PING the official outfitter of the best and most visible collegiate program in the country. But the friendship extended well past the negotiating table. Holder was even present at the hospital when Jenna was born.
What was once a hobby quickly turned into a hunger for Jenna, who saw her love for golf match up with the marketing and business expertise she was gaining on campus. It followed her home to Phoenix during the summers, too, where she started taking on more active roles at PING. She wasn't organizing the golden putter vault anymore. Jenna was working in the business office and in production, and she got a front-row seat to the family atmosphere at PING.
She noticed that her father and grandfather seemed to know every employee by name, their back story and how their kids were doing. It made an impression on Jenna, and it made her want to work even harder to win over her PING coworkers.
"It doesn't matter what you ask her to do, whether it's bookkeeping, accounting, cleaning, she's going to sit down and get the job done," Andy Solheim said. "She's built that respect within multiple departments here."
That respect led to a role that perfectly matched her skillset; pro player rep. The liaison between PING and the professionals out on the course, a player rep travels to tournaments to support the golfers, maintain relationships and ensure that every PING player has what they need to succeed. That could include equipment checkups, club fittings, gear updates and everything in between. Her Stillwater training made Jenna a natural at this new role, and to the surprise of no one, she proved a success at it.
"I think I learned the most from my teammates because they're such great golfers," Jenna said. "To see the work that they've put in and their grit on the course, and to see what matters to them in a swing, in a club. To hear everything that they think about, because they have a totally different perspective on the course. To really know what matters to them, what means the most to them. I think that has shaped me a lot and helped prepare me for opportunities in the future."
What does the future hold for PING? If Jenna has anything to do with it, one of the biggest brands in golf will focus on growing and supporting the women's game. In her time as a player rep, Jenna has seen the gap in coverage at men's and women's events at all levels of golf, not just at PING, but across the industry.
Supporting female golfers at the youth level is key, Jenna said. The parents of elite girls don't realize the resources available to them. Player reps at girls' events are few and far between since most equipment manufacturers don't market to that group. But she sees this as a "massively growing market," and that bringing support to girls' golf will inevitably grow the women's game. Earning a spot on the LPGA Tour is an expensive and time-consuming process, and she wants to take some of that burden off the next generation of players while inspiring them at the same time.
It's not lost on the Solheim family that in thinking this way Jenna is showing the same innovative streak as her great-grandfather, Karsten. Rather than developing the newest feature on PING's latest iron, Jenna is geared towards gaining an edge in marketing.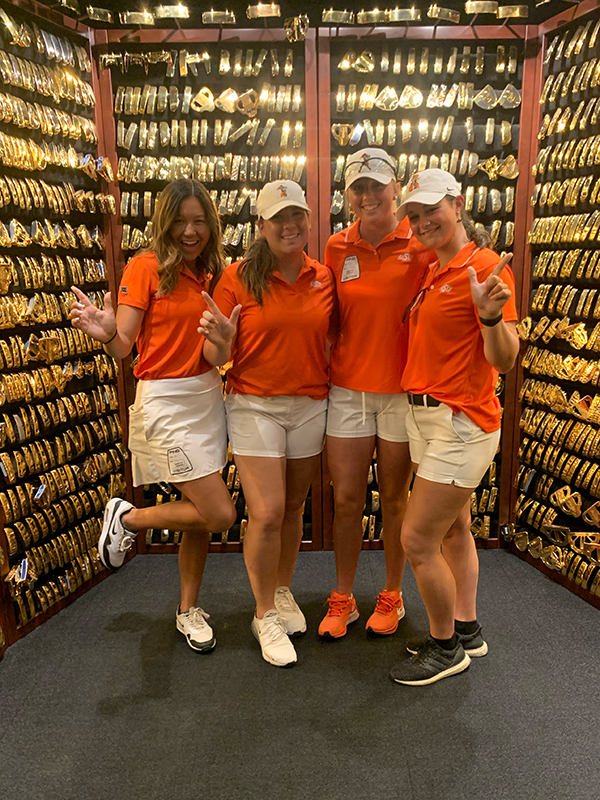 One of Jenna's goals is to make PING a trendier brand, so she started the company's TikTok account last summer. The account features videos with tons of touring pros, golf tips and even a trip into the golden putter vault. Former OSU All-American Viktor Hovland, a three-time winner on the PGA Tour, even stars in a few of the videos at Karsten Creek.
"Innovation doesn't have to necessarily be engineering," Andy Solheim said. "I think a lot of times it gets pigeonholed that way. But ultimately, you can be innovative in how you market things and how you work with players. So, to have that vision of being innovative outside of a product is pretty cool.
"She's grown into a young woman who knows what she wants. She's become very driven in what she ultimately wants to do once her college career is over. But, she's not ready for that college career to be over just yet."
Indeed, Jenna isn't in any hurry to wrap up her time with the Cowgirl golf team, but she expects to finish up her MBA in the spring of 2024. After that, she would love to expand her role as a pro player rep and eventually make her way into the marketing office at PING.
For a career that began with a summer job organizing golden putters in the PING vault, Jenna doesn't hold any punches when it comes to her career ambitions.
"My ultimate goal is to one day be CEO," Jenna said with certainty. "That's my ultimate goal. That's very far down the line, but that is the end goal. And so, anything that I do up to that point is to get there."