OSU Diversity Hall of Fame honors seven new inductees and two rising stars
Wednesday, October 18, 2017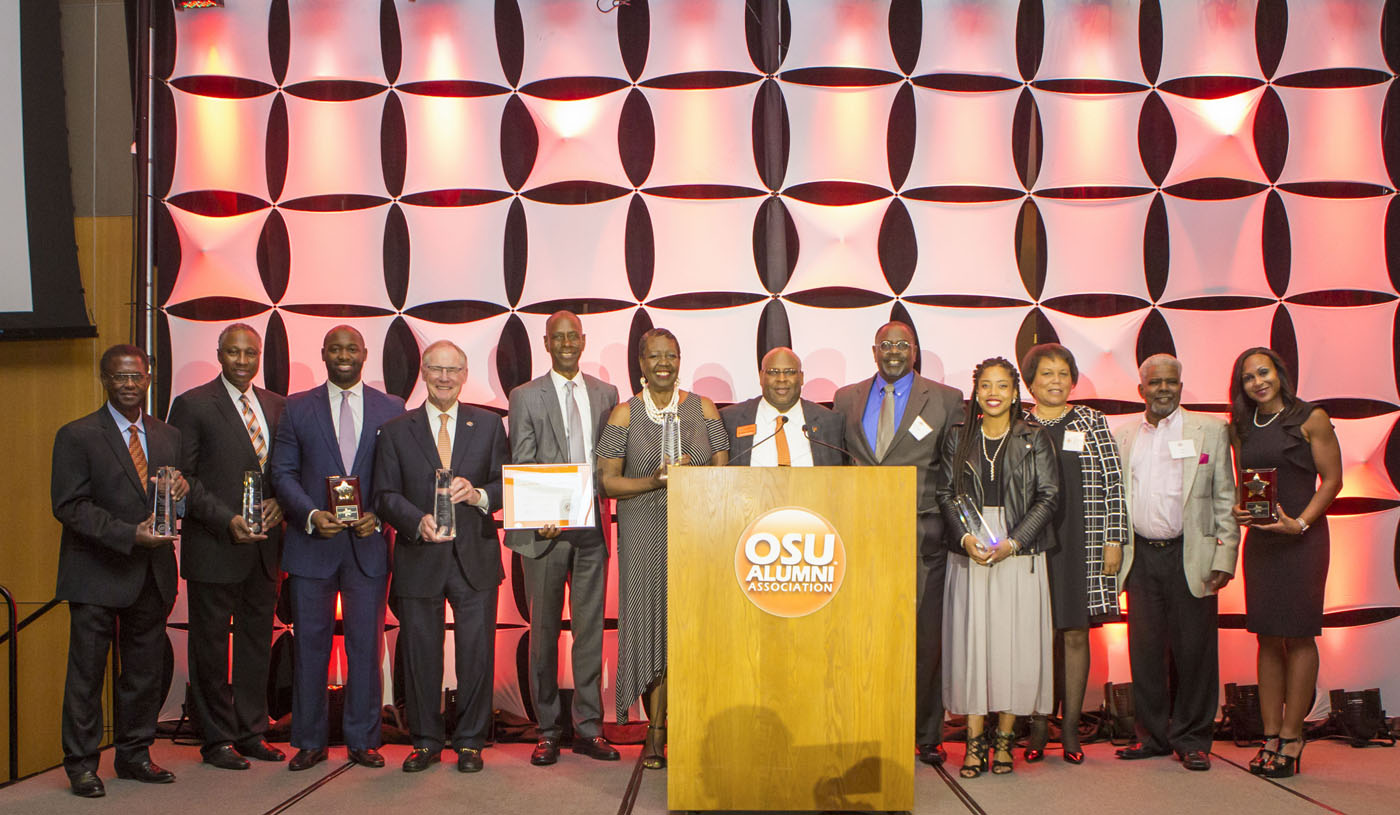 The Oklahoma State University Diversity Hall of Fame recently inducted seven new honorees and two Rising Star Award recipients during a live broadcast of the ceremonies held in the ConocoPhillips Alumni Center, Oct. 12. The event, which included the Afro-Am Homecoming Gala and hall of fame honors, was sold out for the third year in a row.
The OSU Diversity Hall of Fame recognizes alumni and university supporters who have significantly contributed to the advancement of diversity and inclusion at Oklahoma State University and who have distinguished themselves through their particular field or profession and the betterment of their community. The hall of fame was established by the Division of Institutional Diversity at OSU.
"OSU is proud to honor this year's class of inductees and Rising Star Award recipients for demonstrating a desire to exceed all expectations and achieve excellence at OSU and beyond. Their legacies remain embedded in the fabric of the institution," said Dr. Jason F. Kirksey, vice president and chief diversity officer for the OSU Division of Institutional Diversity.
This year's inductees include Dr. Huey Jefferson Battle (posthumously), Samuel Combs III, Dr. Claud Evans, Brenda D. Neal, Archie Ransom and Lloyd Ransom, with special recognition of OSU President Burns Hargis as a member of this class, as well as rising star honorees Dr. Krystal Beamon and Andre I. Storey.
The late Huey Jefferson Battle served in the U.S. Army Air Corps during World War II before returning to civilian life and graduating from Langston University in 1947. He received a master's degree from the University of Wisconsin, and he earned his doctorate in agricultural economics from OSU in 1954, making him the first African American in Oklahoma to earn a doctoral degree. He directed the division of agriculture at Langston University for a decade before starting a distinguished 23-year career at Virginia State University, where he founded the Bureau of Economic Research and Development, strengthening numerous international ties, including links with colleges in East and West Africa. He retired in 1985 as vice president of research and development at VSU.
Samuel Combs III is CEO and founding partner of COMSTAR Advisors, a consulting and private investment firm. He recently retired from ONEOK where Combs served as president of ONEOK Distribution Companies with financial responsibilities for its natural gas distribution segment. Prior positions included various engineering, operating and executive roles with Oklahoma Natural Gas Company, a ONEOK subsidiary. He received a degree in industrial engineering and management from OSU and graduated from the University of Michigan executive program. He also completed studies at Harvard, Colombia and Stanford Universities.
Dr. Claud Evans is the owner and operator of the Okfuskee County Veterinary Clinic in Okemah. He has a bachelor's degree in agricultural biochemistry from Oklahoma State University and a doctorate in veterinary medicine from Tuskegee Institute in Alabama. Prior to opening his practice 34 years ago, he worked in management with Ralston Purina Company's Veterinary Services, Consumer Products, and Chicken of the Sea divisions. Evans served two eight-year terms on the OSU Board of Regents and chaired the board twice during that time.
The support of OSU President Burns Hargis in advancing diversity and inclusion at OSU has been vital to the progress and national recognition the university now enjoys. Hargis has also guided OSU to record enrollment and fundraising since taking office in March of 2008. He holds degrees in accounting from OSU and law from OU and is the second OSU graduate to lead the university as president. A former OSU Regent, Hargis also served 11 years in banking and practiced law for 28 years in Oklahoma City. He is the former president of the Oklahoma and Oklahoma County Bar Association and a fellow of the American Bar Foundation. Hargis was inducted into the Oklahoma Hall of Fame in 2009.
Brenda D. Neal is a senior vice-president of investments, and financial advisor in global wealth management at Morgan Stanley Smith Barney in New York City. She has 38 years of experience in planning and managing investment assets. She is an arbitrator with oversight over all securities firms that do business with the public and she is also an activist for women and underserved minority youth with a focus on upgrading their education and job skills. The Oklahoma City native graduated from OSU and received a master's degree from New York University.
Archie (Stevenson) Ransom graduated from Oklahoma State University in 1958 with a degree in food nutrition and institutional management, which served her well as a dietitian with the Los Angeles County Hospital and later as an instructor with the Los Angeles County School System. She took a six-year leave from her career to manage a family of three growing children, but returned to work as a dietary director for a mental health center in Denver which produced about 300,000 meals a year. While Ransom remembers tense racial times on the OSU campus, she has dedicated her life to ensure that was not reality for her children and grandchildren. She met her husband Lloyd while at OSU.
Despite a stellar academic and extracurricular record at Booker T. Washington High School in Tulsa, Lloyd Ransom was denied acceptance to the major universities in Oklahoma in 1952. While he did attend a college out of state for a time, he had to leave due to financial constraints. He served an overseas tour of duty in the U.S. Army before returning to the classroom, where he earned a chemistry degree from OSU in 1958. He started work in the aviation industry, first as a research chemist, then chemical engineer and later as a research materials manager before co-founding his own business. While in California, Ransom battled for fair housing and equal employment.
This year's Rising Star Award winners are Dr. Krystal K. Beamon and Andre I. Story.
Krystal Beamon serves as an associate professor of sociology and faculty associate with the Center for African American Studies at the University of Texas at Arlington, where she was recently named outstanding faculty member. She received her bachelor's degree (summa cum laude), as well as her master's and doctoral degrees from Oklahoma State University, where she was an All-American track and field athlete. Her research interests are race and ethnicity, the sociology of sport and the contemporary African-American experience. She is the author of several related publications and the recipient of the University of Texas Regents Outstanding Teaching Award, Dean's Accolade Endowment Award for teaching excellence.
Andre Storey is the regional vice president of ancillary services at CHRISTUS St. Patrick Health System, a subsidiary of CHRISTUS Health. He has overseen hospital operations and joint ventures that support the organization's mission in Lake Charles, La. since 2014. Earlier, he served as the first director of population health management for CHRISTUS St. Michael Health System in Texas, focusing on improving health care access and the overall health of those who are often underserved. Storey founded the Greater Texarkana Young Professionals and is board certified in health care management. He graduated from OSU with a degree in business administration and earned a master's degree in healthcare administration from Trinity University.
For more information about the Division of Institutional Diversity at OSU, as well as related activities and departments, go to https://diversity.okstate.edu/.
VIDEO: https://ostate.tv/?play=73C2041C-7B48-FF42-3581-16DD9FC03405