Former Flying Aggie and OSU alum Wally Funk helped pave the way for women in space. Funk was inducted into the OSU College of Education, Health and Aviation Hall of Fame in 2010.
She is now featured in Netflix's upcoming documentary, Mercury 13, about 13 women who underwent the same training as the official male candidates for the first manned space flight but were denied their chance to soar into space. The documentary will be available for streaming on April 20.
Watch the official trailer and read more about Funk in the Spring 2009 STATE Magazine below.

Wally Funk felt like she was floating in space.
It was 1962, and Funk had volunteered to be a test subject in a private program evaluating women's ability to endure space travel.
She'd been told to float on her back as long as possible in a tank of water matching her exact body temperature.
The room was dark and empty except for listening devices overhead that relayed her breathing and heart rhythm to obscured scientists. Audible changes could indicate the onset of hallucinations, a typical reaction to long-term isolation and sensory deprivation.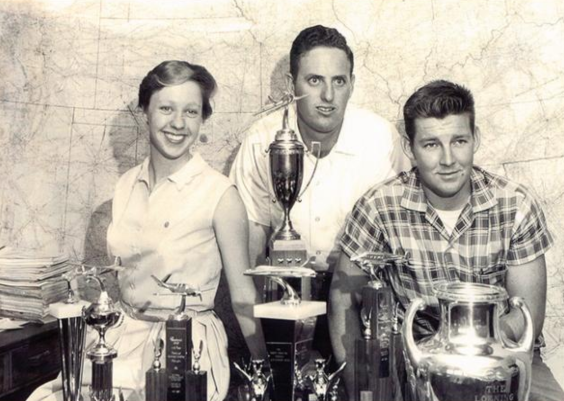 "Pretty soon, you lose all your senses," she says. "I couldn't feel, taste, touch or hear. All of my senses were taken away from me.
"I thought, 'This is an exciting adventure I'm going through.' I had nothing but my mind to rely on."
As time ticked by, the 22-year-old aviator thought about her first ride in an airplane at age 13 and earning her private pilot's license at 16.
She knew she had inherited the "aviation gene" from her mother, whose fascination with flight began in 1918 when she took a spin over her Illinois hometown with a barnstormer. Her mother might have become a pilot, like herself, if her grandfather hadn't warned, "Young ladies do not fly!"
A generation later, Funk's mother encouraged her to pursue aviation and was delighted to be her first passenger.
Still lying motionless in the tank of water, Funk remembered the thrill of competing with the Flying Aggies of Oklahoma State University and, earlier, with the Flying Susies of Columbia, Mo.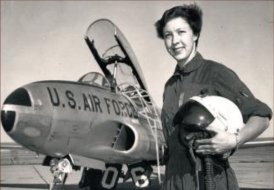 After graduating from OSU in 1960, Funk made history as the military's first female civilian flight instructor at Fort Sill, Okla.As a Flying Aggie, Funk wore the team uniform — white coveralls, cowboy boots and cowboy hats — for two years while flying at International Collegiate Air Meets and winning awards such as Outstanding Female Pilot, Flying Aggie Top Pilot and the Alfred Alder Memorial Trophy.
Now, in this space-flight testing program, she had already completed the physical and mental tests that America's first astronauts — all male — had endured, and was undergoing a new sensory deprivation test that none of the men and only two other women took.
When the researchers finally told Funk she could exit the tank, they asked her to guess how long she'd been in the water. She supposed three or four hours.
She was surprised — and the researchers were amazed. She'd been floating contentedly for an astounding 10 hours and 35 minutes.
A SECRET PROGRAM
The first 13 women to participate in America's space program proved they were as physically and mentally suited for space travel as men. They also generated political debate and dialogue about women's rights long before they were written into law.
But don't expect to read about these aeronautical pioneers in most history books.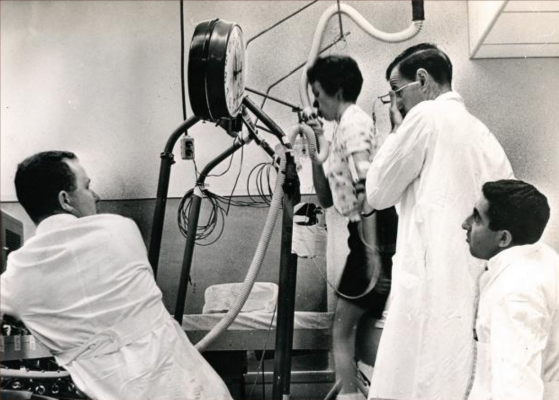 Martha Ackmann, professor of gender studies at Mount Holyoke College and a Fellow at the Radcliff Institute at Harvard University, says these female aviators deserve far more recognition and gratitude than they've received.
"These women known as the Mercury 13 are pioneers in social and gender equality," she says. "They forced NASA, the White House and Congress to rethink what women were capable of doing and what women wanted to do."
Ackmann chronicles the women and the program in her book The Mercury 13, winner of the Amelia Earhart Medal for aviation writing and the media prize from the American Institute of Aeronautics and Astronautics.
America's urgent race against the Soviets to be the first in space, along with gender stereotypes of the time, brought an end to the women's program before the completion of space simulation and weightlessness tests.
"Expediency was put ahead of equity," says Ackmann, adding it's puzzling that President Lyndon Johnson, a proponent of civil rights, didn't seem to perceive the gender discrimination inherent in his decision.
"It was difficult back then to even raise the question: 'Would women have the brains, the inclination and the performance ability to take the same tests as men?'" Ackmann says. "That took an enormous intellectual leap."
Ackmann and Funk came to OSU last spring as guests of OSU's Women in Engineering, Architecture and Technology. They described to the young audience the prevailing attitude of the 1950s and '60s that insisted women weren't suited for anything beyond housework.
Fortunately, a few scientists realized women offered obvious advantages for space flight such as a lighter payload at liftoff because they weigh less than men and require less oxygen.
All 13 women passed the same physical tests as the men. In fact, the scientists found few differences between the sexes, except the "women didn't whine as much."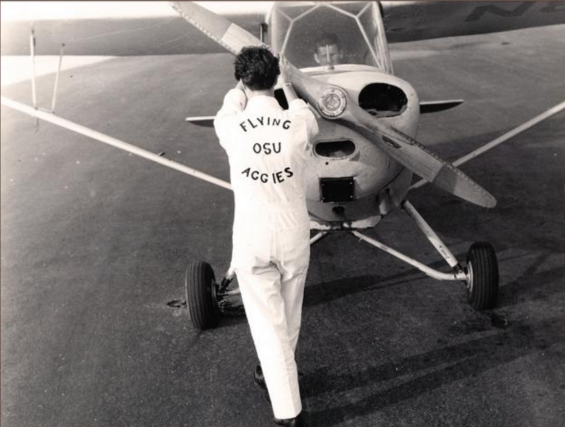 That's because these women realized the reward for triumphing over the invasive and grueling tests extended far beyond personal achievement or patriotic duty to the space race, Ackmann says.
They realized their success or failure would either expand or further restrict opportunities for women.
"If the Mercury 13 women had failed," Ackmann says, "they would have set back all possibilities for American women to go into space."
But because of their success, NASA eventually accepted women astronaut candidates in the late 1970s. In 1983 Sally Ride became America's first female space mission specialist, and in 1995 Eileen Collins became the first female space shuttle pilot and in 1999 the first female shuttle commander.
"Saying that the Mercury 13's efforts don't matter because it took another 20 years for women to join the space program is like saying the failed petition for women's suffrage in 1848 in Seneca, New York, didn't matter because 72 years later women gained the right to vote," Ackmann says.
"The Mercury 13's accomplishment proves that women want to live large and explore the universe as much as men do. This was a test of America's national character as much as anything else, and women passed with flying colors."
HIGH-FLYING ADVENTURER
In 1961, Funk read a Life magazine article about Oklahoman Jerrie Cobb, winner of three international aviation awards who had successfully completed the tests given to male astronauts.
Inspired that scientists wanted additional female candidates, Funk immediately wrote to the Lovelace Medical Foundation in Albuquerque, N.M., where former NASA physician Randy Lovelace would administer the tests, and asked to participate.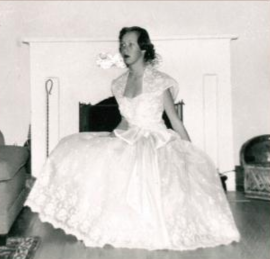 Of the 25 women invited — mostly members of the Ninety-Nines, an organization of women aviators founded by Amelia Earhart — 19 accepted. The other six were unwilling to give up their hard-won aviation jobs for a long shot at space travel or simply considered it a "hair-brained idea," says Ackmann, who interviewed participants and their families for her book.
The 13 women who qualified went on to make history.
What began as a "girl astronaut program" under the Air Force and NASA evolved into an independent "women-in-space program" with NASA's knowledge but not its official sponsorship.
As the youngest of the Mercury 13, Funk met all the initial requirements, including specific pilot licenses and more than triple the necessary number of flight hours.
Once accepted, Funk found the experience difficult yet "quite magical."
Space travel was still an unknown entity, so researchers had to simulate every imaginable environment and every physical or mental condition a space traveler might experience.
"I can't tell you how many times I had my hands and feet in freezing 10-degree Celsius water 'til I couldn't stand it," Funk says. "Or have the cold water injected into my ears to induce vertigo. That was probably the hardest test for me to take."
Each candidate spent a week undergoing nearly a hundred physical and mental endurance tests that ranged from swallowing three feet of rubber hose for gastric analyses to electric stimulation of nerves. Needles, not tape, connected electrodes to the candidate's head, arms, legs and other areas to monitor physiological changes.
"The Lovelace Clinic wasn't for people who were 'normal,'" she says, straight-faced. "I didn't know they could do such things to your body."
And when the program abruptly ended, Funk took the initiative to proceed independently with the space simulation tests.
She traveled to the University of Southern California to experience gravitational forces in a spinning centrifuge and was the first female to take the high altitude chamber test at El Toro Marine Corps Base.
"You should have seen all those noses pressed to the glass to see what would happen," she says. "Nothing happened. I just passed."
TAKING FLIGHT
Growing up a skilled outdoorswoman in Taos, N.M., Funk loved to camp and hunt and to compete in shooting and snow skiing events.
Fear never entered her mind, she says, because her parents taught her how to educate herself rather than fear things she didn't understand. "Fear was not a part of our family," she says. "My parents emphasized education."
At 5, she jumped off the family barn thinking her Superman cape would enable her to fly — until she landed in a haystack. "I didn't understand gravity yet," Funk says.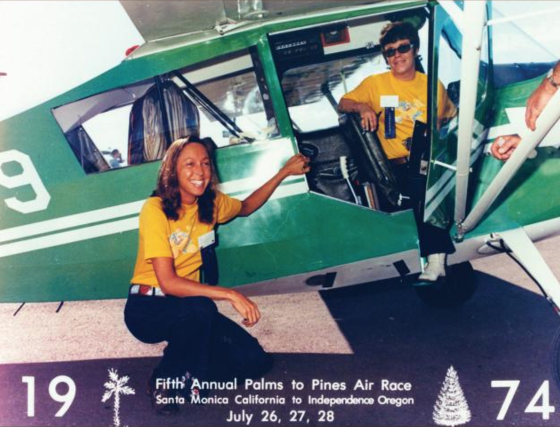 At 16, when a broken back ended her dream of qualifying for the Olympics in snow skiing, she turned her attention to aviation at Stephens College in Missouri.
Flying with the school's Flying Susies at collegiate flight competitions, she noticed the Flying Aggies consistently winning the top awards. "I saw OSU's Flying Aggies walk off with all the trophies and thought that's where I want to go."
After graduating from Stephens, she enrolled at OSU. Thanks to her generous parents, Funk flew nearly every day while pursuing a degree in secondary education.
Even her Alpha Chi Omega activities paled in comparison to flying. "We used to have formal dances, and I would go and say my 'howdy do's,' then I went back to my room, changed clothes, climbed out the window and went flying," she says.
"If you really wanted to fly, you had to have the love and passion for it.
"Competing with and being a member of the Flying Aggies was absolutely wonderful," she says. "The camaraderie was fantastic.
"We had a great instructor, Tiner Lapsley, who drilled us every weekend to make the team the best it could be."
He also prepared Funk to become a successful flight instructor.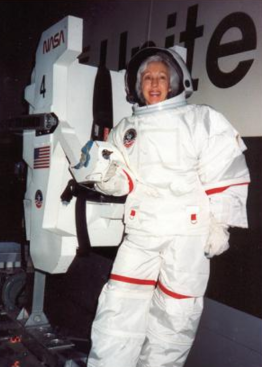 "Teaching aviation has been my life," says Funk, who has trained and soloed thousands of pilots using Lapsley's techniques over the last 51 years.
"I get a great feeling knowing I'm producing good, safe pilots, whether they go into the military, the corporate world or the airlines," says Funk, who has taught at nearly a dozen U.S. flight schools. She's accumulated more than 17,700 flying hours, an impressive number in itself that would be much higher had she worked as a commercial pilot. Funk applied to three airlines after earning her Airline Transport Rating in 1968 but, like other women, wasn't accepted because planes lacked "girls' bathrooms."
When NASA finally began accepting women in the late 1970s, Funk applied three times. Despite her impressive credentials, she was turned down for not having an engineering degree or a background as a test pilot.
But nothing has stopped her from exploring various interests in aviation. She's flown all types of single- and multi-engine airplanes, single-engine helicopters and even worked the controls of hot-air blimps.
She's competed in numerous transcontinental races including the Powder Puff Derby (now Air Race Classic), Pacific Air Race and the Bahamas Air Race. Her favorite, the Palms to Pines Air Race from California to Oregon, is more like a reunion among friends than a typical competition with fiercely guarded logistics, she says.
At 70, she continues to prepare herself for space flight and doesn't let hip and knee replacements slow her down.
"I'm still going into space one day," says the 1995 Aviation Women's Hall of Fame inductee who lives in Trophy Club, Texas.
In 2000, she relived the sensation of five g-forces at Star City, a Russian cosmonaut training center, where she also wore a 300-pound space suit and learned to dock a spacecraft simulator with an orbiting space station.
She experienced the weightlessness of space during 10 parabolic flights in a Russian plane larger than the U.S.'s space simulation airplane. She is hoping to be selected for a Russian space flight through Space Adventures of Washington, D.C.
So when the opportunity for space travel does arise, Funk will be ready.
And if it doesn't, she'll be ready anyway.
That's her style. Funk decided long ago to ignore society's stereotypes and chart her own course.
"I always knew I could do anything I wanted to," Funk says. "I was ahead of my time in everything I did."
Story by Janet Varnum