OSU leads efforts to improve students' math success at all Oklahoma colleges
Monday, November 19, 2018
For students who struggle in math, it doesn't matter which of the 27 public institutions governed by the Oklahoma State Regents for Higher Education they attend. With the help of a team of mathematicians from Oklahoma State University, all of the colleges are working together to improve student success in entry-level math courses, and the pilot results have been astounding.
The work began with a 2012 Regents task force, the Mathematics Success Group, which identified five goals to improve student success, ranging from better preparation through more engaging teaching methods and developing academic success skills. After its report was released in 2015, two working groups — Mathematics Pathways to Completion and Math Co-requisite Instruction at Scale — focused on two of those goals and merged to become today's Oklahoma Mathematics Task Force. A new group, the Mathematical Inquiry Project, is tackling two of the three remaining goals from that report.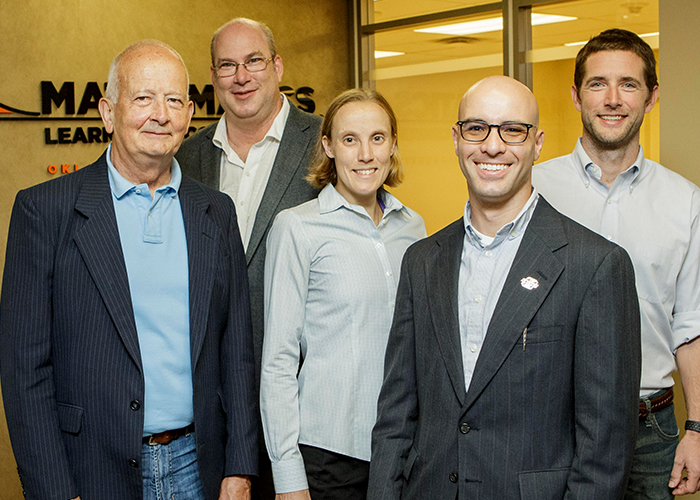 Dr. William Jaco, Regents Professor and Grace B. Kerr chair; Dr. Michael Oehrtman, Noble Professor of Mathematics; and a team of OSU faculty members including Dr. Allison Dorko, Dr. John Paul Cook and Dr. Michael Tallman submitted a proposal in December that won a $3 million grant from the National Science Foundation's Division of Undergraduate Education last summer. For the next five years, the Mathematical Inquiry Project will support teams of mathematicians to improve student success in entry-level college math classes across Oklahoma. Their work will be disseminated statewide through workshops and mentoring programs.
Jaco co-chaired a statewide working group that focused on enrolling students in math classes most relevant to their degree path. Committee members believed that students would succeed at higher rates if they saw the class as more meaningful to their own academic interests. Oehrtman served as co-chair of a working group on co-requisite instruction, which places students who need developmental mathematics incredit-bearing courses with additional classes and support built in.
Jaco offered examples of the initiative's success from math pathways and co-requisite instruction at Oklahoma State.
"If you have a student who comes to OSU to take college algebra and requires remediation or developmental math, fewer than 20 percent would have earned college credit in two years," he said. "Now, if they enroll in the co-requisite course, roughly 70 percent are earning college credit in one semester. They're taking the same tests as the other students, and they're succeeding at approximately the same rates."
Oehrtman agreed.
"Across all semesters we have done this, on average, these students do just as well as the students who enroll fully prepared," he said. "It's amazing."
The Department of Mathematics looked at the data on student success in college algebra for three years before the co-requisite courses were offered and for three years after the program began.
"Essentially the same number of students took the courses during both of those three-year periods, but in the second three-year period approximately 1,800 more students received college credit for the course in one semester," Jaco said. "It hit me how many kids we were leaving behind. This is wonderful what Oklahoma is doing."
"Things we worked on before, math pathways and co-requisite remediation, those are structures you can put into place," Oehrtman said. "They're not easy to do, but they're fairly straightforward. You create classes. You offer more support. You advise students in specific ways. Now, we're talking about individual classroom instruction. How do you teach those courses?"
These instructional changes require a shift in culture. Students are now being placed in a class that provides the best fit, they're being given extra support when needed while they're in a credit-bearing class, and student engagement has been moved to the forefront.
"The Mathematical Inquiry Project will address those issues," Jaco said. "The faculty teams will develop modules that will look at the concepts students should gain from entry-level courses. We will be getting all those faculty members together who are interested in a specific course and then develop modules for the concepts, and then bring applications and different ways of developing academic success skills into the modules. Each faculty member will have not only the structure of what the concept is but also ways to get the students actively engaged. We will be helping the faculty prepare to teach the courses, so it won't matter which public institution a student attends; each one will be trying to accomplish the same outcomes."
The benefits will extend beyond the classroom and improve a student's ability to transfer to a different university and continue to find success in courses requiring math prerequisites.
"We are trying to make these entry-level courses seamlessly transfer between the different institutions so we can help and support each other," Jaco said. "Oklahoma is in a good position because all of the public institutions are set up under one Regents system. It's a phenomenal opportunity to accomplish something statewide."
Oehrtman said historically the courses have been taught behind closed doors.
"We haven't had the opportunity to talk to our colleagues about 'How do you do this? How do you do it well?' It's hard to find the time to have a dialogue about engaging students in meaningful problem solving and inquiry," he said. "This provides the time and support for people to do that well across the state."
The products developed by each committee will be peer-reviewed and disseminated statewide. Committee members will be eligible for professional recognition for the products, which will be publicly available for faculty members to implement in their own courses.
The $3 million award for the Mathematical Inquiry Project is about more than refining, evaluating and disseminating information.
"This isn't just an implementation and support project," Oehrtman said. "There's an associated research component. That's why we're running it through OSU. What we're focusing on with the research is the process of cultural change in math departments and in the classroom among faculty."
Working with the OSRHE provides researchers with extensive amounts of information and multiple ways it can be analyzed. The Regents keep detailed records. Researchers working on the Mathematical Inquiry Project will be able to track how well students did in math courses in high school as well as how they fared in their college math courses, whether they continued in further coursework, and ultimately whether they obtained a certificate or degree.
"The Regents keep detailed records of students through secondary and postsecondary education," Oehrtman said. "I'm not sure you could do this in many other states."
Implementing results will be a focus of the grant.
"How do faculty members use these materials? And, if faculty use more of them, do students do better in any measurable way? We won't measure it just by course grades in a single instance, but persistence into the subsequent courses that depend on that. And long term, we will be measuring degree completion," Oehrtman said.
Jaco and Oehrtman are excited to see the results from the Mathematical Inquiry Project in the years to come.
"You see a lot of education reforms come and go," Oehrtman said, "but you almost never see anything with this kind of potential for impact."