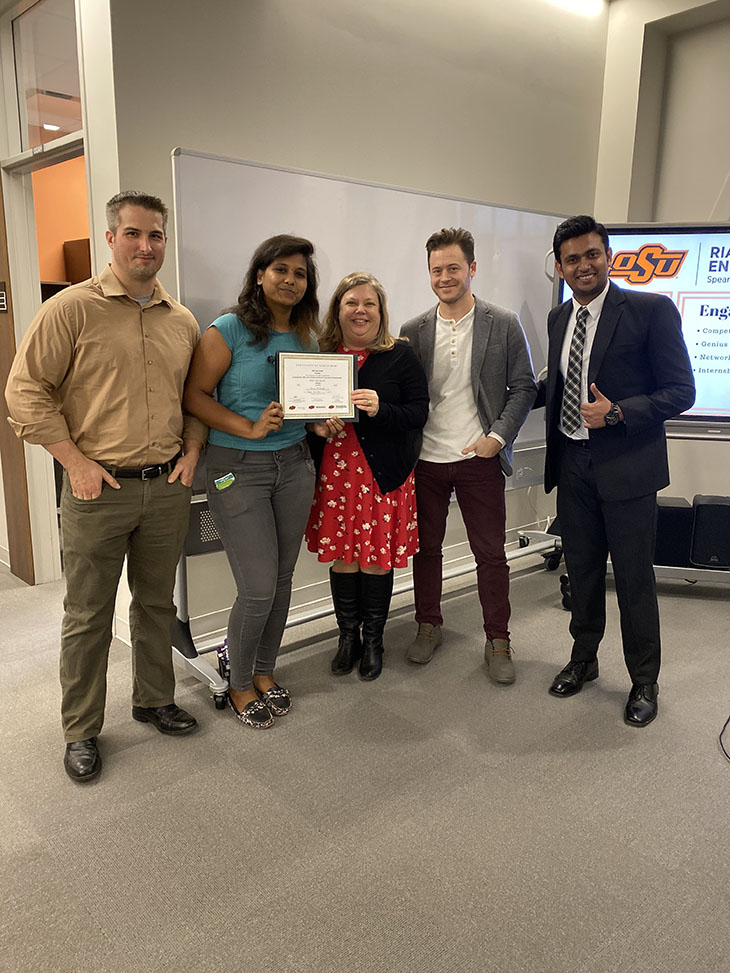 OSU app competition Phase I winners named
Tuesday, November 26, 2019
An app that could help stop sex trafficking with the use of big data has topped the first phase of Oklahoma State University's annual "From Research to App Competition."
Dr. Miriam McGaugh, clinical assistant professor in the school of marketing & international business, and her team won first place and $2,000 with "Break the Chain," a tool that will collect and analyze big data in the effort to stop sex trafficking.
McGaugh partnered with Aakash Dwivedi, Brittany Laub, Bhavana Erukulla, Sugandhi Akula and John Schoeneman to develop the idea.
Ali Ajaz, a research assistant in the department of biosystems and agricultural engineering, won second place and $1,000 with his app idea, "Okladrought." His idea would help track and monitor drought conditions in Oklahoma to better inform farmers decisions.
Three other ideas for apps were awarded a third-place prize of $500:
Olobukola Ishola and Dr. Javier Vilcaez — FlowCalc 1.0, which would determine flow rate of fluids through rocks.
Kaylan Garcia — Alliance, which would help track and record therapy homework to increase recovery speeds.
Ramesh Kaipa — Road to Successful Speech, which would help develop speech and identify speech issues in young children
Phase II of the competition involves individuals or teams of app developers who will design a working app with one of the top two ideas.
These apps will be pitched to another panel of judges in the spring, and that winning app will continue its development route through OSU's App Center.
The annual app competition, which focuses on applying research practically, is co-sponsored by the Riata Center for Entrepreneurship in the Spears School of Business and the Division of the Vice President for Research.
The App Center, sponsored by AAA Oklahoma, is an on-campus resource for students and faculty to cultivate mobile application development.
The registration deadline for developers — students, app designers and developers — to enter Phase Two is Jan. 29. To register or get more information, visit okla.st/rtac.
MEDIA CONTACT: Harrison Hill | Research Communication Specialist | 405-744-5827 | harrison.c.hill@okstate.edu