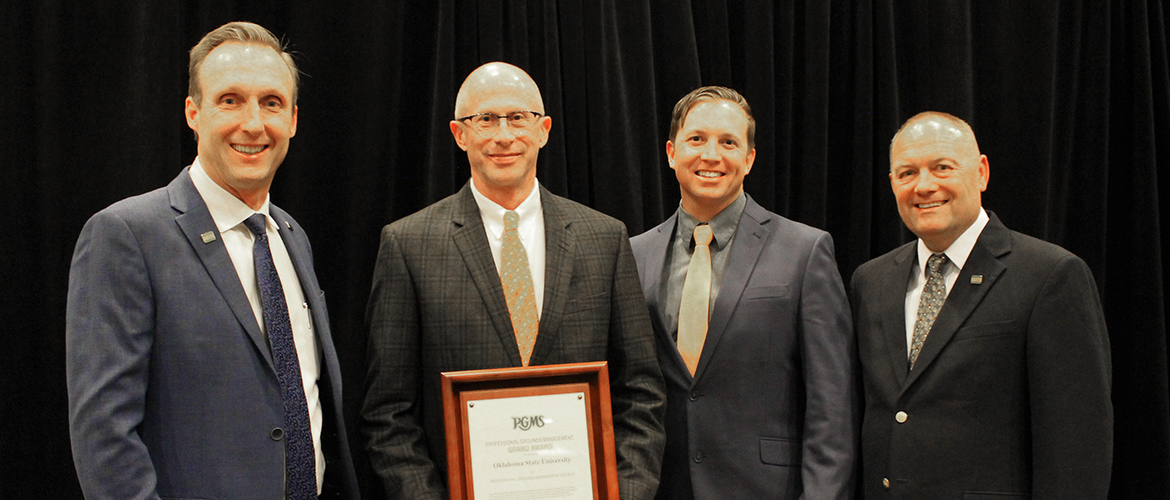 OSU brings home top award for grounds maintenance excellence
Monday, November 11, 2019
Oklahoma State University's landscaping has won the Grand Award from the Professional Grounds Management Society. Penn State University and Purdue University were the runner ups in the 2019 Green Star Awards for University and College Grounds — Large category for exceptional grounds maintenance.
A premier land-grant university, Oklahoma State is known for its world-class education, neo-Georgian architecture, beautiful campus grounds and "America's Brightest Orange" school color. Three topiaries designed and built by landscape services have become a favorite feature on campus, including a cowboy hat in the formal garden that honors one of OSU's notable alumni, Garth Brooks.
Steve Dobbs, director of Landscape Services, said the award reflects his staff's dedication to the maintenance of the grounds.
"This is about my staff," he said. "The campus wouldn't look the way it does, and we wouldn't have the designs that we do without the hard-working staff. Every job is equally important, from the ones who pick up litter to the ones on the lawnmowers or the ones doing the landscape design."
John Lee, assistant manager of Installation Services, agreed that teamwork and maintenance are key.
"Many universities will have a formal garden," Lee said. "We have many unique gardens, many plazas. Some gardens have been installed as a teaching tool, like our native plant corridor. Because we have so many detailed gardens and teaching opportunities around unique plantings and tree plantings, it requires a heightened sense of maintenance. No garden can retain its beauty if it's not well maintained and cared for."
Landscape Services is comprised of 61 full-time employees and 20 or so students who provide seasonal help. The employees are divided into teams that include maintenance, landscape installation and design and shop support staff. While many campus areas look like beautiful gardens, the campus remains working space, with the staff keeping it gorgeous through all four seasons, myriad events and even tailgating season.
"We are incredibly excited and super proud of all of our staff," Lee said. "Winning this award shows that the teams support each other and are performing at the very highest level. Thanks also goes to the administration who buys into our big-picture goal of creating a campus that our Cowboy family can be proud of."
Angelo Azevedo, West Landscape maintenance supervisor at Duke University, was one of six judges.
"Due to extremely high expectations, Grand Awards are reserved for a very special submission," he said. "Oklahoma State University was able to display impeccable university grounds. It was evident that Steve Dobbs set his team up for success by working with the school's microenvironments."
Ron Tarbutton, OSU's director of Facilities Management, said the award was for more than campus beauty; it was based on turf, landscaping, safety, challenges, budget and sustainable practice.
"I am so proud of each of the FM Landscape Services employees for the excellent work they do to make and keep our campus looking beautiful," Tarbutton said. "Receiving the Grand Award brings national recognition to the FM Landscape Services department."
The Green Star Awards program recognizes grounds maintained with a high degree of excellence. To view a complete list of winners, visit okla.st/grounds.
MEDIA CONTACT: Shannon G. Rigsby | Public Information Officer | 405-744-9081 | shannon.rigsby@okstate.edu