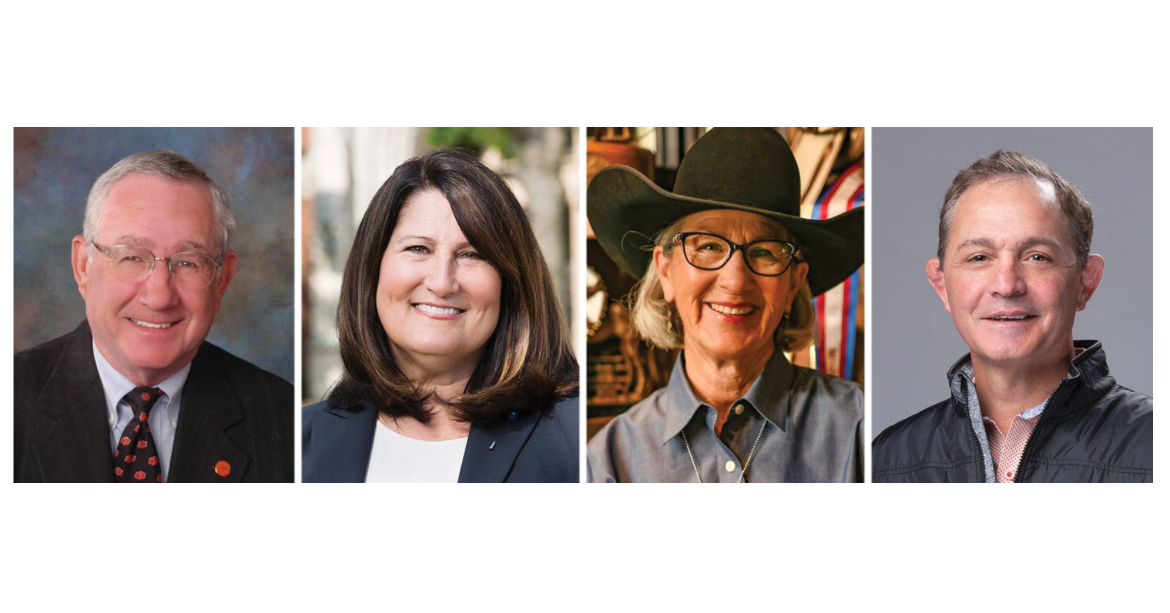 Four OSU alumni to be inducted into Oklahoma Hall of Fame
Thursday, May 21, 2020
The 2020 Oklahoma Hall of Fame class will include four Oklahoma State University alumni.
On Thursday, the hall announced nine inductees in total for the class of 2020, including OSU alumni Martha Burger, Terry Stuart Forst, John Smith and OSU Regent Calvin Anthony.
Following Thursday's announcement, the OSU Board of Regents released a statement of congratulations.
"The Oklahoma Hall of Fame is reserved for Oklahomans who have distinguished themselves in their service to our state. Our fellow OSU/A&M Regent Calvin Anthony is most worthy of induction into the Oklahoma Hall of Fame this fall. His life is one of service as a businessman, public servant, and community volunteer.
"What stands out about Calvin beyond his notable achievements is his unwavering character. He does what is right, no matter what. We congratulate Calvin as well as Olympian and OSU graduate John Smith who has steered our wrestling program for almost 20 years, winning several national championships and producing over 130 All-American student-athletes. Calvin and John represent the very best of our state and OSU."
OSU President Burns Hargis also offered his congratulations to the inductees.
"The 2020 Oklahoma Hall of Fame class has a bright orange glow with the induction of Oklahoma State University alumni Calvin Anthony, Martha Burger, Terry Stuart Forst and John Smith," he said. OSU congratulates these Cowboy family members and the entire 2020 class on their outstanding careers and contributions to our state."
Calvin Anthony is a pharmacist and businessman in Stillwater and has farming operations in Woods and Payne counties. He was appointed to the OSU Board of Regents by Gov. Brad Henry in 2006 and reappointed by Gov. Mary Fallin in 2013 to serve as a member of the A&M Board of Regents. He attended Oklahoma State University from 1963-1965 and received a bachelor's degree in pharmacy from the University of Oklahoma College of Pharmacy in 1968.
His term expires in 2022.
Martha Burger came to Oklahoma to attend Oklahoma State University and has made Oklahoma her home. Burger's career evolved from accountant in the oil and gas industry to human resources and finance executive. For many years she proudly worked with her friend and mentor, Aubrey McClendon, turning his vision of a first-in-class corporate culture into reality – earning a place on Fortune Magazine's list of the "100 Best Companies to Work For."
In 2018 Burger was named the 18th, and first female president of Oklahoma City University. She has led the school through challenging times in higher education. A committed philanthropist, Burger primarily supports women's heart disease research, animal welfare, her beloved sorority Delta Gamma, and higher-education. Burger has been named Oklahoma State University's Philanthropist of the Year, inducted into OCU's Hall of Honor, and is a three-time finalist for The Journal Record's Woman of the Year. Burger loves to travel, resides in Oklahoma City, and lives by the adage that to whom much is given, much is expected.
A fifth-generation Oklahoman, Terry Stuart Forst was born in Oklahoma City. She became general manager of The Stuart Ranch, the family ranch she grew up on near Caddo, in 2001. Through innovative planning and hard work Forst and her family have built an award winning equine program, cattle operation, and outfitting division. The Stuart Ranch is the oldest ranch in the state under continuous family ownership and encompasses over 40,000 acres in southeastern and southwestern Oklahoma.
Forst served as the first woman president of the Oklahoma Cattlemen's Association and as a member of the American Quarter Horse Association Ranching Council. She was honored with the Master Breeder Award by Oklahoma State University, named "Top 50 Women Making a Difference" by The Journal Record, was the first female to receive the Oklahoma Cattlemen of the Year Award and inducted into the National Cowgirl Hall of Fame. Forst, her two sons, and their families live and work on the ranch in Waurika.
Del City native John W. Smith is one of the greatest Olympic wrestlers in U.S. history, winning more world-level gold medals in wrestling than any other American. In 1992 he became head wrestling coach for his alma mater, Oklahoma State University. This year Smith became the fifth all-time winningest coach in NCAA Division I wrestling history with 439 dual victories.
His coaching legacy is the influence bestowed on countless athletes by teaching technique, leadership, and the correlation between hard work and results. His former wrestlers include 129 NCAA All-Americans, 110 Conference Individual Champions, and eight NCAA Division I head coaches.
Smith was the first wrestler to win the James E. Sullivan Award, bestowed upon the nation's top amateur athlete, named a top 100 Olympian at the 1996 Olympic Games, and has been inducted into the National Wrestling Hall of Fame and Oklahoma Sports Hall of Fame. Smith and his wife Toni live in Stillwater and are the parents of five.
The 2020 Class will be formally inducted into the Oklahoma Hall of Fame on Nov. 12, in Norman, Oklahoma. To watch the Class of 2020 announcement video, click here.
MEDIA CONTACT: Monica Roberts | Director of Media Relations | 405-744-4800 | monica.roberts@okstate.edu