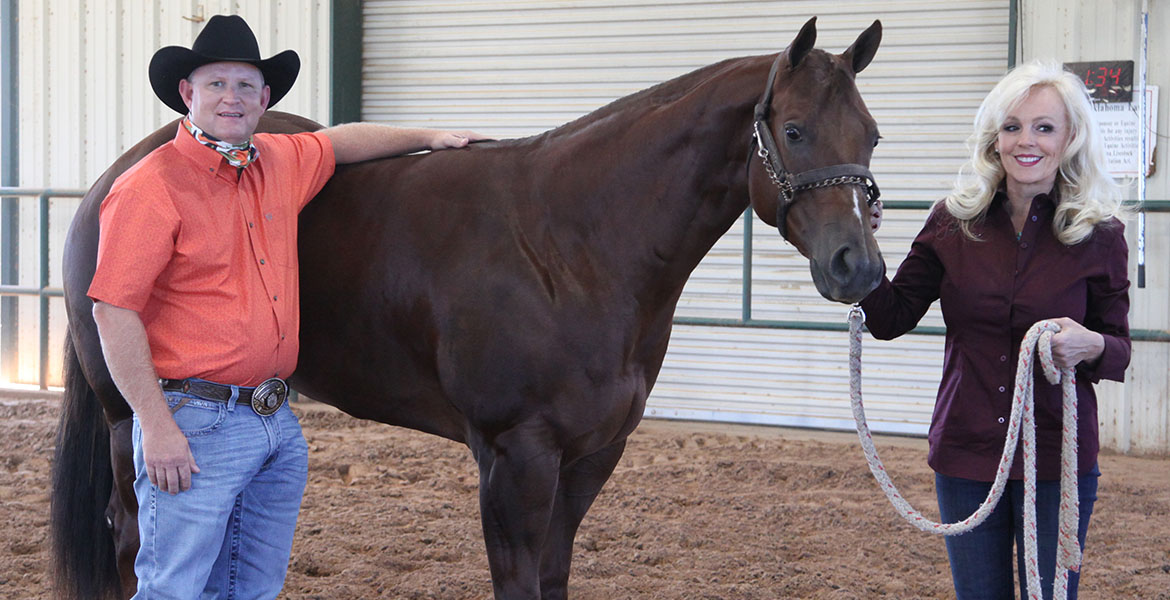 OSU Veterinarians Treat a Show Horse for Terry Bradshaw
Monday, November 2, 2020
Depending on your age, you might know Terry Bradshaw for different things.
Since 1994, he's been a sports analyst and is co-host of Fox NFL Sunday. He's done a number of guest stints on a variety of reality TV shows and currently has his own show on E!, The Bradshaw Bunch. Going back a few decades, he won four Super Bowls as the quarterback for the Pittsburgh Steelers.
But did you know he's been breeding quarter horses for the last 40 years and is a lifetime member of the American Quarter Horse Association?
He and his wife, Tammy, own and operate Terry Bradshaw Quarter Horses in Thackerville, Oklahoma. Veterinarians at Oklahoma State University's College of Veterinary Medicine had the opportunity to treat Sassy, a Bradshaw filly with a not-so-common condition.
"She was just a couple weeks old when Terry told me we're probably going to have to put her down because she had a cleft palate," Tammy Bradshaw said. "Coming from a background in the medical field, I had a hard time with that. We can fix that on humans, so why can we not do that on a horse? So we started looking at options, contacted OSU, and they thought she would be a candidate for the surgery. We said let's go for it and give her a shot because she was a beautiful little baby. She was out of one of our own stallions and had everything you wanted when you looked at her. We felt she had a really good opportunity to grow up and be a prospective show horse as well as a great brood mare. I just didn't want to give up on her."
Mike Schoonover, DVM, MS, DACVS-LA, DACVSMR, associate professor of equine surgery and sports medicine at OSU's veterinary college, performed the surgery.
"Normally, the palate separates the oral cavity from the nasal passage," Schoonover said. "In foals, cleft palate is a rare condition that is seen when the palate fails to form completely as the foal develops during pregnancy. This lack of separation allows milk and saliva to enter the trachea and lungs when the foal nurses, which leads to pneumonia. Repair of cleft palate is not often attempted due to the high incidence of complications following surgery combined with the expense of surgery and post-surgical care. The palate is not easily accessible for surgery in foals. Repair requires a large incision in the space between the mandible or jawbone. This bone is separated by performing a mandibular symphysiotomy, which means splitting the mandible in half between the center teeth. The two halves are then pulled apart to allow space to continue the incision along the tongue into the back of the mouth. This allows visualization and instrument access to repair the palate. Following repair of the palate, the mandible is put back together with a screw and the incision is sutured."
Sassy spent three months in the veterinary hospital following her initial surgery.
"We knew it would be a long haul," Tammy said. "We took her to OSU for surgery and said keep her there until she is healed. We want her to have the best opportunity and want somebody with eyes on her every day who can address whatever happens."
A month after she was released, Sassy returned to OSU's Veterinary Medical Hospital for a checkup to discover she needed a revision surgery because the very back part of the palate had not healed adequately.
"Although about 75 percent of the cleft was healed, Sassy was still having some issues with food getting into her trachea and lungs," Schoonover said. "Because she was much larger, the second surgery to revise the original repair was much less invasive. We performed a pharyngotomy, which involves making a much smaller incision in the throat area. Due to Sassy's growth and the degree of success of the first procedure, this approach was adequate to repair the remaining defect."
Sassy made it through the second palate repair surgery great but within just minutes of her recovery from anesthesia, Sassy colicked.
"When I got that phone call and they were like okay, she made it through the surgery and now she's colicking, do you want us to do surgery? I was, yes, please do the surgery!" Tammy said. "We were holding our breath at that point because she had made it through all that stuff and it was just like don't let this be the end of her now. So it was very much a relief when we got the phone call that she was OK through the surgery and the colic."
In a third surgery, Dr. Schoonover and the OSU equine surgery team performed an abdominal exploratory to determine the cause of her colic. Three feet of Sassy's small intestine had to be removed. Following the palate and colic surgeries, she was hospitalized for another six weeks, returning to the Bradshaw ranch with a functional palate and a healed intestine.
"We have not pushed her," Tammy said. "Trainer Jarrell Jackson let her spend the first year and a half just growing, healing and getting healthy. Now, she looks beautiful. She's starting to catch up and looks like she could be a show horse. She is a klutz, though. She's very accident-prone when she is out on her own. I don't think that's because of the surgery. She eats well. She doesn't have any trouble breathing. Her coordination seems great. I don't know of any lasting effects of the surgery."
The Bradshaws have, in fact, started showing TB Love Actually (Sassy's official name). She was shown in a futurity earlier this year where she placed. She's now preparing for the AQHA World Show in Oklahoma City.
"She will be in the 2-year-old amateur mare class and the 2-year-old open class," Tammy said. "If you have this scenario and you have the means to pursue the surgery or the treatment, it can have a happy ending. If she places top 10, I'd be ecstatic. Anything better than that will be icing on the cake for me. With everything she's been through, I just want to get her there and be able to say this is her story. Look where she is today, and look what great work OSU has done for her."
MEDIA CONTACT: Derinda Blakeney, APR | OSU College of Veterinary Medicine | 405-744-6740 | derinda@okstate.edu