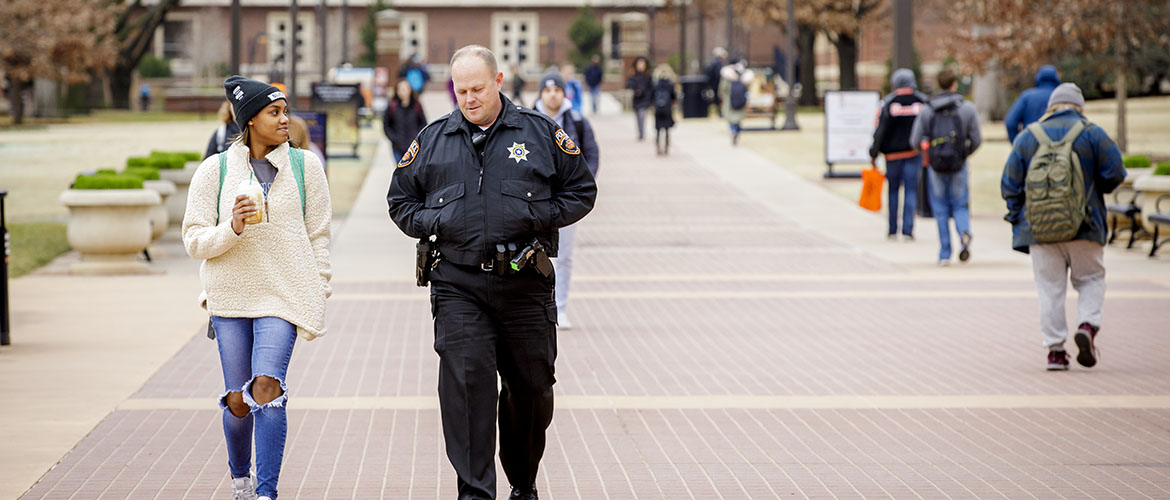 Community policing at work in Core Campus Division
Wednesday, February 26, 2020
Protecting a campus like Oklahoma State University with thousands of people has its challenges. Unlike cities where roads and driveways provide accessibility to the doors of homes and businesses, university geography finds some of the most congested areas may not be accessible by car.
Chief Leon Jones and the OSU Police Department put a Core Campus Patrol Division in place to reduce response times, increase visibility in highly populated areas and help law enforcement build a relationship with the Cowboy community. Officers in the Core Campus Division work 8 a.m. to 5 p.m. Monday through Friday — hours when the student, faculty and staff populations in the area are at their highest. The division also includes a satellite office on the second floor of the Student Union.
"The Core Campus Division has created a true community policing vibe, and it has also allowed a rapid response for emergencies that occur in the heart of campus," he said.
Sgt. Adam Queen said the library and student union are prime examples of why the Core Campus Patrol Division is needed.
"There are no streets," he said. "In the academic core, some of the major buildings like Edmon Low Library hold thousands of people but do not sit on roads."
Core Campus shaves off minutes in how quickly officers can reach someone in distress, with officers traveling on foot, by bike or on a Segway. Response times to 911 calls are often measured in a minute or two, and sometimes less.
"We wanted a rapid response team. If something should happen anywhere in this educational core where there are no streets, we're here, we're quick and we're accessible. We don't have to wait for traffic," he said. "We can get places faster than a car."
Queen said being assigned to Core Campus is more interactive than other positions in the department.
"You have to not only like people, but you have to be proactive," he said.
Core Campus officers move between centrally located buildings during their shift. The accessibility leads to a comfortable familiarity, and people are more likely to stop and chat. One day, when officers were outside the Classroom Building, a student passing by stopped to gather information.
"She was having problems with a boy, almost to the level of stalking," Queen said. "We were able to provide her with some safety information, how to handle it, when to file a police report. Because we're out there and we're accessible, she was able to get the information she needed. If a police officer drives by on Hester Street, people are not going to to wave us down unless it's an emergency. But because we're accessible, she came over and talked to us."
The satellite office in the Student Union also makes a difference in building relationships.
"The office is tremendous," Queen said. "We have a lot of people pass by. The location is really good because people have an idea where it is, and they're getting used to the fact that it's here. When I'm working on emails or reports, people stop in."
Tonishia Van Pelt, human resources manager for the Student Union, is thankful for the officers' presence.
"The Student Union is a destination point on our campus with tens of thousands of visitors a day," she said. "Having a campus police officer stationed in the building is very reassuring. It ensures the safety of our students, staff, faculty and guests remain a top priority. It is comforting knowing if there is a problem in the building, an officer is nearby to help."
MEDIA CONTACT: Shannon G. Rigsby | Public Information Officer | 405-744-9081 | shannon.rigsby@okstate.edu