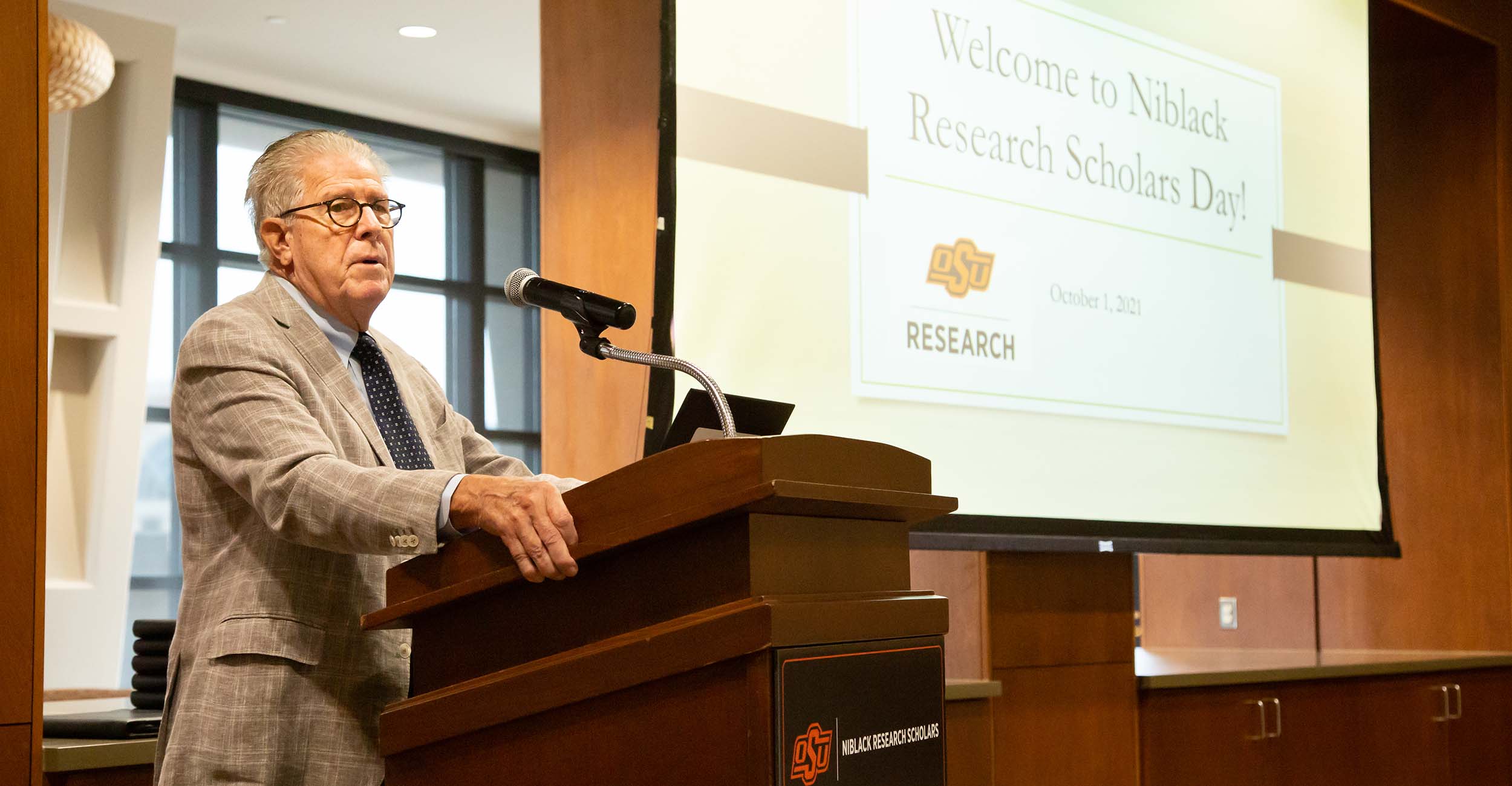 Former Pfizer vice chairman supporting OSU undergraduate research
Monday, October 4, 2021
Media Contact: Harrison Hill | Research Communications Specialist | 405-744-5827 | harrison.c.hill@Okstate.edu
Dr. John and Heidi Niblack joined 11 undergraduate researchers Oct. 1 on OSU's campus to learn about the research they have conducted as part of the Niblack Research Scholars Program.
The students are part of the program's 17th year. Supported by the Niblacks and administered by the Office of the Vice President for Research at OSU, the scholarship gives undergraduates a unique opportunity to perform cutting-edge research in various fields.
"I think John will agree that the science and depth of experience has grown each year," said Dr. Kenneth Sewell, OSU's vice president for research.
The scholarship comes with an $8,000 scholarship and pairs students with both a faculty and a graduate student research mentor.
"Science is hard to do. You all are like musicians learning how to play your instrument. Learning how to play a violin at a high skill level is not easy to do," Niblack said during the last in-person event in 2019. "Once you get past that, then you can begin to be more creative. You can put your own spin on it and write your own music."
Niblack graduated from OSU in 1960 with a bachelor's degree in chemistry and earned a doctorate in biochemistry from the University of Illinois before becoming vice chairman of Pfizer Inc.
As a scientist for the international pharmaceutical company, he was responsible for Pfizer's Global Research and Development Division, where he directed research into drugs for viral illnesses, cancer and autoimmune disorders.
In his opening remarks, Niblack spoke about his work, how long research really takes — including the depth of research behind the new COVID-19 vaccine — and the possibility of failure.
"My Ph.D. thesis was exactly a failed situation," he said.
His thesis was supposed to be an expansion on work done by another student; however, that student had fudged data that sent Niblack in the wrong direction.
"It took me 18 months of failure, going to all kinds of experts and doing all kinds of things to finally convince myself that the guy had faked his data."
Niblack had to pivot his project so he worked out another subproject involving much of the same research, he said.
"However, I made it, so don't give up," Niblack said.
After retiring in 2002, he founded the Niblack Research Scholarship program in 2004. Its next class began their research projects this summer.
As the current class of Niblack Scholars wraps up their research and years as undergraduates, they are looking to the future.
"Most, if not all, of these scholars are now seniors and will soon be launching into the next phase of their professional lives — whether that is pursuing an advanced graduate or professional degree or starting a full-time career," Sewell said. "I have no doubt that these burgeoning professionals will have a positive impact not only in their disciplinary fields, but also in their communities, and as they launch into their next phase — during these uncertain and challenging times — they will persevere."
​​Learn more about the Niblack Research Scholars program here.