NSF director praises OSU innovation following research facilities tour
Thursday, September 16, 2021
Media Contact: Harrison Hill | Research Communication Specialist | 405-744-5827 | harrison.c.hill@Okstate.edu
In his first official visit outside of Washington, D.C., since being appointed director of the National Science Foundation in June, Dr. Sethuraman Panchanathan joined U.S. Rep. Frank Lucas on a tour of OSU research facilities Wednesday.
Accompanied by President Kayse Shrum, as well as faculty and staff from across campus, the group toured OSU's premier research spaces, including the newest unmanned systems research and mixed reality labs.
"I am impressed with the innovation, talent and facilities I saw today at Oklahoma State University," Panchanathan said. "Hearing from the amazing faculty and students about how they are using NSF funding to solve real world challenges and bring more people with diverse backgrounds into science is truly inspirational."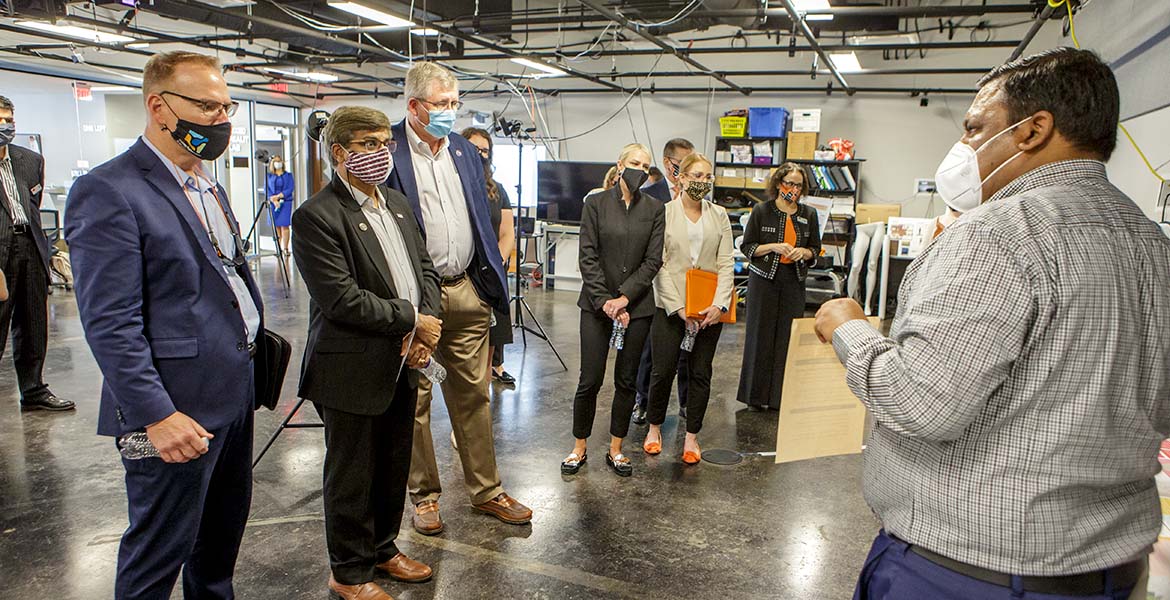 The NSF supports basic research and education in non-medical sciences and engineering. Federal research agencies, like the NSF, are the largest source of research funding across OSU.
Lucas, a fifth-generation Oklahoman and OSU alumnus, is a staunch advocate for OSU research. He is the ranking member of the House Committee on Science, Space and Technology, which oversees the NSF.
"I'm extremely proud of the work Oklahoma State University is doing to advance research and STEM education for the state and the nation," Lucas said. "It is an honor to have the opportunity to spend the day with the National Science Foundation director, Dr. Panchanathan, on campus touring OSU's cutting-edge research facilities and meeting some of the most talented researchers in the world.
"The NSF has supported a thriving environment for hands-on research opportunities for students on the OSU campus, an innovative model for learning that is spurring research in mixed-reality, autonomous transportation and more.
"Basic research is the cornerstone of America's competitiveness, and the partnerships between NSF and OSU are shining examples of why America continues to lead the world in science and technology."
The group also discussed the growth and impact of OSU research during a working lunch.
"We are so pleased that Dr. Panchanathan and Rep. Lucas were able to visit our campus, dialogue with our faculty and students and discuss future directions for science and innovation," said Dr. Kenneth Sewell, vice president for research.
"OSU has several research initiatives with long term funding from NSF and we appreciate the director's acknowledgement and support of these programs. OSU looks forward to working with the NSF to continue producing life changing, impactful research."
Panchanathan was nominated as NSF director in 2019 and was unanimously confirmed by the U.S. Senate in June 2020. He is a leader in science, engineering and education with more than three decades of experience and has a distinguished career in both higher education and government.
"It was a pleasure to experience all of this with Congressman Lucas, who is a strong champion for NSF and science overall. I look forward to seeing how we can continue to partner at speed and scale to benefit our nation for decades to come," Panchanathan said.
---
During the visit, Congressman Lucas also sat down with Dr. Sewell to discuss research opportunities at OSU and how they impact our state. Watch their talk below: