Space Cowgirl returns to alma mater with inspiring message
Tuesday, October 12, 2021
Media Contact: Mack Burke | Editorial Coordinator | 405-744-5540 | mack.burke_iv@okstate.edu
Aerospace icon Mary Wallace "Wally" Funk returned to Oklahoma State University on Monday for the first time since voyaging to space aboard a Blue Origin rocket in July.
Funk was greeted by Pistol Pete, members of the Cowboy Marching Band and OSU Flying Aggies and members of the media on the tarmac of Stillwater Airport following her arrival Monday morning. That evening, she took the stage at The McKnight Center for the Performing Arts where she was presented with a plaque commemorating the creation of an annual $1,000 scholarship for aspiring aviators — the Wally Funk Scholarship. Speaking to an audience of students, faculty, community guests and chapters of the Women in Aviation and the American Association of Airport Executives, as well as sorority sisters from Alpha Chi Omega, Funk electrified the stage with her energy and passion in sharing her story.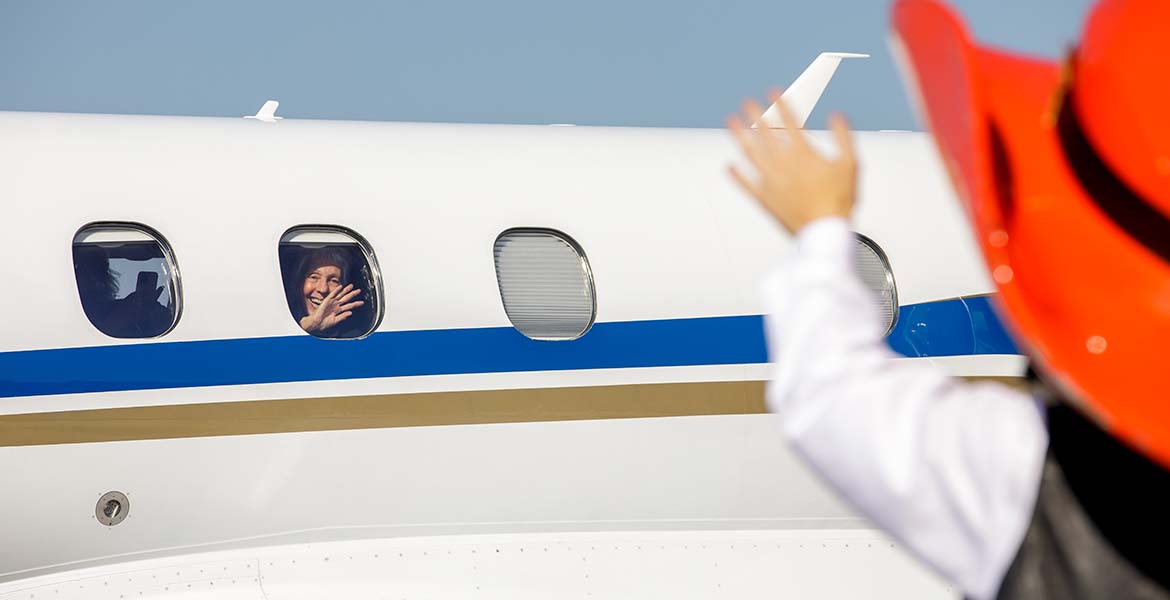 She discussed her upbringing, the challenges she faced in pursuing her high-flying goals and offered aspiring young women some advice.
"You must know, stress is when you lose faith," she said. "Then you get fear. Do not lose faith. Negativity contaminates your energy and slows you down."
She asked students in the crowd, "How many of you want to go to space?" before clarifying a mistake in the narrative about why she was originally denied the chance to go to space.
She said being a woman wasn't what prevented NASA from hiring her.
"They couldn't hire me because I didn't have an engineering degree," she said. "I didn't have an engineering degree, and had I known that I surely would have gotten it right here. Those of you that want to get on with NASA and your aviation and aeronautical endeavors, get that engineering degree. There's so much out there to learn now. I look at space stuff and what they're doing with the [International Space Station] … everything has changed."
Funk's messages of hope and perseverance resonated with the crowd and the speakers who preceded her. OSU aerospace administration operation senior Tara Serocki said, like Funk, that she knew she wanted to be involved with aviation from a young age.
"I took my first ever flight on an airplane on a family trip to Mexico," she said. "The moment I stepped into the terminal at Denver International Airport, I knew that I was home."
Serocki said she made a mental note then that she would be a flight attendant. When she got to middle school and high school, her perspective began to change.
"I started to become more interested in the technical aspect of aviation," she said. "My junior year in high school I took my discovery flight and I haven't looked back since. Not growing up in aviation, I knew it was a male-dominated industry, but I wasn't really aware until I walked into my first college course. I opened the door, and of the 30 students there, there was only one other girl in the class. That was a little intimidating.
"Then, as a sophomore I had the amazing opportunity to attend the Women in Aviation conference in Orlando, Florida. The moment I walked into the exhibition hall with the thousands of other women on the same path that I was, I realized I wasn't alone in my aviation journey. Growing up, I didn't have that mentor I could talk to about the challenges and career aspirations."
When she returned to OSU, Serocki was focused on getting more involved with the aviation community, especially OSU. Now she's the safety officer for the Flying Aggies, the membership chair for Women in Aviation and the secretary for the American Association of Airport Executives.
"Good for you," Funk said. "You keep going!"
Serocki smiled at Funk's aside and then went on to acknowledge the impact pioneers like her have had on women like herself.
"Part of being a leader is acknowledging those who came before me, notable amazing women like Katharine Wright, Bessie Coleman, Harriet Quimby and of course the wonderful Wally Funk," Serocki said.
"I hold right here in my hand is my commercial pilot certificate and there are only 58,000 other women in America that are certified. We are only 8 percent of all of the certified pilots in America. That's why women's representation is so important. When Wally went into space over the summer, her motto was 'Make it happen.' Throughout her life she was told you can't do that. She fired back, 'Yes I can,' and she did. I know that I have some much to overcome and achieve as a pilot, but if I could inspire just a fraction of the people she has inspired, I'll know that my life has been complete."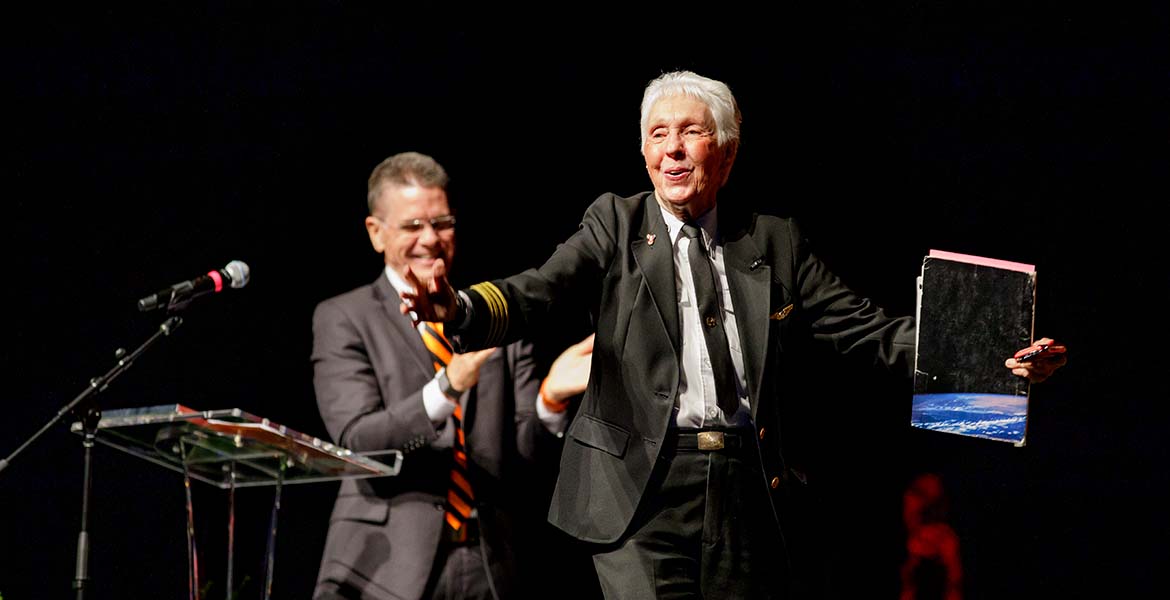 Dr. Toni Ivey, associate professor of science education, said she was thrilled when she learned Funk was coming to OSU. As was her daughter — who got a personal dose of inspiration from Funk herself.
"As a science teacher, and a science educator at this point, I just love it when my own daughter, who is in the fifth grade, tells me science is not her favorite subject," Ivey said, tongue in cheek. "However, a few weeks ago, all of the sudden she started talking to me about airplanes. She wanted to know if she could become a pilot someday. I said 'Well, absolutely you can.'
"I want to thank you for being an inspiration to young girls everywhere, especially my daughter," Ivey said, motioning to Funk from the stage Monday night. "Thank you for that."
Another OSU student, Dana Friend, said she continues to look to Funk for inspiration. Friend is in Air Force ROTC and plans to pursue a career as a fighter pilot for the U.S. Air Force.
"Wally Funk, to me, she's a trailblazer," Friend said. "She has led the way for so many women in aviation. ... And she inspires me to keep my head up when times get hard."