Wray inducted into Sand Springs Education Foundation Hall of Fame
Friday, April 22, 2022
Media Contact: Jordan Bishop | Editor, Department of Brand Management | 405-744-7193 | jordan.bishop@okstate.edu
When Kyle Wray's name showed up for the first time on the ballot for induction into the Sand Springs Education Foundation Hall of Fame, he was a shoo-in.
A lifelong Sandite who attended Sand Springs Public Schools from kindergarten through 12th grade, Wray's career and character embodies the qualities the Hall of Fame seeks in its inductees. Wray, now the senior vice president for executive affairs at Oklahoma State University, was inducted Thursday night during a ceremony at Bright Morning Farms in Sand Springs.
The foundation inducted its first Hall of Fame class in 1989. The foundation adds two inductees a year, said Tirita Montross, director of the Sand Springs Education Foundation.
"Kyle embodies what we do," Montross said. "He has devoted his career to education. Our foundation solely supports Sand Springs Public Schools. The money raised goes to teacher-written grants at Sand Springs. We appreciate our teachers."
Wray said when he heard the news that he was being inducted, he was very honored. As a 1985 graduate of Charles Page High School, Wray credits the Sand Springs school system for preparing and guiding him on his career.
"I had a lot of help whenever I was going through school there and a lot of help when I was in college," Wray said. "After that, people for whatever reason, decided they wanted to be active in helping me in my career. That is why I am where I am. That is part of the reason I want to do that for other people."
Wray graduated from Oklahoma Christian University with a bachelor's degree in political science and government in 1989 before earning his master's in higher education administration from Pepperdine University in 1998.
In his higher education career, he started out at his alma mater of OC before moving to OSU in 2004 as the director of marketing. Over the years, enrollment has steadily increased. He led the effort to create the Department of Brand Management.
Wray said he loves working with students because he believes college can change someone's life — just like it changed his.
"Somewhere in Oklahoma tonight, a son or a daughter will sit down where all problems get solved and that is at the kitchen table," he said. "They are going to try to figure out with their family whether they can afford it and ask themselves questions about if they are smart enough to make it here. Their dad says he won't send them up there to be average, they will have to take classes seriously and all those conversations that we had thinking about going to college.
"To be able to have some small piece of that and give them the confidence to recognize they can do it, it will be hard, but it gives them the confidence to come and get an education knowing that will change the rest of their life. We know there are so many Oklahomans who don't have that, but to give them the confidence to grab the brass ring as it pertains to higher education, it could change their life forever."
As part of the induction ceremony, a Bronze plaque honoring Wray, which will be displayed at CPHS, will be presented and he will be bestowed a medal. As a fundraiser, the Hall of Fame ceremony raises money exclusively for Sand Springs Public Schools. Montross said Montie Box, the founder of the foundation and OSU alumnus, was proud of Wray being inducted because of all he has done for OSU over the years.
"We always look for people that embody education and he fits in so many different categories," Montross said. "He is charismatic and has a great resume. He is giving back and has a family that still lives here in Sand Springs. He checked every little box they wanted. It was really easy to pick him."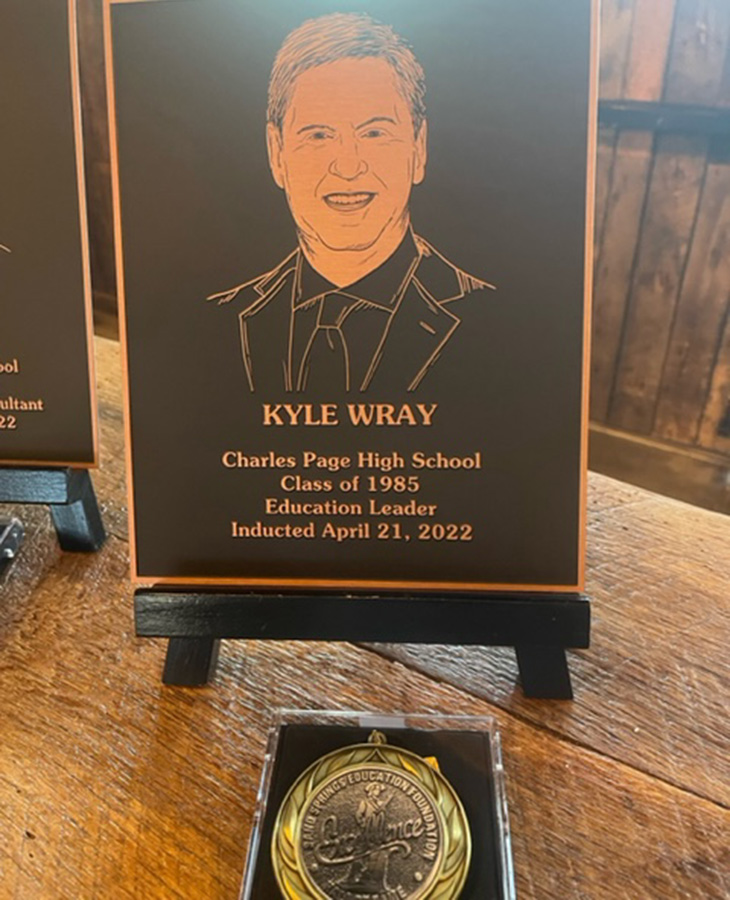 Wray said being back in Sand Springs is nice and noted that it has grown more over the years as part of the Tulsa metroplex, but still remains quite distinct. He never knew where life would take him when he graduated more than 30 years ago but he has been able to work at so many places and ultimately his dream job, OSU.
He has been in his new role on OSU President Kayse Shrum's cabinet for almost a year and looks to continue serving in ways that led to his induction into the Hall of Fame in the first place.

"I am just so thankful to be in a place where I fit. President Shrum is obviously an outstanding leader and I enjoy being able to work with her on a daily basis as we mold Oklahoma State University," he said. "There are challenges every day, but so many opportunities out there that guide us in what we have to offer as a university to the State of Oklahoma. Certainly to its young people and solving society's problems and staying in that land-grant mission of research, education and extension."
OSU has a responsibility to the state and the nation to supply its cities and states with young people who have a great education and are focused on solving problems in the state and across the world, Wray said.
"The pandemic is a perfect example. We took a leadership role there in testing and certainly do that with resources in the state of Oklahoma and beyond that," he said. "I am excited about where we are going and I appreciate our Board of Regents so much for their support. I can't wait to put my boots on and come to the office every day."