Annual Undergraduate Research Symposium highlights impact of student research
Monday, April 24, 2023
Media Contact: Harrison Hill | Senior Research Communications Specialist | 405-744-5827 | harrison.c.hill@okstate.edu
No matter where a student finds themself in their academic career at Oklahoma State University, they can take part in groundbreaking research. For undergraduates, that research was on display this week at the annual Undergraduate Research Symposium.
The symposium is an opportunity for undergraduate students from all academic disciplines to present what they have learned through their research experiences to the OSU campus community.
"Undergraduate students who participate in research activities and programs under the direction of a faculty sponsor gain important skills that can be transferred to other professional activities," said Dr. Christine Johnson, associate vice president for research and one of the key organizers for the event. "For example, they learn to think and work like a scientist by employing critical thinking and problem-solving skills."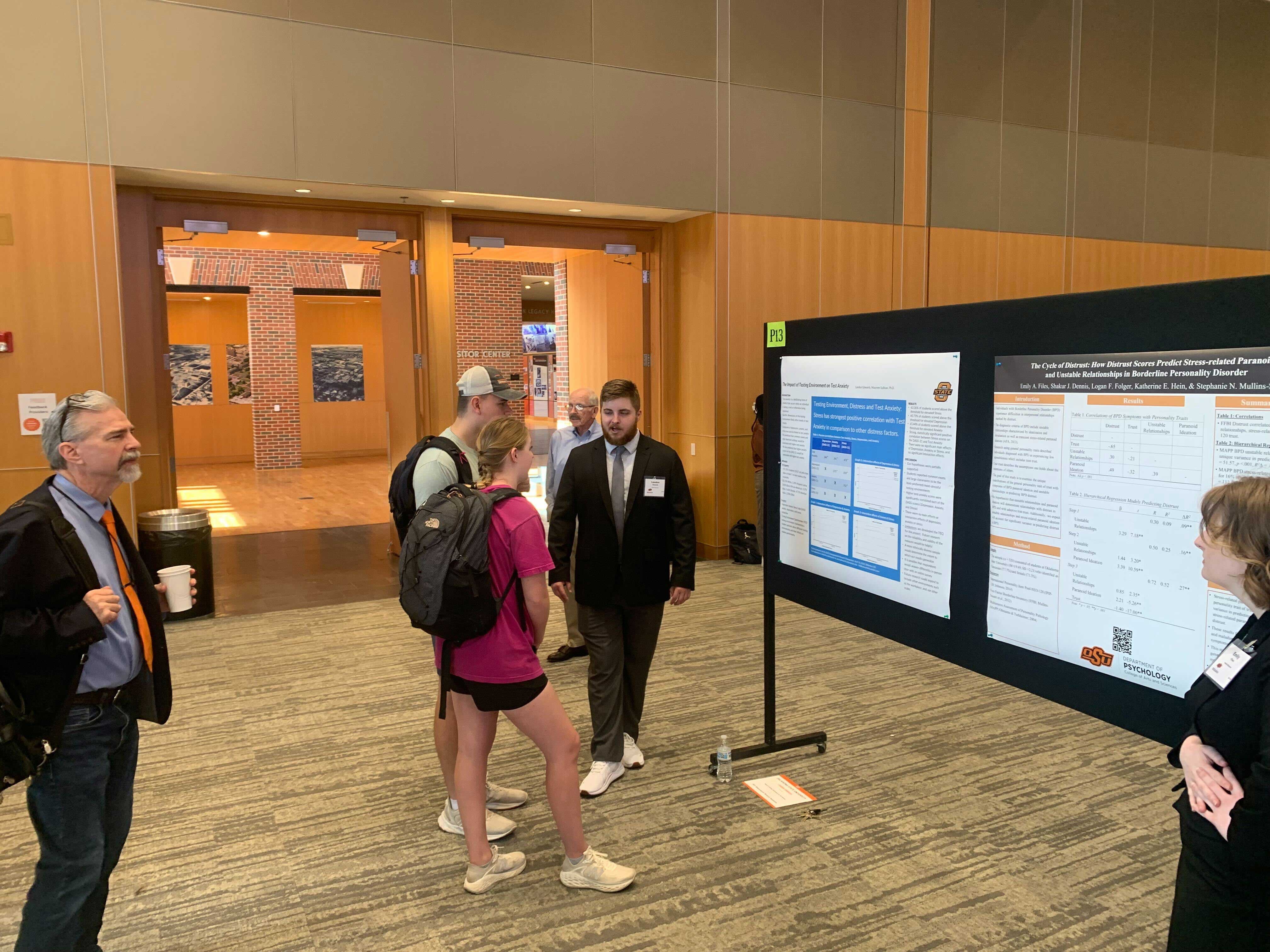 Providing space for students to share their research, scholarship and creative activity with others is pivotal to highlighting the connections between research and learning in the academic classroom along with the importance of undergraduate research at OSU.
Events like this also help students make deeper connections with their peers and other faculty at the university, which increase retention and graduation rates, she said. Johnson also sees one other reason OSU hosts the annual symposium.
"Symposiums are fun!" Johnson said.
The URS symposium included seven sessions, each one hour, organized by a broad discipline area.
"Most of our students gave poster presentations, which are highly interactive with attendees reviewing the posters and asking questions of the students," Johnson said. "It was a high energy event with so much engagement by those who attended. We had parents, grandparents, faculty, graduate students, staff members, fellow students and community members in attendance."
Landon Edwards, a senior majoring in psychology, presented his research on how testing environment impacts students' sense of test anxiety at the symposium. For Edwards, undergraduate research is a steppingstone for his future goals.
"A big motivator [to get into undergraduate research] was the dream of going to a graduate program." Edwards said. "A lot of graduate programs are research heavy, so they love looking at your curriculum vitae and seeing that you can develop projects, you can follow through, kind of overcome."
Edwards presented his first big poster presentation during last year's undergraduate research symposium, he said.
"It's a little bit of a hurdle at first, just trying to make sure you know what to say and you're confident you remember the information. But I think once you get over it, it's so much easier," Edwards said.
Dr. Kenneth Sewell, OSU vice president for research, attended a handful of the morning sessions to talk with students and learn about their research.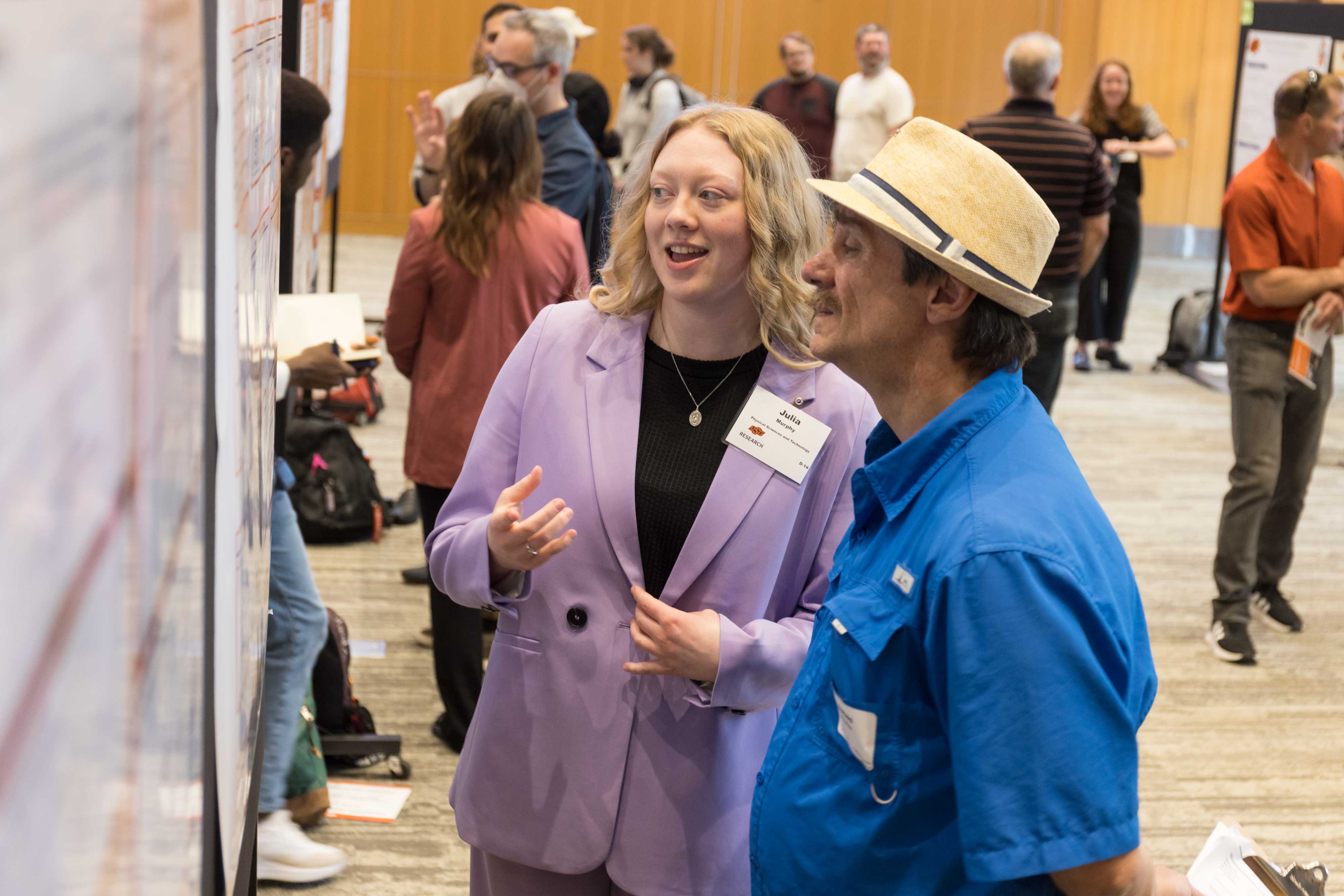 "What impresses me the most is the breadth and the depth," Sewell said. "The breadth of topics that these students are studying, but also when you talk to them individually the depth of their understanding and their ability to communicate is truly top notch. It's every bit high quality as if you were going to a graduate seminar and these are undergraduates, so I am extremely impressed."
The symposium is held each year in April to align with Undergraduate Research Week. The week was formally recognized on Nov. 16, 2010, by the U.S. House of Representatives to celebrate the work undergraduates do across the nation.
"We encourage students from all disciplines to participate," Johnson said. "You can be doing a humanities project, a visual arts project, or a social science research study."
There are three presentation formats available for students to choose from: poster, oral flash talk, or a short video for performing and visual arts. However, one of the most important aspects of the event comes the day after.
"If you ask the student participants, they will convey the unique aspect of our symposium is that they receive written feedback a day after the event," Johnson said. "Thanks to about 85 graduate students and professional staff members, presenters received formative feedback on the presentations."
From the breadth of presentation options, and the diversity of research topics allowed, to the feedback provided, the symposium is focused on helping the students.
"I think it's definitely been very beneficial, looks great on my curriculum vitae, and it's given me skills I'm able to transfer over elsewhere," Edwards said. "Just being more comfortable with public speaking and following through with projects, it shows that I have the determination and dedication to complete things that I'm interested in researching."