First 'Coming Together for Racial Understanding' event highlights diversity of cultures
Monday, February 27, 2023
Media Contact: Jillian McGee | Digital Communications Specialist | 405-744-6263 | jillian.mcgee@okstate.edu
Food, artistic and cultural traditions were uniquely showcased at the multicultural event, "Coming Together for Racial Understanding," in the Student Union Theater on Feb. 17.
The first cultural event of its nature, the OSU community joined members of the event's committee and leadership representatives from Oklahoma's three land-grant institutions: The College of the Muscogee Nation, Langston University and Oklahoma State University. The program included each of the institutions discussing their historic land-grant missions and contributions, videos highlighting cooking of traditional cultural meals, and diverse artistic representations including song and dance.
Coming Together for Racial Understanding is a national Cooperative Extension initiative focused on bringing people together across race and ethnicity to increase understanding about issues related to race and racism, as well as working together for meaningful change. States can send teams to national train-the-trainer workshops and are tasked with coming back to their state to offer dialogue experiences, facilitator training and other events.
The ultimate goal after participating in some internal work with Extension colleagues is to expand to community dialogues and assist them with developing action plans to address pressing issues in their communities.
"The cultural event held was created by one of three action team committees who provide opportunities for people to learn about other cultures, build relationships and bring awareness to diversity, equity and inclusion through a variety of avenues." said Diana Romano, associate state Extension specialist at OSU.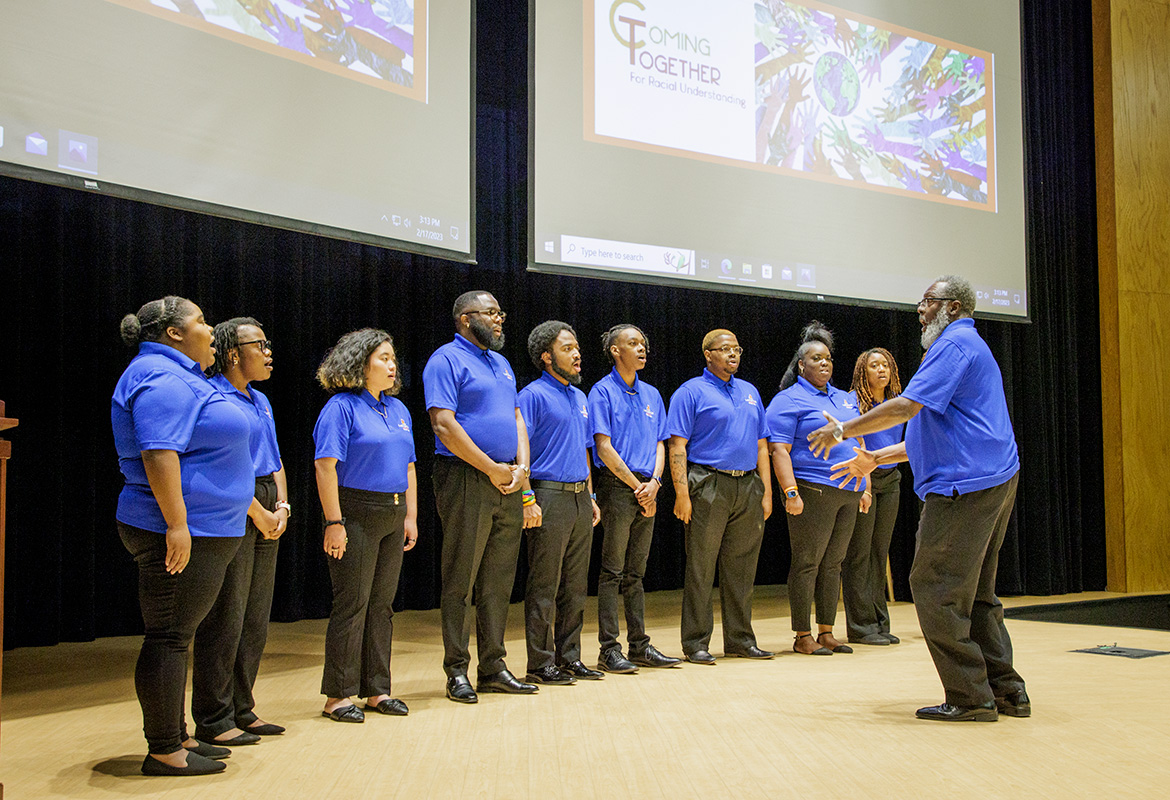 OSU's Dr. Lauren Cline, assistant professor of agricultural leadership and agricultural leadership Extension specialist, opened the event and representatives from each culture gave a presentation on the stage.
Mekko Tyner, College of the Muscogee Nation's dean of academic affairs, highlighted Native American culture with a food presentation of Osafke and a stomp dance for their artistic presentation.
Langston University's Dr. Dorothy Wilson, director of/4-H YD/FCS/EFNEP, presented the African American highlight, which included a food presentation of okra gumbo and an artistic presentation by the Langston University choir.
Romano gave the Hispanic/Latinx highlight with a food presentation of cilantro rice, salad and baked chicken with Catalina sauce and a traditional Latin American dance for the artistic presentation.
Jeremiah Wilson, Langston University associate deputy for Extension, praised the first-time event and the cultural display from each institution.
"The people in this room have already proven one thing. You're willing to come together," he said.
Story By: Katie Lacey | katie.l.lacey@okstate.edu