OSU Faculty Fellows focus on advancing strategic initiatives through collaboration
Tuesday, July 18, 2023
Media Contact: Mack Burke | Associate Director of Media Relations | 405-744-5540 | mack.burke_iv@okstate.edu
Oklahoma State University launched its "We are Land-Grant" strategy in October with the goal of becoming the nation's preeminent land-grant institution.
Ten faculty fellows were appointed to enhance systemwide implementation of the strategy and lead working groups for each of the priority areas.
These individuals are tasked with engaging OSU faculty, staff, academic and student leaders in thoughtful discussions as strategic initiatives are explored, developed and implemented.
"I am pleased to share that the faculty fellows are diligently working campuswide to advance OSU's contributions as a preeminent land-grant university," said Dr. Jeanette Mendez, OSU provost. "Since their appointments earlier this year, each faculty fellow has been focused on their interdisciplinary priority area, and they continue to develop plans, facilitate discussions and identify strategies to strengthen OSU's capacity to respond to societal needs.
"I am proud of their innovative and creative work in this role and look forward to their continued success as they collectively help to move the strategic plan forward," she added.
The fellowships are expected to conclude in the summer of 2024 when the fellows provide their research-based recommendations to university administrators. The fellows are listed under their area of expertise in the strategic plan.
Leading in Aerospace Innovation and Application
Each faculty fellow has a different challenge to address.
For Dr. Brian Elbing — associate professor of mechanical and aerospace engineering in the College of Engineering, Architecture and Technology — that challenge is devising a plan to make OSU No.1 in aerospace innovation and application.
In addition to the establishment of the Oklahoma Aerospace Institute for Research and Education (OAIRE) in 2021, Elbing is looking for other opportunities to establish OSU as a leader.
"A big piece of this is just making OSU extremely desirable for faculty and students to come here to study and research aerospace applications," Elbing said. "Drawing even more expertise to OSU is important, and so is empowering the immense expertise we already have here to be more successful."
Elbing wants to use OAIRE and this fellow position to streamline the creation of cross-disciplinary teams and enable them to explore unique and cutting-edge research projects.
OSU is recognized as a national leader for unmanned aircraft systems and has a long history of being at the forefront of designing and building custom aircraft systems. In June, OAIRE opened the LaunchPad Center for Advanced Air Mobility in Tulsa, giving OSU more opportunities for aerospace research. Elbing believes breaking down barriers and fostering collaboration will lead to more innovation and allow OSU to continue building on its meteoric momentum across the aerospace field.
"The idea I'm most excited about is establishing a cohort of aerospace graduate students to bridge departments and disciplines," Elbing said.
The concept would allow two researchers from different areas to work with one student who knows both sides of a research endeavor instead of two separate students. In this collaborative model, the student would benefit from learning all facets of the research, and it would rapidly enhance collaboration on campus.
Elbing is currently working to assemble a campuswide task force to help further solidify OSU's aerospace ascendancy.
Preparing the Future Workforce
Dr. Steph Link — associate professor of English in the College of Arts and Sciences — knows many students face obstacles on the pathway to a successful career.
As a faculty fellow, Link hopes to use her experience to help students with the fundamental decisions surrounding their future.
"Students need to know more about workforce options and how to pursue those options by cultivating lived and learned experiences at OSU and beyond," Link said. "When the call for fellows was announced, I knew I could contribute to how we prepare students for the future workforce by utilizing my own personal and professional knowledge to help better understand the diverse backgrounds that lead students to OSU."
With that in mind, the aim is to launch a new initiative that will offer a unified vision toward workforce development, bridging curricular and co-curricular opportunities on a path to addressing our society's workforce needs.
"My role is to initiate discussions and participate in continuing dialogues about workforce preparation — both within and beyond OSU — with the intention of establishing a network of connections that will contribute to a transformative vision for the future of OSU," Link said.
The university's strategic plan aims to maximize the relevancy of an OSU degree and contribute to the development of innovative leaders who will help solve society's grand challenges.
Powering a Growing World Population Sustainably and Responsibly
In the initial phase, CAS geology professor James Knapp has set out to assemble expertise across the university and engage in conversations surrounding the university's initiative to pursue sustainable energy solutions for a growing world.
"A year-and-a-half ago, OSU established the Hamm Institute for American Energy at Oklahoma State University," Dr. Knapp said. "That institute has become the centerpiece for OSU for the whole energy sphere. The way forward is going to be in supporting and collaborating with the Hamm Institute."
The key is bringing university student and faculty resources to the table while collaborating with the Oklahoma City-based institute to build on existing strengths to advance the strategic plan.
"One of the real promises I see, and this is true for a lot of other people in terms of our land-grant mission, is that we have a presence in all 77 counties in Oklahoma," Knapp said. "These are the kinds of initiatives that could be taken to every one of those counties in some way or another."
Part of this process will be devising a plan to inventory available resources and highlight their presence both internally and externally.
"It's getting people coming with different backgrounds and perspectives around the table to have those conversations and see where we can really build capacity in terms of bridging those different theories," Knapp said.
Enhancing Human and Animal Health
Dr. Ashish Ranjan — professor and director of the Institute for Translational and Emerging Research in Advanced Comparative Therapy (INTERACT), in the College of Veterinary Medicine — has been developing the concept of One Health, which is focused on improving the lives of all species, human and animal, through the integration of human medicine, veterinary medicine and environmental science.
As a veterinarian, he sees patients with various diseases and cancers, many of which similarly affect human populations. Currently, developing drugs for human applications poses many challenges including the regulatory burden, and lack of clinically meaningful data in a relevant preclinical model system.
To understand the importance and ease the pace of translation of therapeutic and diagnostic platforms, OSU established INTERACT with the goal to promote One Health and One Medicine by doing veterinary and human trials in parallel. The institute has been hosting prominent scientists in the field on the Stillwater campus including a Nobel Laureate. Recently, INTERACT organized a one-health and one-medicine conference at the McKnight Center that was attended by delegates from 23 countries.
"When the provost asked me to serve as a faculty fellow, I thought it's a perfect time for me to align the strategic mission and implementation strategies of OSU by harnessing the potential of One Health medicine across campus and beyond," Ranjan said. "We now have a task force consisting of 15 faculty members from various OSU colleges. This task force meets regularly to formalize the One Health concepts in various domain areas, aiming to eventually establish the program as a preeminent one in the nation."
For those interested in helping this initiative move forward, there are two primary avenues for support. One is the focus group itself, which is identifying new research opportunities and facilitating discussions outside of the box. The other is contributing information to the One Heath initiative that may not be available to the focus group but can be facilitated by supporting efforts such as the one conducted by INTERACT and other One Health related efforts.
"We ask the donors, scientific community and public to visit our webpage, reach out to the provost's office, or me directly or one of the faculty fellows. This will allow us to invite them to partner with us and share their insights such that they can be strategized at the campus level, and beyond" Ranjan said.
Guiding General Education Reform
Traditional general education offerings at most colleges are similar to a grocery list of courses. Students pick from this list to meet particular subject area requirements. As a faculty fellow, Dr. Tamara Mix — CAS professor and head of sociology — is looking to reimagine and promote innovation in general education and OSU.
Through the "We Are Land-Grant" strategic plan, Mix and a universitywide working group are guiding general education reform to enhance the student experience and better prepare students for the future.
Together, the working group is formulating an innovative new idea: Cowboy Compass.
"Rather than a seemingly random hodgepodge of courses throughout the university, a student's general education classes will follow a natural progression via the Cowboy Compass. Constructed and planned carefully, Cowboy Compass in the form of 'big questions' or 'grand challenges' — referred to as TRAILS — will guide students throughout their general education experience."
Still in the mapping stages, Cowboy Compass is focused on empowering students in their educational decisions and giving them the foundational pieces to build their future. Part of that involves streamlining current practices, improving communication with students, faculty and instructors about the premise and purpose of general education and effectively engaging with intended learning outcomes.
"General education's intent is to provide that diversity of education students need, not only to be successful in their careers, but in their life trajectories. To cultivate well-rounded people, we need to embark on transformative change to our current general education system," Mix said.
Expanding Opportunities for K-12 STEM Education
Through her background in K-12 education and passion for curiosity, Dr. Susan Stansberry — educational foundations, leadership and aviation professor in the College of Education and Human Sciences — wants to use her faculty fellow position to serve the public by enhancing K-12 STEM education and facilitating collaboration across the OSU system to create more opportunities.
Stansberry compiled an advisory board of experts from various disciplines and sought collaborators to create the STEM Education Hub, which recently launched to increase awareness of and access to education resources and opportunities.
The hub is intended to have broad public impact as it will serve K-12 teachers and students, college and university students, professors, parents and guardians.
The task force has developed priority areas to meet the imperatives set forth by the strategic plan. It is working to coordinate awareness of existing K-12 STEM education resources and opportunities, facilitate transdisciplinary collaboration on research, teaching and service regarding K-12 STEM education, and encourage and support external funding for STEM education.
"A lot of people don't realize they are a part of STEM," Stansberry said. "They think 'I'm not pure science. I'm not pure mathematics. I'm not an engineer.' Really, all disciplines touch STEM in some way."
Innovating to Nourish the World
OSU is historically strong in the areas of food production and agriculture, but the pursuit of excellence never stops.
In his role as a faculty fellow, Dr. Sam Emerson — CEHS nutritional science associate professor — is tasked with engaging faculty, colleagues, staff and student leaders in thoughtful discussions about innovation to nourish the world.
Oklahoma faces significant health challenges as it ranks among the bottom states in terms of heart disease, diabetes and obesity. These challenges involve the production of food but also access to healthy food, education around food intake and how food affects the human body.
"When you think about tackling these really complex issues, we have, in large part, the expertise on campus to do our part," Emerson said. "But there's room for improvement in terms of getting those experts talking and working together."
Emerson has formed a group of food systems experts across departments to work toward addressing this grand challenge. The first step is starting transdisciplinary conversations and brainstorming. Emerson said it's critical to then move beyond conversations to tangible improvements to enrich student education and improve lives.
"The grand challenge we have identified is what we're calling weak food systems," Emerson said. "Food system is kind of a generic term, but it's going to encompass everything from the way we grow our food, to how that food manifests itself in an Oklahoman's body and their health. It's everything from food production, management and distribution to food access, affordability and the nutrient composition of the food we are growing or processing."
The goal is to create innovations, small and large, that promote strong food systems in Oklahoma, using teaching, research and Extension to fulfill the land-grant mission.
"We know there are disparities in terms of not just health outcomes, but food access, and significant disparities among our rural population in Oklahoma," Emerson said. "There are things we can work on at every step to get to the next level in food and agriculture."
Enriching and Integrating the Arts
When thinking about art at OSU, people naturally think of visual arts programs or performing arts programs like music, theater and dance.
But to Dr. Rebecca Brienen — CAS art, art history and graphic design professor — it also includes programs like landscape architecture or even the various programs within the School of Architecture.
Tasked with enriching and integrating the arts, Brienen is working across the system to create a cohesive vision for OSU and the arts moving forward. Brienen has assembled a working group with representatives from across the university to approach their grand challenge from as many angles as possible.
OSU has several facilities on campus, such as the Greenwood School of Music, The McKnight Center for Preforming Arts and the OSU Museum of Art. OSU also has the Prairie Arts Center in Stillwater and Doel Reed Center in Taos, New Mexico.
Brienen is engaging in conversations with other fellows about how to integrate art and artistic creativity into their initiatives and envision the kind of profile they want OSU to have as a land-grant institution.
"We believe art is an essential part of any student's education," Brienen said. "How do we properly integrate that into their education in a meaningful and robust way?"
Over the summer, Brienen has been reaching out to various types of arts organizations throughout Oklahoma to assess what experiences they can provide students and what kind of skill sets they need students to have for workforce readiness.
"That's the great thing about these faculty fellow positions; it's bringing us together but it's also making us think critically about how to get this message out and how we move the institution forward to manifest this new vision we have," Brienen said.
Elevating and Amplifying Extension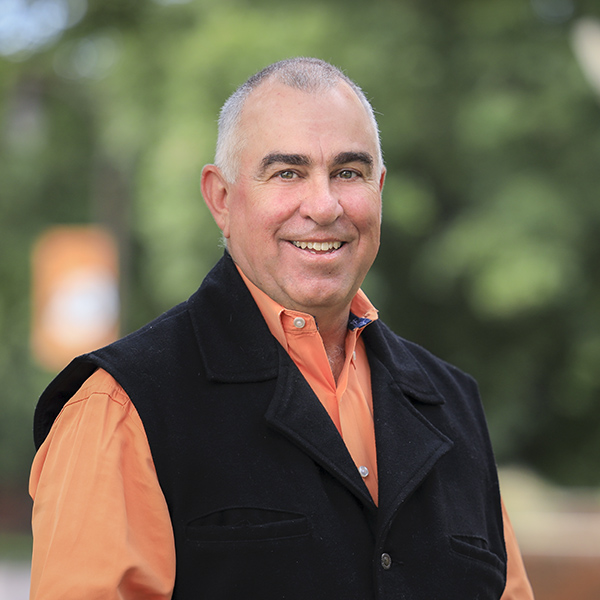 Dr. Randy Taylor — Ferguson College of Agriculture professor of biosystems and agricultural engineering — has spent most of his career in Extension. Now, as a faculty fellow, he's working to take OSU research to the people.
"If we're going to elevate and amplify Extension, from the university standpoint, we must do it on campus first. It has to be who we are, not something we do," Taylor said.
Taylor said President Kayse Shrum has made it clear she knows what Extension means to the university and the state of Oklahoma. He feels now is the time to do something. Taylor is meeting with all the colleges across campus as well additional representatives on and off campus to gather information. So far, there has been excitement about meeting the people of Oklahoma where they are and providing for the public.
"Faculty have expertise," Taylor said. "They've spent their career building expertise in an area, and they want to share that with people. But the big key is being able to package it for people to use and be able to elevate the expertise of people on whatever subject it is."
One of the main objectives of this initiative is to leverage a system that allows someone to take their expertise to the people in a beneficial way. Taylor wants to beat the stigma that the Cooperative Extension Service is only agriculture and aspires to expand the expertise and resources available in other areas as well.
"Connecting the university to the people is part of our land-grant mission," Taylor said. "If we do this, and we do it well, other universities around the country are going to look at Oklahoma State and say, 'That's who we want to be.'"
Creating Servant-Leaders and Engaged Citizens
One of OSU's land-grant commitments laid out in the strategic plan is to enrich the Cowboy culture by cultivating individuals who compete with integrity and excellence.
Cowboy culture inspires servant-leaders who humbly give of themselves to better communities, improve society and steward the land and its people.
Through his initiative, Dr. Matt Bowler —associate professor of management in the Spears School of Business — is working to engage OSU in creating servant-leaders and engaged citizens. While several other faculty members are laying the groundwork to develop centers or institutes for their area, Bowler is utilizing the already established Hargis Leadership Institute to create synergies among them.
Leadership is being taught and researched in various areas across the university, Bowler said. It's his job to assess leadership and create a centralized conduit for training students to be leaders. He even teaches a leadership elective himself.
Bowler has worked closely with Josh Taylor, director of the Hargis Leadership Institute, to inventory all leadership courses and programs for students, as well as faculty and staff training.
"My challenges are that I need support or task force members from different colleges," Bowler said. "Getting to know people doing things around leadership is something that is important for me."
Bowler has established a working group of those involved with leadership education, research and outreach to aid in moving the strategic plan forward through this initiative and welcomes anyone who reaches out with questions or looking to get involved. He hopes every area of the university is represented.