Oklahoma State University, partners take Oklahoma's aerospace and aviation leadership to next level
Friday, June 30, 2023
Media Contact: Shannon Rigsby | Public Information Officer | 405-744-9081 | shannon.rigsby@okstate.edu
OSU cuts ribbon for LaunchPad Center for Advanced Air Mobility with Tulsa Innovation Labs and Osage Nation; Signs Space Act Agreement with NASA
Friday, Oklahoma State University and partners — including Tulsa Innovation Labs and the Osage Nation — celebrated a ribbon-cutting at the LaunchPad Center for Advanced Air Mobility at OSU-Tulsa's Helmerich Research Center (HRC).
The LaunchPad Center will house dedicated resources to promote the development of new technologies in advanced air mobility, including staff to solicit projects from industry, engineers and researchers to build new products, and supporting services to help commercialize technologies and grow new companies.
Local, tribal, state and national leaders — including representatives from the Department of Defense, Tinker Air Force Base, the Federal Aviation Administration and the U.S. Economic Development Administration — were on hand for the event, which culminated in an unmanned aerial systems demonstration.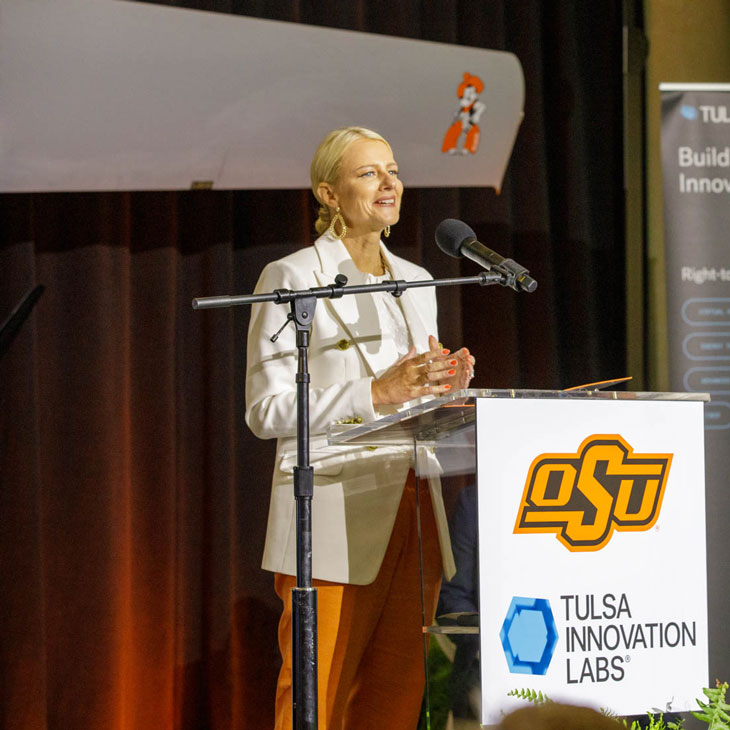 "A key pillar of Oklahoma State University's strategy is leading in aerospace and aviation innovation, but we know our success is shared success," OSU President Kayse Shrum said. "This is why we are so excited about our strategic partnerships with NASA, Tulsa Innovation Labs, and Osage LLC, an Osage Nation enterprise. Additionally, the U.S. Economic Development Administration recognizes that taking Oklahoma's aerospace and aviation to the next level has national benefits, and we appreciate the agency's critical support."
The LaunchPad Center will support the development and deployment of emerging aviation technologies, including unmanned aerial systems with uses ranging from critical infrastructure inspection and agricultural monitoring to emergency response and last-mile delivery. Given Tulsa's strategic position as an urban hub in a rural region, the LaunchPad Center will also focus on developing new air transportation systems to safely and sustainably move people and goods in places currently underserved by aviation, including rural and tribal communities.
"Aviation is entering its third 'golden age' and the LaunchPad Center for Advanced Air Mobility is on the cusp of translating research into significant industry advancements," said Dr. Jamey Jacob, executive director of the Oklahoma Aerospace Institute for Research and Education (OAIRE), director of the Counter-UAS Center of Excellence and professor of mechanical and aerospace engineering at OSU. "OAIRE and the creation of the LaunchPad Center under the OAIRE umbrella will bridge the gap between early stage research and applied technology, deploying developments to improve industry, the economy and to move the research tied to aviation and space forward."
Jennifer Hankins, deputy managing director of Tulsa Innovation Labs, said they were thrilled to see this vision come to life.
"Not only will the LaunchPad Center position Tulsa and northeast Oklahoma for global competitiveness in advanced air mobility, but equally important is the signal this moment sends to our local community," Hankins said. "This investment in OSU-Tulsa is part of our commitment to supporting the ongoing revival of Tulsa's Historic Greenwood District, where the center will be located. We are eager to see this project inspire Tulsa's next generation of innovators, entrepreneurs and young people interested in careers in the next wave of the aerospace and aviation industries."
The LaunchPad Center will be housed with state-of-the-art research and development laboratory assets in the HRC, capitalizing on the campus' strategic location, educational connections and industry partnerships. LaunchPad's first industry partner, WindShape, will create an environmental test facility in the HRC, gathering data on any conditions UAS will experience while in flight but in a controlled laboratory environment. This includes environmental test facilities to evaluate drones in wind, rain, icing and wildfire conditions.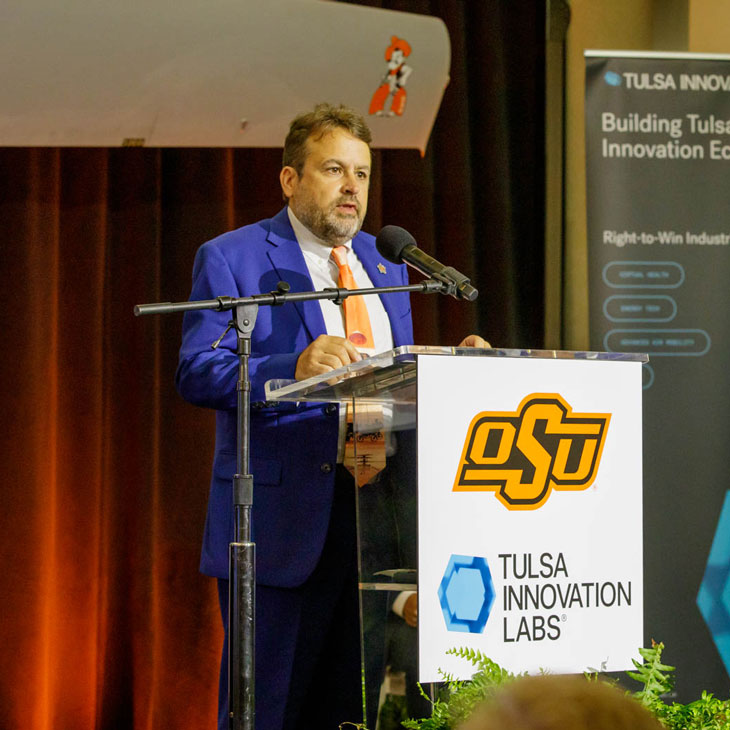 The LaunchPad Center is one of four projects under the new Tulsa Regional Advanced Mobility (TRAM) Cluster, which received $38.2 million in funding from the Economic Development Administration's Build Back Better Regional Challenge. This grant also created the Skyway Range, a flight test facility which connects the Osage Nation and its enterprises' Skyway36 Droneport in Tulsa, OSU's Unmanned Aircraft Flight Station near Stillwater and two additional nodes in the region to create an unparalleled asset for testing and evaluation of new technologies.
"We believe this facility will be the first of its kind in the United States," Jacob said. "With the Skyway Range test flight facility, we have the capacity to test capabilities in the real world, eventually in both urban and suburban settings. With our partnership with the Osage Nation and their Skyway Range, located 5 miles north of the LaunchPad Center, we have the capacity to solve last-mile delivery problems. The long-term goal is to support the ecosystem for external researchers as well as entrepreneurs with startup concepts they would like to transition from early stage to field testing."
The Skyway 36 Droneport, a working airport where OSU research is already under way, is now fully dedicated to advanced air mobility applications. It will include immediate access to manufacturing space and allow researchers to work hand-in-hand with industry to advance innovation seamlessly and quickly.
"Exposing our youth to emerging aviation technologies is critical for the next generation to be competitive in advanced air mobility," said Osage Nation Principal Chief Geoffrey Standing Bear. "Osage Nation Education and STEAM departments have laid a strong foundation for these opportunities through strategic partnerships such as this, and we are excited for the LaunchPad Center to be a resource to continue this forward momentum."
Space Act Agreement
Coupled with the ribbon-cutting for the LaunchPad Center, OSU also signed the Space Act Agreement, opening the door to expanded opportunities for education, workforce development and research.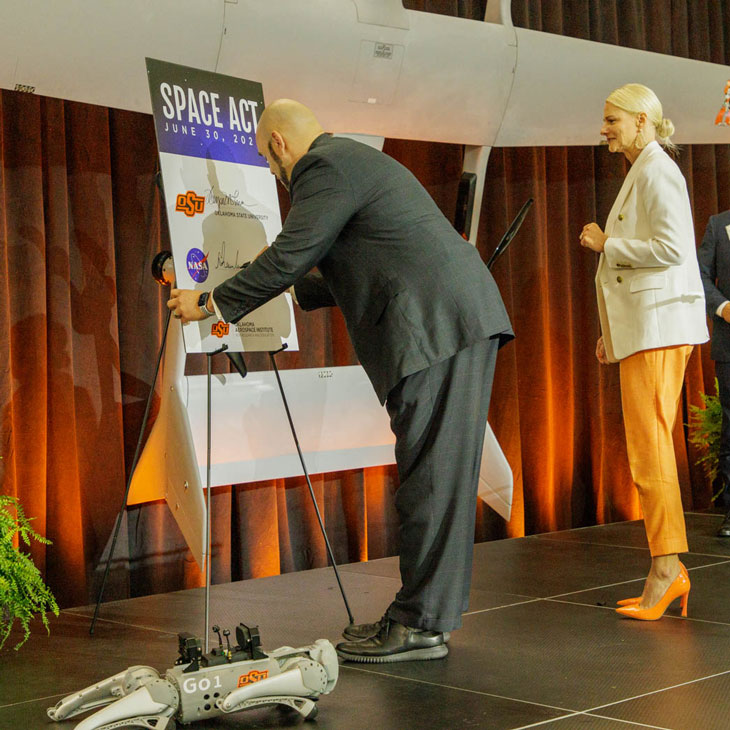 NASA Education and OSU are celebrating more than 55 years of continuous partnership that has inspired students and immersed them in NASA's work with programs such as Teacher in Space and Teaching from Space, Explorer Schools, Digital Learning Network and INSPIRE.
Under the agreement, OSU and NASA will work together to facilitate joint research, technology transfer, technology development and educational and outreach initiatives that build upon the long outreach and research history that NASA has with OSU. The overarching goal is to create a sustained pipeline of diverse talent for STEM careers at NASA and foster entrepreneurship and commercial opportunities in Oklahoma startup companies that provide support for NASA operations.
NASA Director of STEM Engagement Gamaliel Cherry said the new Space Act Agreement will build on the existing foundation and create an innovative university partnership to leverage NASA and the university's research opportunities.
"We're excited to ensure that OSU is the cornerstone of what NASA has to offer," Cherry said. "NASA has a university collaborations initiative that focuses on making sure that key universities have a focus in helping us achieve our mission, not only today, but in the future. And we're proud to be here today to say that OSU is going to be a part of that."
OAIRE faculty will also have the opportunity to engage with NASA through research and educational collaborations and support companies engaged in NASA Small Business Innovation Research and Small Business Technology Transfer programs. The LaunchPad Center will benefit from this arrangement by providing an additional opportunity space for LaunchPad Center researchers and companies to collaborate with NASA on their advanced air mobility efforts.