Lauren Huntley, an Oklahoma State University fashion design and production sophomore, won a prestigious Fashion Scholarship Fund (FSF) Case Study Scholarship among nearly 650 applicants.
Challenged to develop a clothing line for a case study targeting Generation Z consumers, Huntley designed sustainable clothing using scrap materials from commercial clothing production, then crafted a marketing plan. Her efforts for the case study-based scholarship earned her $7,500 and networking opportunities with fashion leaders and celebrities across the U.S.
"The experience of thinking how this sample line can go from start to finish has been so rewarding," Huntley said. "It's really satisfying being able to see an idea come to fruition like that."
Huntley first tested her vision of combining small scraps of fabric, such as quilting batting and denim, into multi-colored patterns by hand-sewing example designs. The OSU Sewn Products Laboratory, equipped with numerous industrial-style technologies, provided her the tools she needed, and classes such as Draping, which discusses fabric properties, equipped her to work with a variety of fabric scraps.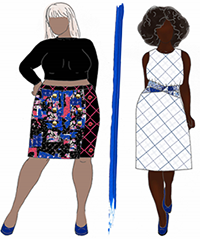 "After many trial and error designs, it is very satisfying to see an idea come to fruition," Huntley said. "I started by sewing sample clothing designs to see if it was even feasible, then I primarily used digital design tools to develop the idea."
This is the second time Huntley has won the scholarship, placing her among an elite number of applicants across the country. Last year, Huntley's application featuring a little girl's clothing line inspired by Dwayne 'The Rock' Johnson won her a $5,000 scholarship and a trip to New York City to meet celebrities such as Martha Stewart and Ryan Seacrest.
While this year's trip to New York City was virtual due to COVID precautions, Huntley still gains lifetime access to a professional network across the U.S. and had opportunity to attend a virtual career fair with leading fashion companies. All scholarship winners' names were also published in Women's Wear Daily (WWD) magazine.
"This is a huge honor and opportunity," Huntley said. "I definitely credit my professors for helping me throughout the process."
One professor, Diane Limbaugh, begins mentoring students in their application process in February, organizing local business professionals to provide feedback and providing advice of her own until applications are submitted in October.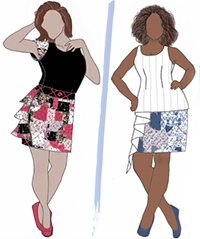 "It challenges students to think outside of class assignments, as if they were presenting to a board of directors," Limbaugh said. "This becomes a powerful piece for students to add to a portfolio or resume when applying for jobs."
OSU is one of only 66 accredited universities qualified to submit applications for the FSF Case Study Scholarship. Since 2013, 19 OSU students have won a total of 23 FSF scholarships.
Limbaugh credits a culture of excellence in the Department of Design, Housing and Merchandising for students' scholarship success. The OSU Department of Design, Housing and Merchandising ranks in the top 20 U.S. programs and is one of only 13 schools to hold affiliation with the American Apparel and Footwear Association. From the student-led Euphoria Fashion Show to internships and travel opportunities, students have many opportunities to sharpen their skills.
For students like Huntley, who came to OSU after Family, Career and Community Leaders of America (FCCLA) contests helped her realize a passion for fashion design, that culture of excellence has made all the difference.
"I came to OSU looking to be challenged," Huntley said. "My classwork and professors have stretched my skills and supported me throughout applying for this scholarship. I couldn't have done it without them."
MEDIA CONTACT: Brittany Bowman | 540-908-0929 | brittany.bowman@okstate.edu