Two alumnae inducted to College of Education, Health and Aviation Hall of Fame
Thursday, May 2, 2019
Dr. Ann Caine and Pat Graff were inducted to the Oklahoma State University College of Education, Health and Aviation Hall of Fame on April 26 during the college's annual banquet. Induction to the Hall of Fame is the highest award presented by the college and recognizes outstanding professional achievements and service.
"We were thrilled to celebrate the lifetime achievements, leadership and service of our honorees," said Dr. Stephan Wilson, interim dean of the College of Education, Health and Aviation. "Ann and Pat are both exemplary representatives of OSU and the College of Education, Health and Aviation. They have dedicated their lives to empowering others through education and both are cherished additions to the Hall of Fame."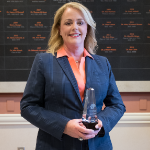 Caine received her doctorate in education from OSU in 1998. Over the past 40 years, she has taught, mentored, coached and supported students, teachers and administrators under the mantra of "kids first." In 2008, Caine became the first female superintendent for Stillwater Public Schools and served in the role for seven years. Her work was recognized at the state level when she was named Oklahoma Superintendent of the Year in 2014. In 2015, Caine was appointed to the Governor's Education Advisory Committee. She continues to make a significant impact on education as the director of education leadership for the Oklahoma State School Boards Association.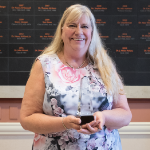 Graff, a 1976 alumna of the OSU College of Education, has dedicated her life to education. She served Albuquerque Public Schools for 37 years as a teacher, department chair, test coordinator and grant co-coordinator. In 1993, she was selected as New Mexico Teacher of the Year and recognized with the prestigious Milken Educator Award. Graff was named the National Journalism Teacher of the Year (1995) and Disney National English Teacher of the Year (1998), and she was honored with the National Distinguished Service Award by the National Council of Teachers of English (2001). In 2006, she was inducted to the National Teacher Hall of Fame. Although retired, Graff continues to support and mentor future educators across New Mexico.
Additionally, Dr. Glenna Stumblingbear-Riddle received the 2019 Rising Star Award. This honor is given to individuals who have received a bachelor's or graduate degree within the last 10 years and whose life and achievements demonstrate the promise of future leadership and bring distinction to the college.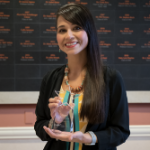 "Glenna is a passionate and accomplished counselor who truly deserves to be recognized," said Wilson. "She is making a difference in the health field and beyond each and every day. I look forward to watching her future success throughout her career."
Stumblingbear-Riddle earned her doctorate in counseling psychology from OSU in 2010. She is a licensed health service psychologist and is dedicated to reducing behavioral health disparities and promoting overall mental health wellness in Indian country. Stumblingbear-Riddle is a member of the Kiowa Tribe and after serving as Director of Behavioral Health for a tribal clinic for several years she has returned to her small-business, Resilient Tribal Roots, PLLC. Her professional affiliations include membership with the Society of Indian Psychologists, American Psychological Association and Oklahoma Psychological Association. She previously served as the vice-chairperson on the Oklahoma Department of Mental Health and Substance Abuse Services board and currently serves as an advisory board member for the Center for Healing Racial Trauma.