OSU establishes premier partnership with Air Line Pilots Association
Friday, November 22, 2019
Oklahoma State University has established a professional development alliance with the Air Line Pilots Association (ALPA), which designates OSU as one of only 12 universities across the country selected to participate in the organization's outreach mentor program. The OSU aviation program and the OSU Flying Aggies now hold the ALPA Aviation Collegiate Education (ACE) Club distinction. Oklahoma State is the first and only college in the Big 12 Conference to receive this honor.
As the world's largest pilot union, ALPA represents and advocates for more than 63,000 pilots at 35 airlines in the U.S. and Canada. Alliances built between ALPA and leading aviation universities like Oklahoma State aim to promote the profession and support aspiring aviators preparing for careers within the airline industry.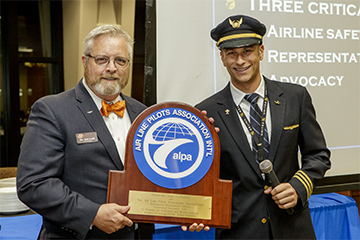 "Our students now have direct access to major airline pilots through a formal mentorship program," said Dr. Jon Loffi, associate professor of aviation and space in the OSU College of Education, Health and Aviation. "Representatives from ALPA will be on campus at least once a semester to provide support to our students and make themselves readily available for questions related to flight training, crew resource management, career paths, job expectations and much more."
Regular visits and presentations by active airline pilots will give students practical workplace examples, emphasizing professionalism. In addition to on-campus outreach, ALPA organizes annual field trips for students to tour airline operations and other aviation-related facilities. These trips provide aspiring aviators with a behind-the-scenes look at how airlines operate and a first-hand experience of what it takes to be a professional airline pilot.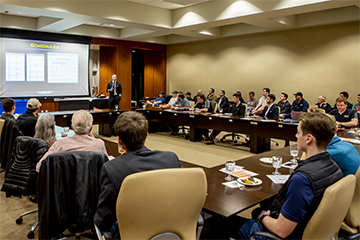 Oklahoma State alumnus and United Airlines Captain Kent Moffer was instrumental in helping establish this partnership over the last two years. Moffer and First Officer Costas Sivyllis, chairman of ALPA's National Education Committee, were on campus to present a plaque and celebrate with students and faculty during a special recognition event on Nov. 18. Moffer will serve as the ALPA representative on the OSU Professional Pilot Advisory Board.
"Being on the advisory board is an honor and gives me the opportunity to promote the profession and give back to my beloved alma mater," said Moffer.
After spending time on campus, Sivyllis was blown away by the OSU community's hospitality and enthusiasm.
"With such a motivated student base, we hope to truly provide mentorship and guidance as these aviators grow through the ranks," said Sivyllis. "I'm very excited to see the ALPA ACE Club exist in such an engaged environment."
Today, the OSU aviation program enrolls more than 300 students annually, offering undergraduate degrees in professional pilot, aerospace security, aviation management and technical service management. Oklahoma State is one of only 18 universities in the nation to offer graduate-level aviation degrees. In the last five years, overall enrollment in the program has increased nearly 40 percent, with the professional pilot option experiencing almost 50 percent enrollment growth. This directly reflects industry demand.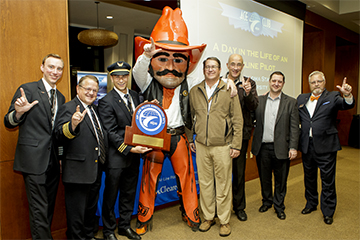 Professional pilot students are trained at the OSU Flight Center, located north of the Stillwater Regional Airport. The 37-aircraft training fleet includes five brand-new Cirrus SR20s and new Cessna 172 and Piper Seminole multi-engine planes. This year, the OSU aviation program was selected to participate in the 2019 Top Hawk program, a partnership between Textron Aviation and top university aviation schools that provides students access to the world's most popular single-engine aircraft, the Cessna® Skyhawk®.
With the ALPA ACE Club distinction, Oklahoma State has further established itself as one of the premier aviation programs in the country.
"This puts us in a great position for future partnerships and recognitions within the industry," Loffi emphasized.
MEDIA CONTACT: Rachel Eng |405-744-8320 |rachel.eng@okstate.edu