OSU-Tulsa hosts body image and eating disorders conference
Monday, November 18, 2019
The Oklahoma Eating Disorder Association teamed up with OSU-Tulsa's Body Image and Disordered Eating (BIDE) Lab to present the one-day educational symposium Nov 1, 2019 at OSU-Tulsa, to further educate professionals on the latest treatment for eating disorders and related conditions. Diversity was top of mind all day as the conference opened up with keynote speaker Dr. Paula Edwards-Gayfield, assistant vice president at the Renfrew Center, a Dallas eating disorder treatment facility.
"Eating disorders don't discriminate," Edwards-Gayfield said. "So how do we respect the differences we all bring to the table?"
Edwards-Gayfield pointed out that when it comes to something as sensitive as body image and eating disorders, experts in the field need to not only be accepting and understand of anyone that walks through the doors of a clinic, but also understand the pressures that might influence body image and disordered eating in the first place.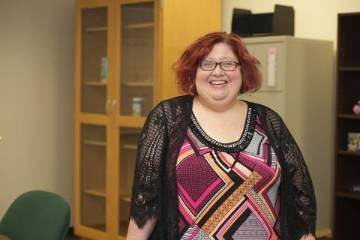 Since opening last year, OSU-Tulsa's BIDE Lab has undertaken research projects focusing on diverse populations including sexual minority women, gender-diverse adolescents and American Indians.
"Eating disorders are an issue facing people of all cultures and identities." Dr. Tonya Hammer, director of the lab, said. "The keynote set the tone for that." BIDE Lab research topics include the relationships between body image and well-being of college students, the role of masculinity in Body Dysmorphic Disorder and the ways family influences health behaviors and weight status.
Hammer hopes this symposium is the first of many continued education opportunities in conjunction with OEDA. "The Symposium was a wonderful opportunity," Hammer said. "It brought attention to the issues surrounding body image and disordered eating and was a first for both the lab and OEDA," she said. "Working together provided the opportunity to bring together counselors, social workers, nutritionists and physicians to highlight some of the cutting edge work being done."
Media Contact: Jamie Edford | 918-594-8024 | jamie.m.edford@okstate.edu