NASA partnership builds students' interest in STEM
Wednesday, March 11, 2020
A historic partnership between Oklahoma State University and NASA provides students with real-life applications to the science they learn in the classroom.
The NSPACE program (NASA STEM Pathway Activities – Consortium for Education) includes 16 innovative activities for students from kindergarten to graduate school. Students can videoconference with astronauts at the International Space Station, compete in design and engineering challenges and take courses online. In the first two years, NSPACE has reached more than 337,000 students and 82,000 educators in 51 states and territories.
"Through NSPACE activities, students design experiments to be tested at a space center and actually flown into space," said OSU educational technology professor Dr. Susan Stansberry. "This is truly authentic, problem-based learning, and they are supported by experts in our online courses as well as by their own professors."
Currently, sixty-two OSU/NSPACE employees work on campus and at five different space centers to design, develop and deliver activities further NASA's mission. That mission is to create unique opportunities for students and the public to contribute to NASA's work in exploration and discovery; build a diverse future STEM workforce by engaging students in authentic learning experiences with NASA people, content and facilities; and strengthen public understanding by enabling powerful connections to NASA's mission and work.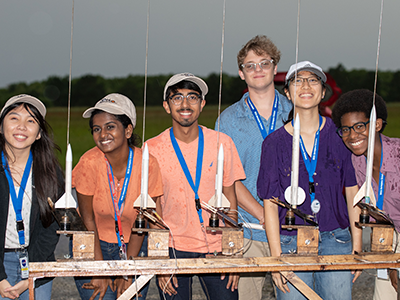 OSU's partners - Texas A&M, the Center for Sovereign Nations, Langston University, Northern Oklahoma College and Oklahoma 4-H - help recruit students into NSPACE activities. Stansberry is now the third OSU professor to lead the NASA cooperative agreement, following Drs. Steve Marks and Ken Wiggins.
"The idea is to engage students throughout their studies, along a pathway of activities," Stansberry said. "Most of our activities feature authentic problem-solving challenges issued directly from NASA astronauts and engineers. NSPACE engages high school, career tech, community college, and university students in online learning and on-site experiences across all 10 space centers."
"Through our HUNCH activity, for example, we give students opportunities to design, prototype and fabricate hardgoods, softgoods and nutritional meals that actually fly on the ISS.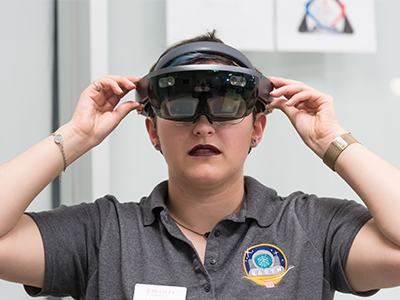 "Children in an elementary classroom may participate in a videoconference with an astronaut, while high school and community college students may become High School Aerospace Scholars or NASA Community College Aerospace Scholars, and university students may engage in a competitive challenge with a multidisciplinary team or serve as an intern at one of the Space Centers," Stansberry said.One of the astronauts' favorite products designed and fabricated by high school students is a multi-directional collapsible table on the ISS, Stansberry said. Students get to sign the products they create, and those items are viewable in the Google Earth space view. However, learning opportunities are not limited to inventions.
As Stansberry works with OSU staff, NASA employees and professors at other universities to implement NSPACE activities, she hopes to foster a similar spirit of collaboration in NSPACE student participants.
"In formal education, we tend to silo disciplines, but that's not how the real world works. That's the fun part for me, watching all of these multidisciplinary challenges being addressed by students from different disciplines at different levels of education."
With the help of the NSPACE program, student learning experiences are reaching all the way to outer space and back.
MEDIA CONTACT: Brittany Bowman | 405-744-9347 | brittany.bowman@okstate.edu
Related articles
NASA awards OSU College of Education, partners $25 million grant