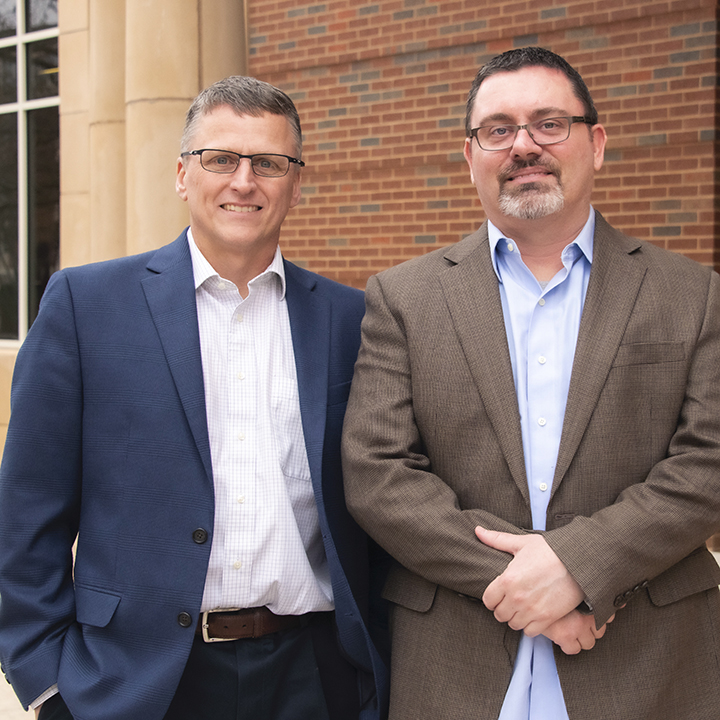 OSU school psychology intervention programs support Oklahoma students
Friday, January 31, 2020
Oklahoma ranks 45th in the nation for youth mental illness and access to care, according to the Oklahoma State Department of Mental Health and Substance Abuse. Two programs led by Oklahoma State University school psychology faculty are working to intervene.
Project AWARE provides mental health screenings and interventions to underserved school districts in western Oklahoma, and the Oklahoma Tiered Intervention System of Support (OTISS) identifies and addresses academic and behavioral issues interfering with student success. Project AWARE is fully funded by an $8.6 million, five-year grant awarded in 2018 by the U.S. Department of Health and Human Services – Substance Abuse and Mental Health Services Administration (SAMHSA) to the Oklahoma State Department of Education. OSU's work with OTISS is funded through a $6 million grant awarded by the U.S. Department of Education to the Oklahoma State Department of Education, also in 2018. The university's grant work with OTISS is now in the third iteration.
Both programs are led by Dr. Gary Duhon, professor in the School of Teaching, Learning and Educational Sciences, who believes the integrated nature of the school psychology program is a key factor in OSU's selection for these grants. The programs are also directed by two additional School of Teaching, Learning and Educational Sciences faculty, Dr. Brian Poncy, associate professor; and Dr. Candace Lane, assistant professor.
"Kids these days have more exposure to factors that impact mental health," Duhon said. "A school psychologist has training in mental health, but they also have a knowledge of school functioning and how the mental health issues can be addressed within the context of the complex environment of a school setting."
As part of the five-year Project AWARE program, OSU school psychology students conduct annual mental health screenings for nearly 7,000 elementary, middle and high school students in Elk City, Weatherford and Woodward. Each district is assigned a licensed mental health professional and a community manager while also receiving support to host community outreach events and personalized teacher training.
Once student needs are identified, teachers receive training to implement interventions for each student, and classroom recordings allow OSU school psychology students to provide personalized feedback to teachers.
Emily Loethen, a second-year school psychology doctoral student, is a district leader with Project AWARE, monitoring student data to ensure interventions are successful while also supporting community outreach events.
"One of my favorite things is collaborating with districts and getting resources and information out," Loethen said. "Parents may have a problem with their student or child and not know what to do."
Having previously worked extensively with individual children, Loethen said she appreciates the opportunity to work at a systems level to advise school districts.
"I'm impacting a lot more kids because I'm making changes to these kids' environments that will better support them and better support kids coming into the school for years to come," Loethen said.
Lauren White, a third-year school psychology doctoral student, is a Project AWARE district leader. Although the program is only in its second year, White is helping prepare for the future.
"The data we're collecting right now is being used to help the school district decide what resources they need and how to best help their students," White said.
Like Project AWARE, OTISS also brings a system-wide approach to student interventions, but concentrates more on academic and behavioral interventions than mental health. Students with possible learning challenges are first screened, then provided with an intervention to match their need.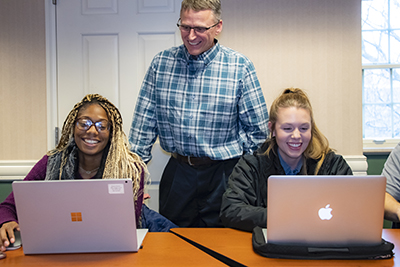 All sites work with a systems-level consultant to coach teachers in implementing the best practices for students. Additionally, some sites receive literacy support from literacy coaches. Districts engaged with the grant also receive $20,000 to purchase materials needed for student intervention. Arynne Horton, a third-year school psychology doctoral student, is a systems-level consultant. She advises a school team and consults directly with a school leader, such as a principal or special education teacher, who serves as an internal systems-level expert to teachers implementing OTISS.
"Key questions are, 'How do we get teachers excited, and how do we keep this system consistent and sustainable?'" Horton said.
Rather than a curriculum, Horton said OTISS is a framework designed to work with existing materials and curriculum at a school. School-wide data helps her know if these materials and practices are effective, but one additional measurement is the enthusiasm she encounters at participating schools.
"Administration really takes a lead, and there's a lot of ownership in schools that enroll," Horton said. "They really run after it."
Another measurement of success for both OTISS and Project AWARE, though indirect, is the school psychology graduate students themselves. The Oklahoma State program has a 100 percent job placement.
Even before graduating, school psychology students must complete an internship approved by the American Psychological Association.. Students around the country from all three disciplines of psychology – clinical, counseling and school –essentially compete for a limited number of internship positions. While Duhon said the national average internship placement for students is around 75 percent, the OSU school psychology program achieves a 95 percent placement rate.
White attributes her work with Project AWARE to her career success.
"Opportunities like these grants give us the opportunity to consult with school districts and even state departments, and this helps us stand out from students from other schools," White said.
After graduation, White plans to continue working at a pediatrics company as a school psychologist. Jobs for school psychology majors range from public schools to hospitals and universities.
In the future, students may have even more opportunities to work at a systems level. Duhon said he is working with school leaders to combine the mental health interventions of Project AWARE with the academic and behavioral interventions of OTISS into one program, the Interconnected Systems Framework (ISF). While ISF will require more from school systems to implement, Duhon said it is best practice and hopes leaders will participate.
Regardless of where the programs head next, Duhon is confident of one thing – OSU school psychology students have many hands-on opportunities to apply classroom knowledge to real-life needs.
"Our students get the opportunity to work at a state level, implementing broad-based models," Duhon said. "These experiences are very unique."
MEDIA CONTACT: Brittany Bowman | 405-744-9347 | brittany.bowman@okstate.edu