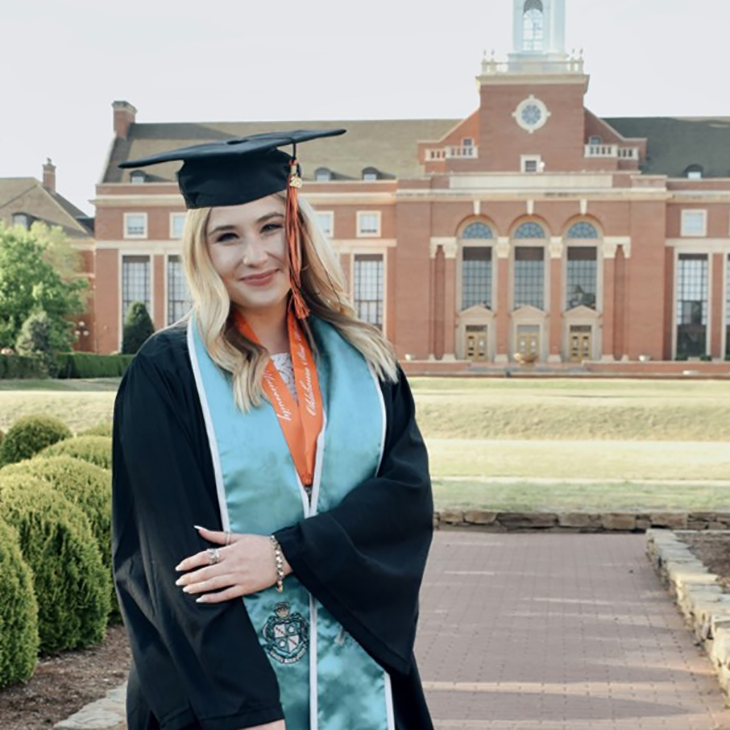 Surprise news on conference call changes future teacher's life
Friday, May 8, 2020
Many Americans have joined video conference calls in recent weeks. None have been as life-transforming as Sara Szumski's, when she learned she was receiving a very generous scholarship.
Bryan Close, Oklahoma State University alumnus, returned to his family's welding business CloseBend after working his way through college. Determined to support other students, he launched a scholarship to allow an unsuspecting education senior to begin their career debt free.
"I have a great appreciation for what teachers do," Close said. "So many go into the profession and not for monetary gain."
On Monday's call, Szumski, who is completing an OSU bachelor's degree in elementary education, had no idea the scholarship was being awarded. Instead, she believed she was presenting to a large audience on the importance of teaching and her personal experiences at OSU.
"This is unbelievable," Szumski said as she received the news. "Thank you for giving me this opportunity. You have no idea how much this means."
Szumski student taught at Richmond Elementary School in Stillwater, Okla., and plans to stay in Stillwater to teach fifth-grade math at Sanger Ridge Elementary School in the fall. For her, teaching has been a lifelong dream.
"Some of my earliest memories consist of lining up all my stuffed animals and reading aloud to them," Szumski said. "My favorite Christmas gift as a kid was a giant whiteboard I used to teach math, which is funny because that's what I'm going to be teaching now."
Szumski credits her professors and classmates for cultivating her love of teaching into plans for a career.
"Some of the professors I haven't had since my freshman and sophomore year at OSU, and I've called them at 8 p.m. during my student teaching for help," Szumski said. "The people I've met in my classes are like my family, too."
Now, Szumski can add one more person to the list of people who have helped her succeed. Although not a classmate or professor, Szumski and Close share an orange connection as OSU alumni.
"I do not have an education degree, although I did graduate from OSU before your parents were born," Close told Szumski on the call. "When I went to school, as long as you had a job on campus at a dollar an hour and worked about 50 hours a week, you could struggle through. That's what I did, and I'm not ashamed of that."
Close wants to ensure other education students have a more accessible experience. By supporting a future teacher, he is reaching future classroom students, too. He is confident this teacher will rise to the challenge.
"I know you're going to do well, Sara, and I barely know you," Close said on the call.
This is the third such scholarship Close has sponsored. In 2018 and 2019, he also surprised one education major with a scholarship that allowed them to graduate free of debt.
MEDIA CONTACT: Brittany Bowman | 405-744-9347 | brittany.bowman@okstate.edu