Teacher Feature: Andrue Brown
Saturday, March 23, 2019
Andrue Brown graduated from Oklahoma State University in 2015 with a Bachelor of Science in Elementary in Education. A five-year teaching veteran, Brown currently teaches physical education at Stillwater Middle School.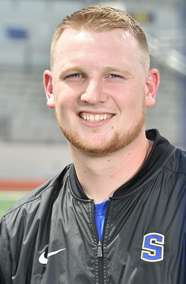 Brown makes a difference.
"Teachers impact so many lives, and I believe Andrue impacts every student he comes in contact with, whether he has them in class or just sees them in the halls," said Tommie Grant, Co-PE Teacher at Stillwater Middle School
Why did you decide to become an educator?
I have always worked with young people in the community and at church. I fully realized what I wanted to do while tutoring at an elementary school during my freshman and sophomore years at Oklahoma State.
What brings joy to your work?
I really enjoy being able to build relationships with students. Every day, I get the chance to be a bright spot in over 900 students' day. I get a chance to go out and play games and facilitate non-traditional, educational interaction.
What impact do teachers have on the lives of their students?
The impact we have as teachers is limitless. Every day that we walk in the door, we have the opportunity to shape the future. We help shape students, and I take great pride in that responsibility. Teaching goes far beyond the material we present in the classroom.
MEDIA CONTACT: Rachel Eng |405-744-8320 |rachel.eng@okstate.edu