Teacher Feature: Jury Ensz
Thursday, October 31, 2019
Jury Ensz graduated from Oklahoma State University in 2016 with a Master of Science in Teaching, Learning and Leadership, option in reading and literacy. An eight-year teaching veteran, Ensz currently teaches English language to students ages kindergarten to fifth grade at Timber Ridge Elementary School in Broken Arrow, Oklahoma.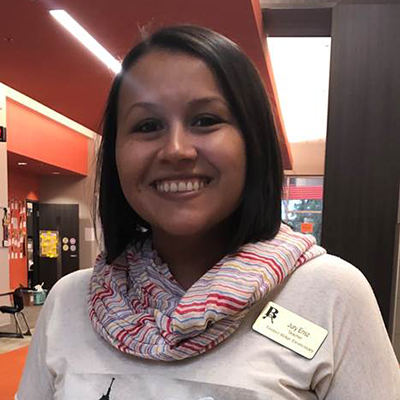 Ensz's professors speak highly of her dedication.
"Jury is a pivotal part of the OSU Writing Project (an affiliate of the National Writing Project) Summer Institute leadership team. Her work and dedication impact teachers, classrooms and students across the state. She models the essence of a lifelong learner and continuously strives to improve her craft as a teacher and as a mentor for other educators," said Dr. Shelbie Witte, Director, OSU Writing Project; Head, School of Teaching, Learning, and Educational Sciences
Why did you decide to become an educator?
I wanted to feel like what I was doing mattered, like I was making a difference in the world.
What brings joy to your work?
Seeing my EL students gain more confidence in their new language and being able to communicate with others who do not speak their native language.
What impact do teachers have on the lives of their students?
A teacher can have a major impact on a student's life. Teachers are with students the majority of the day, so the choices we make throughout the day, the way we set up our classroom environment and the manner in which we interact with our students all affect how the students develop and how they view coming to school.
MEDIA CONTACT: Rachel Eng |405-744-8320 |rachel.eng@okstate.edu