Teach Orange initiative celebrates Oklahoma teachers' impact on education
Wednesday, November 16, 2022
Media Contact: Kirsi McDowell | Senior Communications Specialist | 405-744-9347 | kirsi@okstate.edu
Oklahoma State University's College of Education and Human Sciences and the Office of Educator Support celebrated Oklahoma Teachers for their impact in education with on-field recognition at the Nov. 12 Oklahoma State vs. Iowa State football game.
The 10 selected individuals received tickets to attend the game, a Teach Orange T-shirt and $500 to support their classroom. In addition, the group was celebrated during a pregame pep rally at the ConocoPhillips OSU Alumni Center.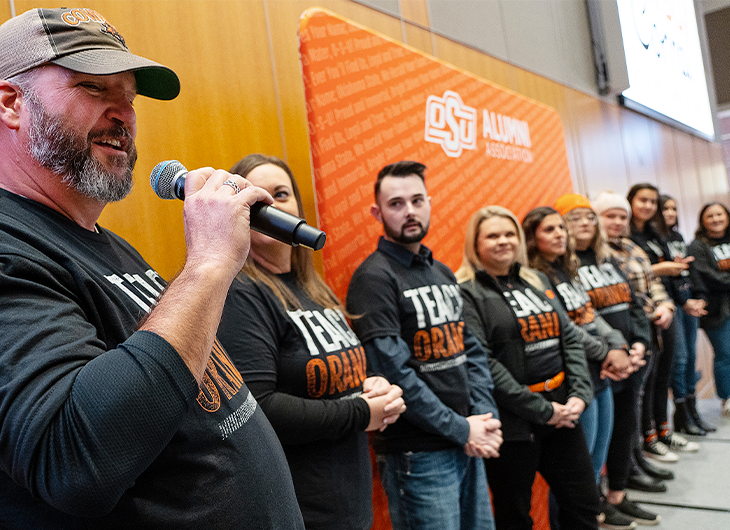 Dr. Shelbie Witte — who serves as senior director of teacher education and head of the School of Teaching, Learning and Educational Sciences at OSU — shared that her team was inspired by the nearly 200 entries.
"We had a range of entries from first-year teachers to veteran teachers of more than 20 years, all with a similar message," Witte said. "Their 'why' for teaching goes beyond simply educating students in the classroom. For most, it is a hope that they will shape the lives of children in meaningful ways that will be carried on for a lifetime."
The passion for teaching across Oklahoma is evident. OSU graduates and those from other universities shared their love of education, resulting in the 10 educators who were honored.
"The on-field recognition may have highlighted just 10 of us, but I feel we were acting as representatives of the profession," said Tammy Bright-Wiggins, sixth and seventh grade reading specialist for Stillwater Public Schools. "The diverse group seemed to represent many areas of the state, various subjects taught and years of experience."
Julissa Soto, second grade teacher for Crooked Oak Public Schools, echoed the sentiment.
"I stood on that field for every educator in this country because we do what we do every day because of the care and love we have for the children in our communities," Soto said. "The recognition by the college was a thoughtful act."
Nikki Longan, a kindergarten teacher for Perkins-Tryon Elementary, said it was meaningful to be appreciated and recognized for her job.
"It is not always easy and not always appreciated, but I would not trade it for anything," Longan said.
Dr. Jon Pedersen, dean of the College of Education and Human Sciences, expressed congratulations to the individuals celebrated on Saturday and his gratitude for teachers across the state.
"We are honored to recognize some of our state's best teachers in a small way through this ceremony and the Teach Orange initiative," Pedersen said. "We are immensely proud of the teachers in our communities and all they do for our children, youth and families in Oklahoma."
Teach Orange Honorees
Wes Ankrom

, eigh

th

grade Science, Yukon Middle School, Yukon Public Schools

Tammy Bright-Wiggins

, six

th

-seven

th

grade, Reading Specialist, Stillwater Middle School, Stillwater Public Schools

Callie Duncan

, nin

th

-12

th

grade Math, Glencoe High School, Glencoe Public Schools

Chase Ferguson

, seven

th

-12

th

grade, Agricultural Education, Shawnee Public Schools

Mickala Gorrell

, seven

th

-11

th

grade English, Covington-Douglas Public Schools

Rachel Lewelling

, K-5 Physical Education, Cedar Ridge Elementary, Union Public Schools

Nicole Longan

, Kindergarten, Perkins-Tryon Elementary, Perkins-Tryon Public Schools

Kristina Morris

, 5

th

grade, Pat Henry Elementary, Lawton Public Schools

Julissa Soto

, seco

nd

grade, Central Oak Elementary, Crooked Oak Public Schools

Elizabeth Ziegler

, 10

th

-12

th

grade, Theater/Drama, Stillwater High School
For more information about the College of Education and Human Sciences or the resources provided by the Office of Educator Support, visit us online.