College of Education and Human Sciences awards new Hall of Fame inductee, honors two Outstanding Alumni
Friday, May 5, 2023
Media Contact: Kirsi McDowell | Senior Communications Specialist | 405-744-9347 | kirsi@okstate.edu
The Oklahoma State University College of Education and Human Sciences welcomed a new member to its Hall of Fame and honored two Outstanding Alumni Award recipients during the 2023 Hall of Fame banquet on April 28 in the Nancy Randolph Davis Great Hall on the Stillwater campus.
Amy Mitchell received the college's most prestigious honor, the Hall of Fame Award given in recognition of outstanding professional and personal achievements that have brought honor and distinction to the college and to the university as well as have made a significant and lasting contribution, consistent with the mission of OSU and the College of Education and Human Sciences.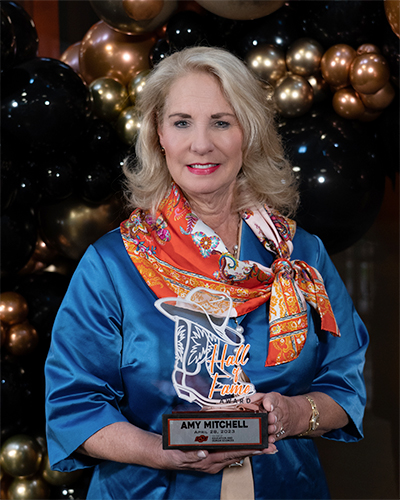 Mitchell, of Dallas, graduated from Oklahoma State University in 1983 with her bachelor's degree in family relations and child development.
Following graduation, she pursued a career as a social worker at a San Angelo, Texas, hospital while she and her husband, Malone, founded Riata Energy.
In 2006, Amy assumed the role of partner and managing member for Riata Corporate Group and is now the director and manager of Longfellow Ranches. Prior to this role, she served as the accountant as well as regulatory and compliance administrator for Riata Energy, managing the real estate acquisitions and investments as well as the corporate records of the Riata entities and was involved in the development of the companies.
In 2008, the Mitchells donated $57 million to Oklahoma State University, becoming the school's second-biggest donor behind T. Boone Pickens.
Amy, along with her husband, was inducted into the OSU Hall of Fame in 2013. Amy has supported many organizations and devoted her time and effort to helping those in need.
Included in the numerous boards and committees that Amy has served on throughout her career is her seat on the board as the former executive director of the Piñon Foundation, a nonprofit organization that was established by the Mitchell family in 2006 to support institutions that support children and elderly individuals.
Since 2010, the Piñon scholarship program has awarded more than 400 scholarships to graduates of Fort Stockton and Sanderson High Schools in Texas.
While being a successful entrepreneur, giving back and helping others has remained a passion of Amy's. In addition to her philanthropic work, Amy owns and operates Forget Me Not, a gift shop, bakery and catering business in Highland Park, Texas.
B.S. Family Relations and Child Development | Oklahoma State University | 1983

---
The Outstanding Alumni award honors alumni who have demonstrated a distinguished career and continue to make impactful contributions to their profession and beyond. Their quest for excellence is shown through their accomplishments, service to the community and leadership.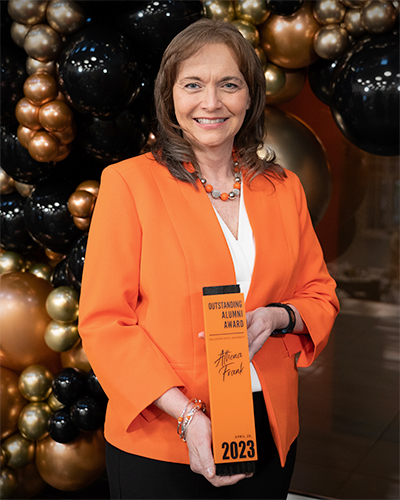 Athena Frank of Glencoe, Oklahoma, graduated with her bachelor's degree in business information with a specialty in information processing from OSU's College of Business in 1985 and later completed her master's degree in curriculum and instruction with a focus in information and community technology from the OSU College of Education in 1992.
The early part of her career focused on working in the accounting, legal and information processing sectors and after completing her master's degree she began teaching business technology courses at Ripley High School for 12 years.
Her career has led her to become the business information technology instructor for the Central Technology Center in Drumright, Oklahoma, where she provides instructional and career skills and strategies in business, finance and entrepreneurship to high school juniors, seniors and adults from the district's 18 local sending communities.
Over her three decades of service, she has received numerous accolades on the state and national level and has served in leadership positions for various boards of directors. In her role as the local Business Professionals of America chapter advisor, Frank has been honored to receive the Oklahoma BPA Lifetime Achievement Award, Oklahoma BPA Advisor of the Year Award and the 2021 National BPA Advisor of the Year.
B.S. Business Administration with Information Processing Specialization | Oklahoma State University | 1985

M.S. Curriculum and Instruction, Information and Communication Technology | Oklahoma State University | 1992

---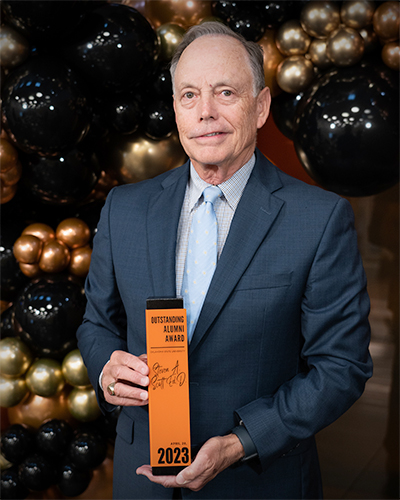 Dr. Steven A. Scott of Pittsburg, Kansas has invested nearly 50 years in public education as a teacher, coach, administrator, leader and board member.
Scott graduated from Pittsburg State University in 1973 with a degree in secondary mathematics and began his professional career as a middle school math teacher in Riverton, Kansas, before completing a master's degree in mathematics at Oklahoma State University in 1977.
After time spent teaching upper-level mathematics at Miami High School, he accepted a faculty position in the Department of Computer Science at Northeastern Oklahoma A & M College.
Scott later returned to Kansas as faculty in the PSU College of Education and began working toward a doctorate of education in higher education at OSU, completing this degree in the spring of 1990.
His teaching, as well as his graduate course work, focused on the use of technology in the classroom for teachers at all levels. Scott's career advanced steadily until he was selected by the Kansas Board of Regents to become PSU's ninth president.
Scott's tenure as president provided growth for the university across academics, athletics and facilities. Currently retired, Scott has maintained an active role in community and statewide affairs.
B.S. Secondary Mathematics | Pittsburg State University | 1973

M.S. Mathematics | Oklahoma State University | 1977

Ed.D. Higher Education | Oklahoma State University | 1990
For more information about the college's Alumni Association, Hall of Fame award or to make nominations, visit education.okstate.edu/alumni.