College of Education and Human Sciences represented at Three-Minute Thesis University Finals competition
Friday, November 3, 2023
Media Contact: Kirsi McDowell | Senior Communications Specialist | 405-744-9347 | kirsi@okstate.edu
The 2023 College of Education and Human Sciences Three-Minute Thesis (3MT®) competition was held on Monday, Oct. 2, in Jorns Hall. Developed by the University of Queensland in 2008, 3MT® is an opportunity for graduate students to showcase their research interests and presentation skills in a short three-minute verbal presentation, with support of a single unanimated PowerPoint slide.
Presenters were judged by faculty and staff members to determine who would move on to the university-wide event; judging criteria is based on comprehension and content, as well as engagement and communication. There is also a People's Choice category, where a winner is selected by attendees.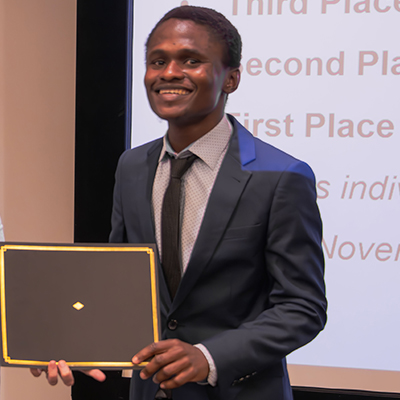 This year's competition generated six overall winners, with two individuals tying for first place and advancing to the university finals.
First place winner Femi Olawale is a nutritional sciences doctoral candidate. Olawale's presentation highlighted his research on metabolic disorders in menopause and the role a pinto bean-supplemented diet may play in managing symptoms.
"As a second-year graduate student early in my PhD program, I was initially hesitant to participate in 3MT," Olawale said. "With encouragement from my advisor, I decided to take the chance. After all, why not?"
Olawale considers the experience to be a valuable learning opportunity and a chance to improve skills in public speaking and scientific communication.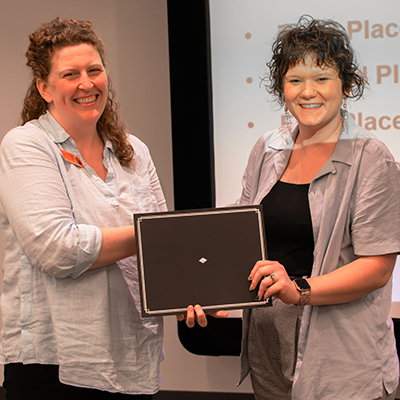 Counseling psychology doctoral student Bek Urban took a first place spot for the second year. Urban's presentation focused on their dissertation which takes a look at precision in eating disorder screening and prioritizing the measurement of mental health concerns.
"I was a little more nervous going into this year's competition after winning last year, but I'm so happy to be part of our college's representation in the university-wide finals," Urban shared. "I love talking about my research and am passionate about making research accessible to those outside of my field, so the format of the 3MT competition is a perfect way to do just that. I try to take a conversational approach to engaging with the audience."
Olawale and Urban will present at the university wide competition on Tuesday, November 7 from 3:30 to 5:00 p.m. in the Student Union Little Theater alongside ten other students. Watch the livestream at video.okstate.edu.
Fall 2023 CEHS 3MT winners:
1st Place (Tied)
Femi Olawale | Metabolic Disorders in Menopause: The Role of Pinto Beans

Bek Urban | Precision in Eating Disorder Screening
2nd Place
Rashid Murillo | Representation in Picture Books
3rd Place (Tied)
Momtaz Islam | Characterization of Carcinogenic Substances on Wildland Firefighters' Protective Clothing

Lia Jenson | [Re]integrating Female Halfway House Inmates Into Society Through STEM Curriculum Focusing on Environmental [Re]design
People's Choice Award
Oluwafikayo Adewumi | Immersive Technologies: Exploring the Effectiveness of Immersive Mobile Learning in Enhancing STEM Subjects in Nigeria