Fly Orange: Aviation students and alumni celebrated with flyover event
Wednesday, September 20, 2023
Media Contact: Kirsi McDowell | Senior Communications Specialist | 405-744-9347 | kirsi@okstate.edu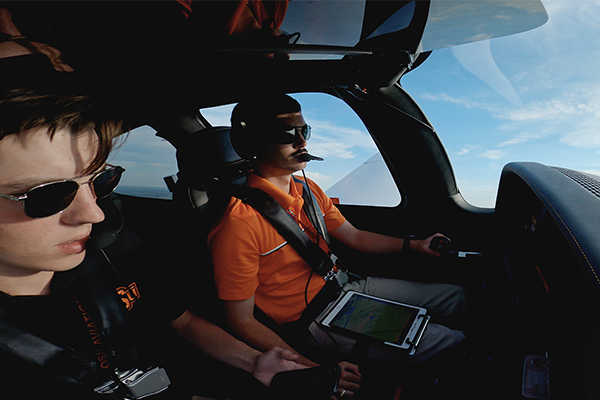 Current and in-training pilots from Oklahoma State University were celebrated at the Sept. 16 football game against South Alabama as part of the College of Education and Human Sciences' Fly Orange initiative.
Current and in-training pilots were part of the festivities with two OSU Cirrus SR-20 airplanes flying over Boone Pickens Stadium during the national anthem. The aircraft departed from the new, state-of-the-art Ray and Linda Booker OSU Flight Center, located just south of Stillwater Regional Airport.
One plane was flown by pilot Branden Adams, a recent graduate and certified flight instructor, with professional pilot student Dash Ahlstrom at his side as co-pilot, and certified flight instructor Conor Gass flew the other plane with professional pilot student Dana Friend serving as co-pilot.
Ahlstrom shared what the experience of flying over a crowd-filled BPS was like.
"My job was timing everything, so only when we were passing over BPS did I look outside. I couldn't see it directly below us, so we used Bennett Hall as our mark to start the break. After we'd flown over I was free to look down in our turn toward the stadium and it was incredible," he said.
"Seeing the smoke from the fireworks and knowing we'd hit the mark, watching the crowd move and seeing the band spell OSU with remarkable precision from above was awesome. It was truly a once-in-a-lifetime opportunity, and I'm glad the work we put into it played out exactly like we imagined."
Friend recently became a certified flight instructor and is set to graduate in May 2024.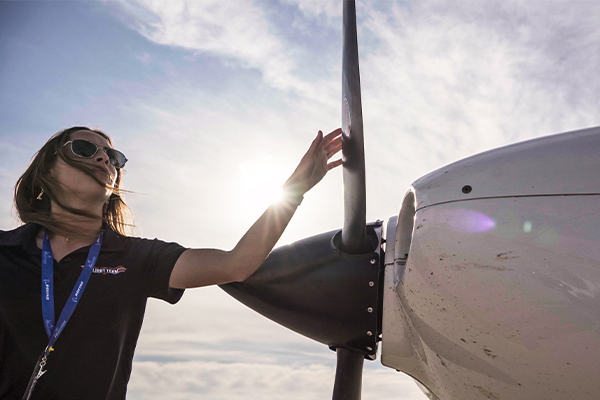 "Our love of aviation brings us together," Friend said. "Whether you're part of the Flying Aggies, our competition flying team, a student organization like OSU Women in Aviation or OSU American Association of Airport Executives, there's a place for new and old students alike to feel welcome."
The celebration showcased the Aviation and Space program, which has made OSU a premier destination for future pilots and aviation leaders. With four undergraduate degree options in professional pilot, aviation management, aerospace security and technical service management, the program is home to more than 450 students in CEHS.
Adams said that the aviation program at OSU has a strong reputation.
"Being one of the oldest collegiate pilot programs in the country, it has grown exponentially over the past several years due to the necessity for pilots in the aviation industry," he said. "OSU Aviation has an extremely long and rich history with the Flying Aggies and Flight Team, which provide numerous networking opportunities for students to become more engaged in their future industry."
Friend shared what sets OSU's aviation program apart from others is the student culture.
"OSU is a major university, and there are so many things to participate in outside of classes that give students the opportunity to enjoy the college experience," Adams said.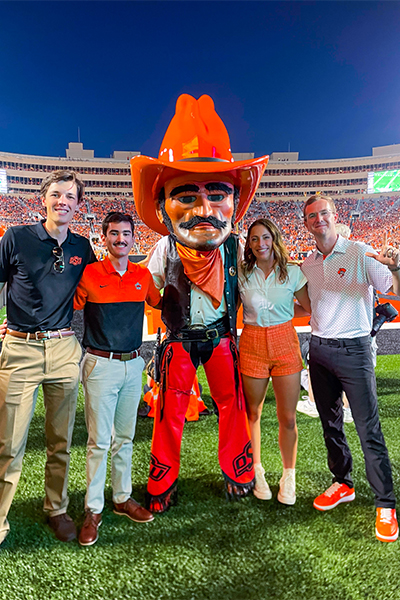 Two professional pilot alumni who are commercial pilots were recognized alongside the flyover pilots.
A Stillwater native, Ryan Josey is a 2014 graduate of the program and now works for FedEx Express as a Boeing 757 captain.
After graduating, Josey was a flight instructor in Oklahoma before becoming a corporate pilot based in Austin, Texas. Upon accumulating enough hours for a commercial ATP rating, he joined SkyWest Airlines as a first officer on the CRJ 200/700/900 aircraft series before a promotion to captain on the same jets in just two years.
He captained the jets for another two years before accepting a captain's position with FedEx Express, where he hopes to remain until his retirement.
Josey notes OSU's professional pilot program as invaluable to his development as a professional aviator.
"OSU is where I was introduced to aviation through my first discovery flight and where I completed all my formal flight training through CFI," he said.
"Not only did I learn the skills necessary to become a pilot, but I made great connections with fellow students who have all helped in my career development in one way or another. Most of those peers have become lifelong friends who I remain in regular communication with."
As a result of his experience as an undergraduate student and his ties to the Stillwater community, Josey began pursuing a master's degree in aviation and space studies last year.
His advice for aspiring pilots? Stay connected.
"You'll be surprised by how your Oklahoma State connections remain significant throughout a corporate or commercial aviation career," he said. "The industry is broad but the network of people is relatively small."
Alumna KD McCloy graduated in 2021 and has been a first officer for SkyWest Airlines since January 2022.
Since she began flying at OSU, her career aspiration has been to work for Southwest Airlines and she will realize that dream when she begins training for her new position there in November.
McCloy remembers her time at OSU fondly.
"As a student with no immediate family in the aviation industry, OSU became the family that could answer all my questions and prepare me to become a professional aviator," she said.
"The community of generous staff, students and alumni that are involved with the program gave me much needed support. I found great value in seeking out mentors and asking questions of alumni and people who had the job I was interested in to learn from their experiences."
CEHS Dean Jon Pedersen; Dr. Chad Depperschmidt, head of the School of Educational Foundations, Leadership and Aviation; Lance Fortney, Flight Center manager; and associate professor in aviation and space Dr. Jon Loffi join the group as representatives of the college.