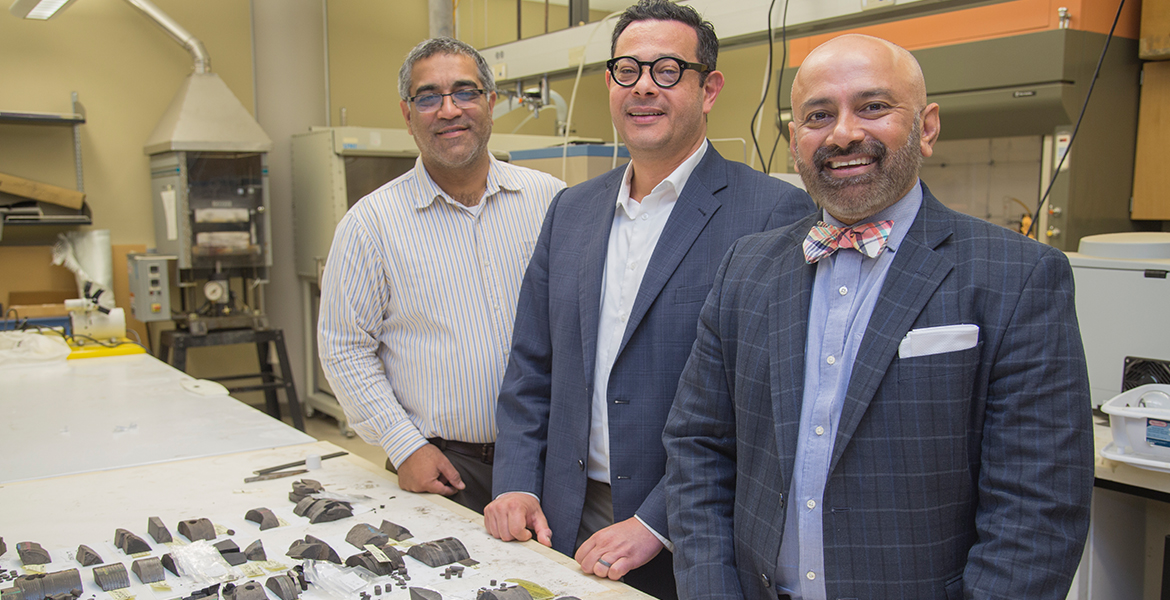 A group of Tulsa researchers receives $1.9M award
Monday, October 14, 2019
A team of three Tulsa based researchers have been awarded a three year, $1.9 million contract, with $1.5 million coming from the U.S. Department of Energy (DOE). The award was given based on their efforts on developing environmentally sustainable process for recovering oil and natural gas from unconventional shale resources.
Dr. Raman Singh, professor and head in the School of Materials Science and Engineering and professor in the School of Mechanical and Aerospace Engineering, and Dr. Pankaj Sarin, associate professor in the School of Materials Science and Engineering, both from the Tulsa campus of Oklahoma State University (OSU-Tulsa), and Dr. Rami Younis, associate professor of petroleum engineering at the University of Tulsa, have combined their areas of expertise to increase the efficiency of the hydraulic fracturing process used in the extraction of oil and gas from shale resources.
Hydraulic fracturing uses significant amounts of injected water to drive cracks through impermeable rock. While such cracks are highly conducive to fluid flow, their volume is limited relative to the vast size of the subsurface formation. Moreover, creating larger cracks requires proportionally more water. These are key challenges ahead of energy production sector that seeks to boost its efficiency and reduce its exposure to environmental and geo-hazard risks. Our project is laying the foundations for the use of low-energy and targeted seismic waves to create cracks over large volumes without the use of water. As a complement to hydraulic fracturing, the technology could significantly reduce water usage and subsequent disposal while simultaneously improving production efficiency and rate.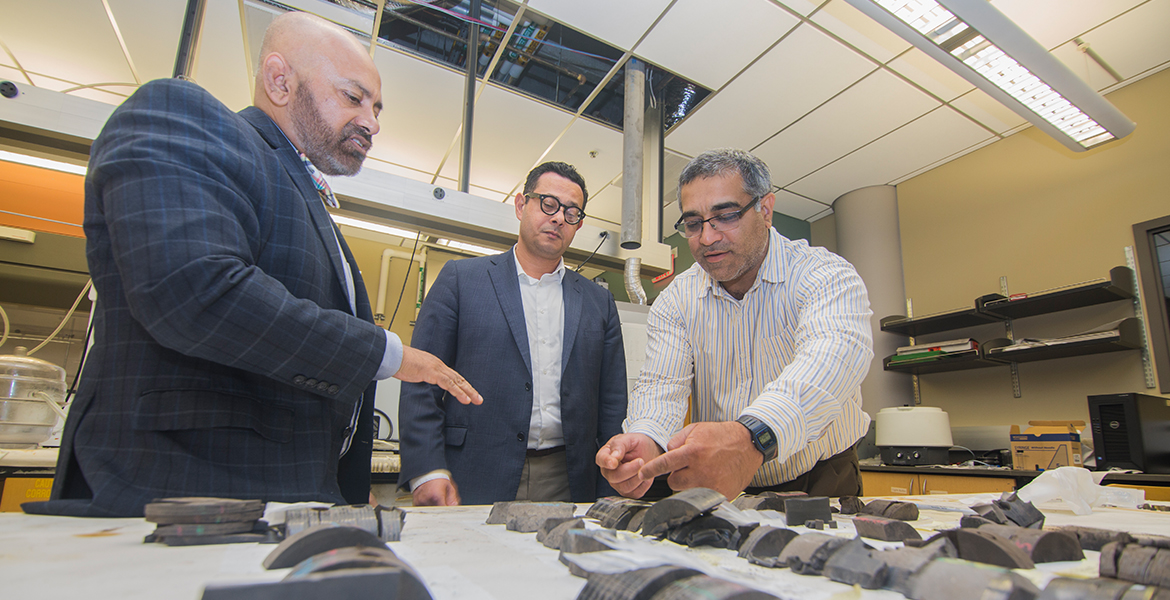 Each of the three team member each brings a particular expertise pertinent to the project. Sarin's background in materials engineering allows him to evaluate the porosity and permeability measurements to determine whether the proposed increase in fracturing efficiency actually leads to increased permeability. As a petroleum engineer, Younis will be in charge of the mathematical models that will help determine the optimum amount of fracturing to yield the highest return of product from the shale resources. Singh serves as the project lead and will handle the dynamic failure experimentation part of the project, as well. As the team produces models and gains predictive measurements, Singh will develop experiments that will validate those predictions.
The project is part of a concerted effort by OSU-Tulsa to focus on solving problems that are economically relevant to Oklahoma and the region. "Our big dream is to explore what we can do to be recognized as the experts [in the oil and gas industry]," Singh said.
This award has Singh, who also serves as the associate dean for engineering at OSU-Tulsa and director of the Helmerich Research Center, excited about what it means for the college moving forward. "The DOE contract is a big step in the right direction," he said. "Whenever you get something like this funded, it reinforces to your peers that we do have the intellectual capital necessary to do work like this, thus attracting more collaborations."
RELEASE CONTACT: Jeff Hopper | CEAT Marketing | 405-744-2745 | jeff.hopper@okstate.edu