Student Veteran Success hosts 9/11 remembrance breakfast
Monday, September 16, 2019
On Sept. 11, 2001, the lives of many Americans were changed forever. The attacks on the World Trade Center, the Pentagon and the foiled attempt that ended with a plane crash in a field near Shanksville, Pennsylvania were ghastly and unfathomable.
On Sept. 11, 2019, 18 years later, in conjunction with the OSU Fire Council, Student Veteran Success hosted a remembrance breakfast to recognize the enormous price that everyone touched by the events of that day has paid and continues to pay.
Those in attendance, including administrative personnel and students from across the university, as well as members of the OSU Police Department and the Stillwater Fire Department, were treated to several pieces played by OSU Pipes and Drums. Attendees also participated in moments of silence during the ceremonial 21 bell ringing and the playing of taps.
OSU Fire Protection Publications shared the World Trade Center Memorial that normally sits in their lobby and contains a piece of steel from the towers.
Dr. John J. Frucci III, Director of OSU's Arson, Explosive, Firearms and Tool Marks Investigation graduate program, spoke about his experiences as a member of the rescue and recovery efforts at the World Trade Center.
He reminded everyone that it is important for each person to remember and share their own stories about that day.
"Remember the 2,977 lives lost on that tragic day, but also remember the lives of the over 2,300 people that have succumbed to 9/11 related illnesses since and the over 52,000 survivors and first responders that continue to suffer from serious medical and mental health conditions," Frucci said.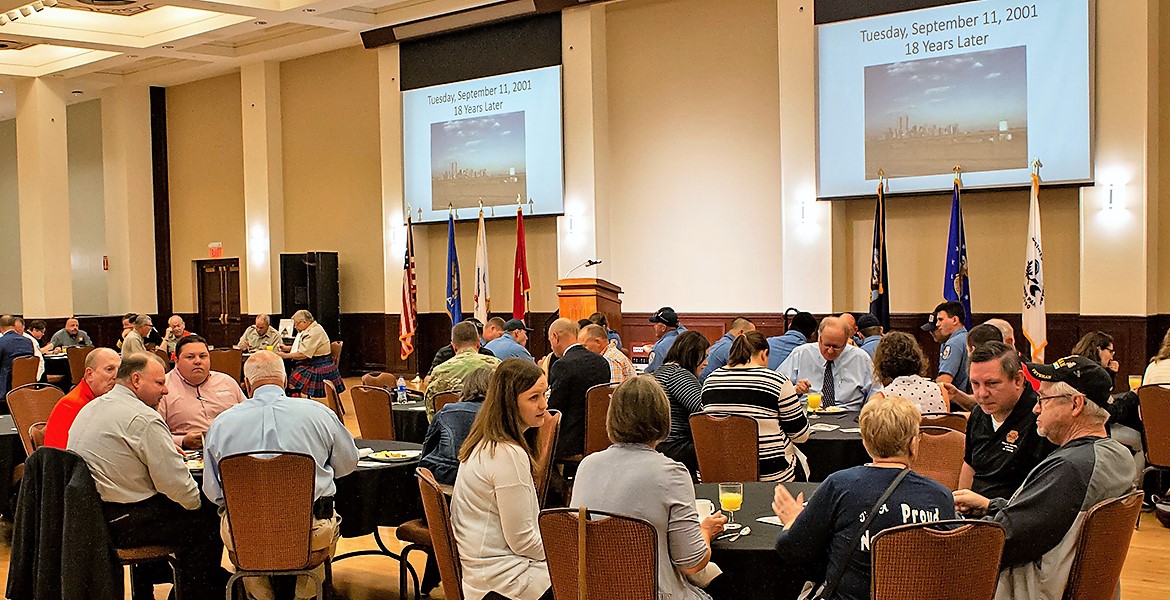 There are numerous organizations that have dedicated themselves to helping those that continue to be effected by that day's events. Frucci highlighted a few during his presentation.
The Center for Disease Control maintains the World Trade Center Health Program that is dedicated to providing medical monitoring and treatment for responders at the World Trade Center as well as related sites in New York City, the Pentagon and Shanksville, Pennsylvania. The program also serves survivors who were in the New York City disaster area.
The FealGood Foundation's (FGF) mission is to assist all emergency personnel who have been injured or face serious injury due to action or omission, in the course of their duties or within their everyday lives. This mission includes educating elected officials and private entities on the various problems, concerns and issues facing first responders. The FGF was instrumental in the advocacy for and the eventual signing of HR 1327, which ensures that the victims' compensation fund related to the Sept. 11 attacks never runs out of money.
Lastly, Tuesday's Children is an organization that provides personalized support and a safe "landing place" to traumatized, grief-stricken children, families and communities effected by terrorism or traumatic loss.
In the 18 years since that day, rebuilding has taken place, healing continues and precautions have been taken to dissuade future attacks. However, the effects of that day continue to reverberate through all those that remember.
As former President Barack Obama said, "Even the smallest act of service, the simplest act of kindness, is a way to honor those we lost, a way to reclaim that spirit of unity that followed 9/11."
RELEASE CONTACT: Jeff Hopper | CEAT Marketing | 405-744-2745 | jeff.hopper@okstate.edu