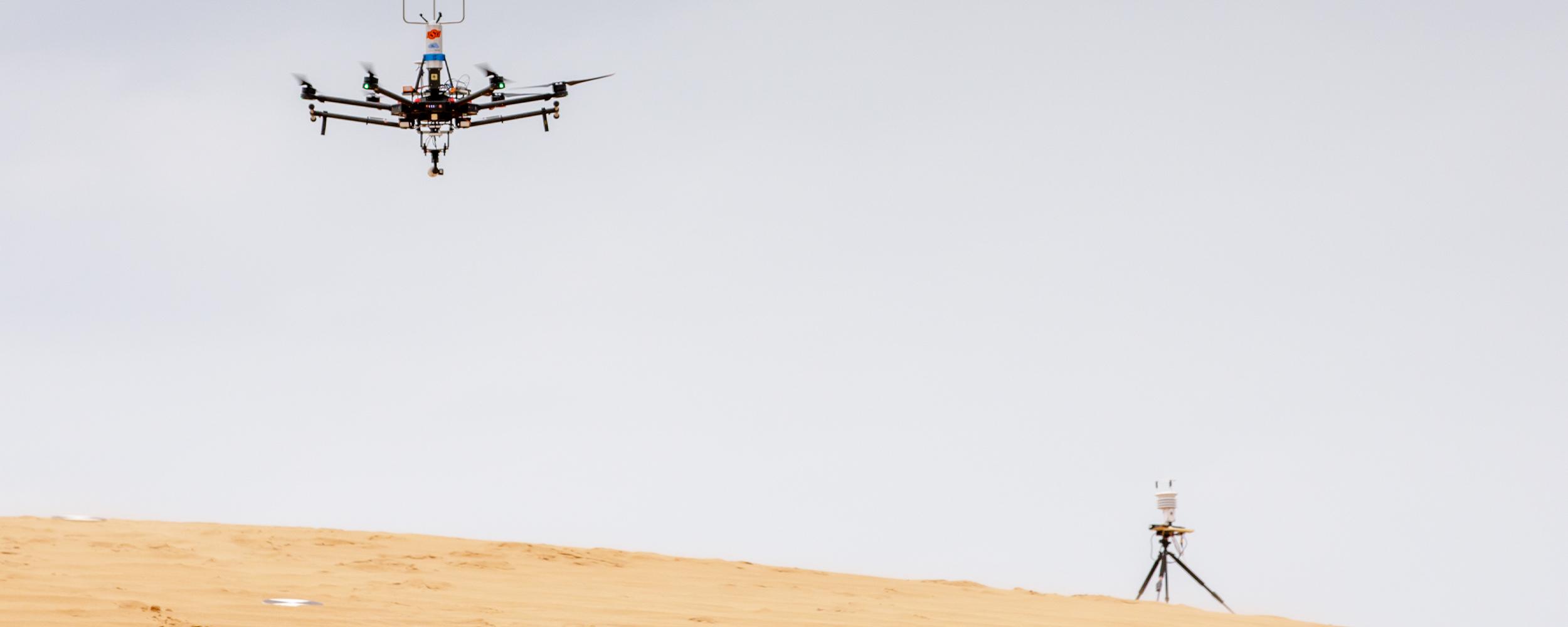 OSU researchers take aerial approach to the dunes of Little Sahara
Thursday, September 30, 2021
Media Contact: Jeff Hopper | Marketing Media Specialist | 405-744-2745 | jeff.hopper@okstate.edu
At Little Sahara State Park near Waynoka, Oklahoma, 1,600 acres of sand dunes serve as a veritable playground for dirt bike and ATV enthusiasts.
A hidden gem of Oklahoma's diverse topography, it's also a treasure trove for researchers from Oklahoma State University's Unmanned Systems Research Institute (USRI).
Recently, a group of USRI researchers made another visit to the park to conduct photogrammetry research on the migration of sand dunes there using unmanned aerial vehicles (UAVs). The team began its research nearly four years ago using high-definition photogrammetry to build 3D models of the dunes with the goal of tracking their migration over time.
"Due to the predominant south wind, the dunes are migrating northward," said USRI Director Dr. Jamey Jacob. "While the migration of these particular dunes may, someday, impact areas surrounding the park, this research provides a proof of concept of technology and prediction method which we hope may be applied to similar locations around the world."
The dune geomorphology research was a test application born from a National Science Foundation (NSF) project called CLOUD MAP, Collaboration Leading Operational UAS Development for Meteorology and Atmospheric Physics, an effort to use unmanned aerial systems to monitor and forecast different weather phenomena. Unlike most research involving partners with different areas of expertise, the dune research began as a USRI mission to determine whether these weather and atmospheric monitoring systems could be used for other applications, such as dune geomorphology.
Jacob said it's just another example of how the USRI team and other aerospace researchers from across the OSU system are leading the way in public impact research and finding new ways to expand the potential of drone technology. Whether it's monitoring natural gas pipeline leaks, determining geological formation changes in different areas or determining the viability of using different unmanned aerial systems on other planets, the aerospace research being conducted at OSU continues to advance numerous fields toward new horizons.
"There are several projects that USRI is part of that may not be 'typical' applications for unmanned systems," Jacob said. "However, we hope that being involved in those 'unexpected' areas will not only provide useful data and solutions, but could lead to technological advancement that will be beneficial in a multitude of other applications."
Those kinds of research opportunities are what attracted Victoria Natalie, the engineering program director for USRI, to study at OSU. Apart from getting to build and operate high-powered drones and drive an OSU dune buggy and rally car across the sands of western Oklahoma, Natalie said they know they're making a difference.
"USRI is poised at the start of an exciting expansion in industry. Autonomous systems are allowing us to push the boundaries in design, manufacturing, and applications," Natalie said. "I've worked with over five different colleges outside of engineering, including agriculture, plant and soil sciences, geography, geology, architecture, and meteorology, honing autonomous technology to help make discoveries and developments in different types of research. I feel like we're still barely scratching the surface of the potential of autonomous systems.
"This technology is truly revolutionary and will affect many levels of people's everyday lives as we move into the future."
PHOTOS: https://flic.kr/s/aHsmWhHwpD
INSIDE OSU PODCAST: https://insideosupodcast.okstate.edu/e/using-drones-to-understand-the-weather/