The School of Electrical and Computer Engineering receives generous donation from alumnus
Tuesday, October 26, 2021
Media Contact: Kristi Wheeler | Marketing and Communications Manager | 405-744-5831 | kristi.wheeler@okstate.edu
The College of Engineering, Architecture and Technology (CEAT) at Oklahoma State University is proud to announce a generous donation from Electrical and Computer Engineering (ECE) alumnus Jack H. Graham.
Graham graduated in 1959 with a Bachelor of Science in Electrical Engineering and has since been a faithful partner with ECE and truly encompasses the cowboy spirit.
His donation will support the operations of the school and the renovation of Engineering South (ES). The new reception space in ES will be named the "Jack H. Graham Reception Lobby" in appreciation of his contributions.
Graham has also provided a significant donation to the Oklahoma CubeSat Initiative (OKSat) and is listed as a founding sponsor. This donation is critical to launching Oklahoma's first CubeSat program and will allow Oklahoma to join 42 other states who have launched CubeSat programs.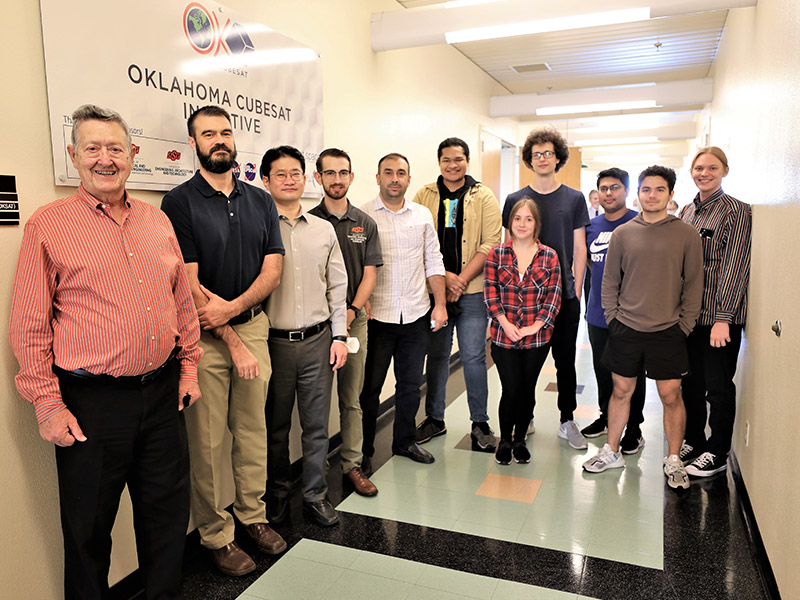 A CubeSat is a miniaturized satellite, comprised of 10 cm x 10 cm x 10 cm cubic units used for space research. NASA's CubeSat program provides a low-cost opportunity to conduct research in the areas of science, exploration, education and technology development.
CEAT students will participate in hands-on learning on how to create and integrate all satellite subsystems, including communications, temperature and attitude control, environmental and launch testing, and more.
"Creating a CubeSat mission, and the CubeSat hardware itself, is no small feat," said Dr. John O'Hara, co-director of OKSat. "Both require the involvement of many people (mostly students!), much time, and of course financial resources. Mr. Graham's generous donation is a critical impetus that dovetails with our current NASA research project and allows us to begin the Oklahoma CubeSat effort in earnest. His donation will play the predominant part in the acquisition of CubeSat hardware upon which our mission is based."
In addition to his donation to the CubeSat innovative, Graham has also provided funding for a new fellowship for ECE faculty. The purpose of the Jack H. Graham Early Career Endowed Fellowship Fund is to inspire and honor excellence in teaching, research and scholarship by providing support to early career, ECE tenure track, assistant or associate professors who recently received tenure. The head of ECE selects a qualifying faculty member to receive this award for two years, with the ability to earn the award twice.
Dr. Sabit Ekin, assistant professor and director of OkSat, is the first to receive this prestigious fellowship. Ekin joined the school in Fall 2016 after working for Qualcomm Inc. as a senior modem systems engineer for four years.
"It is a great honor and pleasure to be selected as the first Jack H. Graham Endowed Fellow of Engineering," Ekin said.
Thanks to Graham's donation, CEAT, ECE, OSU and the state of Oklahoma will be provided with amazing opportunities for students, faculty and residents. Graham will make visions become real and allow OSU to truly make a difference in the ECE world.
"We cannot express how grateful we are for his generosity," said O'Hara on behalf of CEAT and ECE.
Story By: Haley Bradley | haley.bradley@okstate.edu