Storied electric motor donated to OAIRE
Monday, September 20, 2021
Media Contact: Jeff Hopper | Marketing Media Specialist | 405-744-2745 | jeff.hopper@okstate.edu
On Sept. 14, in a ceremony held at the OSU DISCOVERY building in Oklahoma City, an electric motor which was once onboard an unmanned aircraft that circumnavigated the globe was donated to the Oklahoma Aerospace Institute for Research and Education (OAIRE) at Oklahoma State University.
Skydweller Aero Inc. — whose global headquarters is now located in Oklahoma City — donated the motor as part of a partnership created to promote research and education opportunities in the area of long-endurance, unmanned aircraft development.
"University research and development partnerships are one of Skydweller's top priorities," CEO Dr. Robert Miller said. "We are thrilled to be donating our electric motor to Oklahoma State University's Unmanned Systems Research Institute and look forward to continued opportunities for collaboration."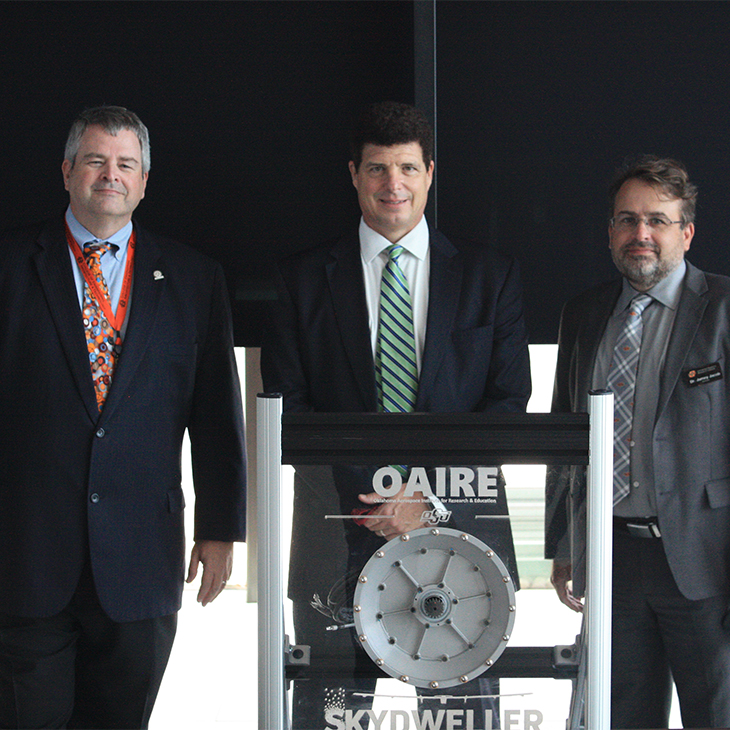 The motor was originally flown on the Solar Impulse 2, a piloted solar-powered aircraft which circumnavigated the globe in 2016. Skydweller Aero acquired the aircraft in 2019 and is now in the process of converting and enhancing this aircraft to use as a testbed for developing an ultra-persistent unmanned aerial vehicle (UAV) for defense and commercial industries.
The OAIRE team first plans to house and test the motor in its lab space at OSU DISCOVERY to gather valuable data and specifications for the engine to determine which projects will yield the most beneficial results.
"We are excited to be working with Skydweller Aero on their advanced technology. This is a unique opportunity for OSU students and researchers at OAIRE to work on cutting edge systems and push the leading edge of aeronautics," said Dr. Jamey Jacob, OSU professor of aerospace engineering and director of OAIRE. "OSU has been working on solar-powered aircraft for over 20 years, but this remains one of the hardest problems in aerospace engineering — to be able to assist in the pinnacle of solar flight is truly exciting."
Jacob said the partnership and donation will provide exciting opportunities for researchers to focus on new horizons that will benefit the aeronautics industry for years to come.
Students and researchers plan to evaluate the current motor's performance and advanced designs for Skydweller's future vehicles. OAIRE will be testing the systems in their propulsion test lab, which will provide performance curves for them to optimize flight profiles and improve flight efficiency. Developing new motor designs and low speed propellers are some of the team's specialties that they will rely on to give the motor a new life.