Vaidyanathan named associate editor of International Ceramic Technology
Tuesday, April 13, 2021
Media Contact: Jeff Hopper | CEAT Marketing | 405-744-2745 | jeff.hopper@okstate.edu
Dr. Ranji Vaidyanathan, Varnadow Chair Professor Professor at the School of Materials Science and Engineering in the Helmerich Research Center at OSU-Tulsa, was recently named associate editor of International Ceramic Technology for American Ceramic Society.
The American Ceramic Society is one of the oldest organizations in the ceramic engineering world. Members of the society perform research on different materials such as glass, engineering ceramics and composites.
Vaidyanathan describes the society as always looking for experts to help edit papers and journals.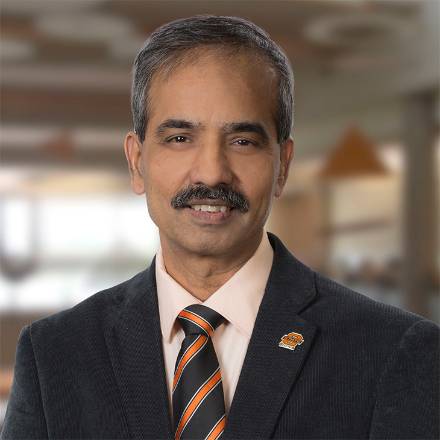 "What is happening in the publishing world of engineering is that experts are needed to review papers being received, with editors and associate editors assisting the review process," Vaidyanathan said. "This is an important activity so that research gets published in a timely manner."
In this position, Vaidyanathan will evaluate reviews and assist the editor to make final decisions to publish, ask for additional changes or reject the paper. Vaidyanathan has already reviewed more than six papers in the last two months.
"Ceramics for industrial applications is an area that I am very interested in and love working in, so I want to contribute and give back to the scientific community," Vaidyanathan said. "This is a really prestigious journal, so when I was asked I just jumped in and said yes."
Story By: Kaitlyn Mires | CEAT Marketing | kamires@okstate.edu