Veterans Hospital in Tulsa celebrates historic groundbreaking
Friday, October 15, 2021
Media Contact: Sara Plummer | Communications Coordinator | 918-561-1282 | sara.plummer@okstate.edu
Leaders from across government, academia, health care and philanthropy came together Friday to celebrate the ceremonial groundbreaking of the new Veterans Hospital in downtown Tulsa.
The new hospital — which will be housed on the expanded OSU Academic Medical District — will convert the existing Kerr-Edmondson buildings into a modern 275,000 square-foot, 58-bed medical-surgical hospital for veterans.
The project, Veterans Hospital in Tulsa (VHiT), is a collaboration between the federal government, state of Oklahoma, Tulsa County, city of Tulsa, private philanthropy and Oklahoma State University.
"The new Veterans Hospital in Tulsa will be transformative in many ways, and Oklahoma State University is proud to be a part of this visionary project," OSU President Kayse Shrum said. "All of the partners involved in the new hospital owe a debt of gratitude to Sens. Jim Inhofe and James Lankford for their commitment to see this project funded at the federal level, as well as other state, city and county leaders who have provided resources to ensure that this modern health care facility for our veterans could become a reality."
"Expanding the OSU Academic Medical District is a win for our medical school and our veterans in northeast Oklahoma by providing them the best care possible in an exceptional medical facility. We appreciate the tireless support and effort of The Anne & Henry Zarrow Foundation for their leadership on this project from the very beginning."
— OSU President Kayse Shrum
VHiT is a unique opportunity to secure a large and important veteran resource, operated by the VA, but developed by and for the local community. The proximity to OSU's academic health care facilities will support a number of opportunities for collaboration, joint physician appointments, increased medical residencies and shared services, all of which will improve ease and efficiency for veterans.
"After many years of hard work — and thanks to the leadership from our congressional delegation, federal partners at the VA, city, county and state leaders and, of course, private philanthropists — we are bringing a new veterans hospital to Tulsa to provide the best in patient care to Oklahoma veterans," said Dr. Johnny Stephens, OSU Center for Health Sciences president. "The VA partnership with OSU Medicine means our students and residents will benefit from the training they will receive caring for those who have provided devoted service to our country. After today's ceremony, we look forward to the beginning of construction."
More than two-thirds of the 47,000 veterans who receive services at the current Jack C. Montgomery Medical Center in Muskogee come from the Tulsa metro area. Of the 115,400-plus veterans in the Eastern Oklahoma VA area, approximately 68 percent are closer to Tulsa than to Muskogee, leading planners to estimate the new hospital could serve up to 14,000 more veterans annually.
Eastern Oklahoma VA Health Care System Director Mark E. Morgan said by expanding services in Tulsa the VA's health care system in eastern Oklahoma will be strategically positioned to provide the highest level of care to veterans for decades to come.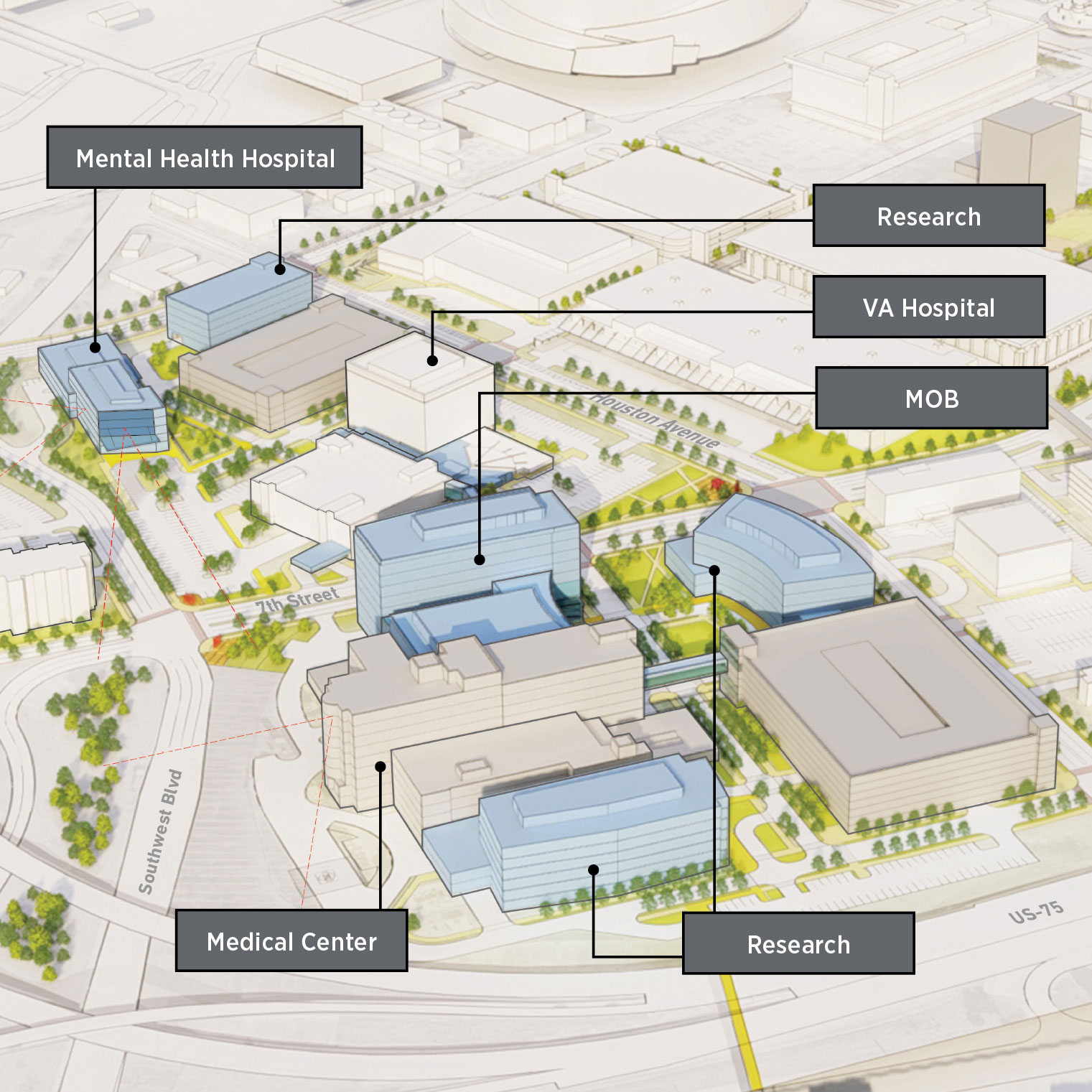 "The new VA hospital in Tulsa is a historic victory that will offer long lasting and far-reaching benefits for our veterans, the VA, and our community," Morgan said. "The Eastern Oklahoma VA Health Care System has begun planning and analysis to convert the Jack C. Montgomery Medical Center in Muskogee. These efforts include consideration of expanding behavioral health, rehabilitation and long-term care for veterans in Oklahoma and surrounding states."
The total estimated construction cost is $130 million, funded by the $120 million appropriation and $10 million in philanthropic support. The overall OSU Academic Medical District expansion includes a total of more than $73 million in support including contributions from: The Anne and Henry Zarrow Foundation, Charles and Lynn Schusterman Family Philanthropies, Morningcrest Healthcare Foundation, Maxine and Jack Zarrow Family Foundation, The Helmerich Trust, Ruth Nelson, The H.A. and Mary K. Chapman Charitable Trust, Sarah and John Graves, Common Bond Foundation, William S. Smith Charitable Trust, city of Tulsa, Tulsa County and the state of Oklahoma.
Construction is slated to be completed and turned over to the VA for outfitting by late 2023 and open to patients in late 2024.