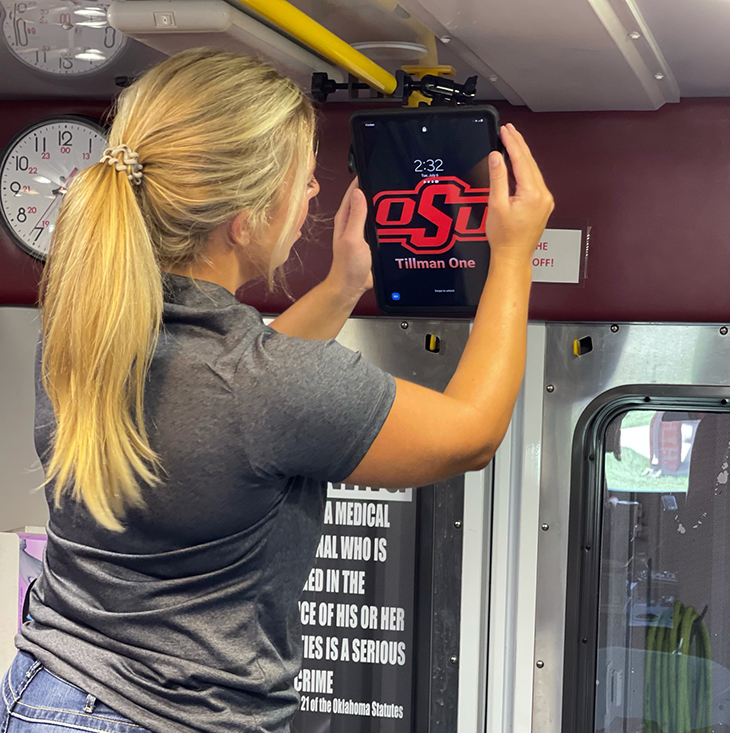 OSU Center for Rural Health awarded teleEMS grant
Monday, July 26, 2021
Media Contact: Melani Hamilton | Managing Director of Marketing and Communications | 918-561-8462 | melani.hamilton@okstate.edu
OSU Center for Rural Health announced Monday it has received a $48,000 grant from Telligen Community Initiative (TCI), a private, Iowa-based charitable foundation.
These funds will support and expand the center's teleEMS pilot program in Tillman County, Oklahoma.
Last year, OSU's Rural Renewal Initiative provided start-up funding to test the broadband capacity of connecting rural EMTs and paramedics in Tillman County to live emergency room physicians at OSU Medical Center in Tulsa. Now through Telligen's TeleEMS+, the program will soon include virtual translation services for EMS responders and their patients.
Tillman County is one of Oklahoma's USDA designated persistent poverty counties, meaning more than 20% of the population has lived in poverty for four consecutive decennial census counts. Tillman County's sole hospital in Frederick closed in 2015, resulting in the nearest emergency room being more than 30 miles away.
The teleEMS program works to help overcome disparities to emergency care by supporting the EMS providers during service calls anytime they feel an emergency virtual consultation would be helpful. The responders are using AT&T's FirstNet service and HIPAA-compliant network technology through Zoom.
"We appreciate Telligen's continued partnership, and their investment in this pilot program through our Center for Rural Health. This grant supports our work to achieve health equity for our state's rural and underserved populations," said Dr. Johnny Stephens, interim president of OSU Center for Health Sciences.
"The OSU Center for Rural Health continues to fulfill our land-grant mission by exploring new possibilities and community collaborations with our research partners to help make an impact on our state. We also are excited about the learning opportunities that will be offered to our medical students through these research initiatives. I appreciate Dr. Mark Woodring, assistant dean for Rural Health and AT&T Professor of Telemedicine, our rural medical track students and the research team for bringing this issue forward."
The center's TeleEMS+ program was one of only 15 grants selected for TCI's 2021 Iowa and Oklahoma-based funding cycle, which awarded a total of $676,430 in grants to nonprofit organizations in these states ($392,319 to Oklahoma and $284,111 to Iowa).
"There are many components to this project that made it intriguing: research, policy and advocacy, and most importantly connecting EMS providers with physicians when they need them. It meets the goal we have of improving rural health care as we expand the use of telehealth solutions to improve patient care," said TCI Executive Director Matt McGarvey.
TCI works to support projects in the priority funding areas of health innovation, health care workforce development and access to care for the underserved. Since 2014, TCI has awarded more than $11.75 million to 286 organizations and projects in Iowa, Illinois, Oklahoma and Colorado.