Athletic trainers are 'jack of all trades' for teams, patients
Thursday, March 17, 2022
Media Contact: Sara Plummer | Communications Coordinator | 918-561-1282 | sara.plummer@okstate.edu
The Tulsa Oilers athletic training room is fairly quiet before the opening face-off on the ice at the BOK Center on March 11.
A few of the players go through their pre-game stretches on resistance bands and foam rollers. Some come to Director of Health and Performance Steve Lintern, the hockey team's athletic trainer, for things like ankle taping and more extensive stretches.
"It's pretty slow right now," said Lintern, which could be a testament to how well he does his job. "Athletic training is a lot of injury prevention. We're like an insurance plan."
Lintern is also a clinical athletic trainer with OSU Center for Health Sciences' Athletic Training program and works with the school's athletic training students, as well as some of the OSU College of Osteopathic Medicine students.
"Everything I do is osteopathic in nature, that's why I fit so well with OSU-CHS," he said. "Before I came to Oklahoma, I didn't know anything about DOs. It's really developed my path, it's the best thing that could have happened to me."
Lintern grew up in Ohio playing sports and then transitioned into athletic training. He was working with the University of Arkansas Razorbacks when he branched out to do some athletic training work with the university's club sports, including ice hockey.
"I fell in love with it. You're dealing with people on blades, carrying a weapon, shooting rubber bullets and falling onto frozen concrete," he said.
A connection with the Oilers' former athletic trainer led Lintern and his family to Tulsa and eventually to OSU-CHS. This is his seventh season with the Tulsa Oilers and sixth with the OSU-CHS Athletic Training program.
"It was exactly what I needed. It was an opportunity for us to go someplace new," he said.
For the players, Lintern was exactly what they needed, too.
"He's invaluable, there's so much treatment involved in this job. We carry 23 players and he's one guy. Any given day he's treating seven to eight guys at a time. Athletic trainers are kind of a jack of all trades," Oilers coach Rob Murray said.
Adam Pleskach, Oilers team captain, said he's been playing hockey since he was about 4 years old, so he's sustained multiple injuries during his lifetime including several separated shoulders, broken teeth, broken fingers and — the worst of his career — a torn adductor tendon that kept him off the ice for several months.
"At our level, athletic trainers and their staff are very important. Because of our grueling schedule, most members of the team are dealing with an injury of some sort whether it's small and nagging or something more serious," Pleskach said. "Athletic trainers also have very important roles as emergency managers. If something very serious happens they are essentially our first responders and need to think quickly and be able to handle the most serious of situations."
Lintern said athletic trainers learn to read people and learn how to communicate with players and clients.
We get to care for people as athletic trainers, and the way we get to care for people is so broad and so versatile. It's an opportunity for me to give these guys an ear to listen, be a sounding board, give some tough love and take care of them.
— Steve Lintern, Tulsa Oilers Director of Health and Performance and Clinical Athletic Trainer at OSU-CHS
Pleskach said Lintern started with the Oilers during the forward's third season with the team and has been a joy to work with since day one.
"His eagerness to learn how to handle injuries and the day-to-day operations of a team in a sport that he hadn't necessarily been involved with much before has been unmatched in my experience," Pleskach said. "Being together this long, Steve and I have a wonderful professional and personal relationship. His attention to detail, willingness to continue learning and also teach students that help him during the season is excellent and very professional."
Murray, who played professional hockey for 16 years before becoming a coach, said Lintern takes it personally when someone gets hurt and only wants the best for the players.
"At any sporting level, it's invaluable to have an experienced guy like Steve. His training and schooling, he's as good as they come. He loves it, he loves what he's doing with the team, he loves what he does at OSU," he said.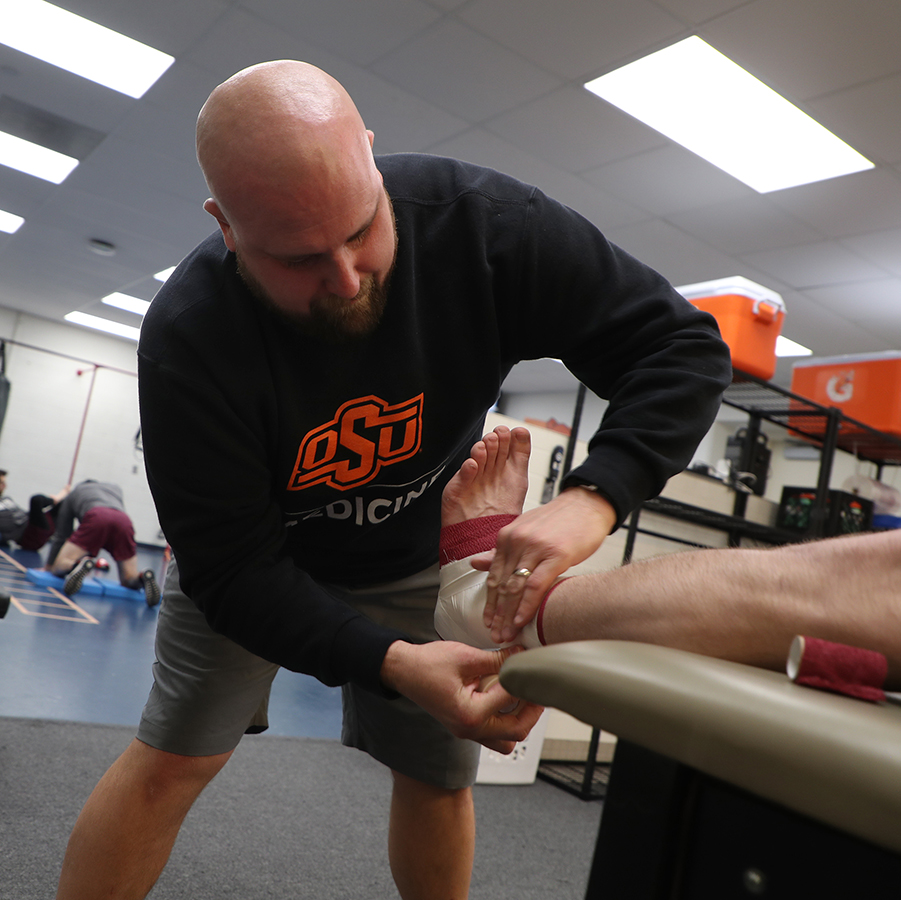 Lintern said, secretly, teaching has always been a passion he wanted to pursue.
"When I first got into athletic training, I knew I loved it and it was what I wanted to do. Seven years into my career I finally got to teach," he said. "It's a constant reminder of what I learned and a constant reminder of what we need to do. It's more of what I needed than I ever imagined."
At OSU-CHS, Lintern teaches in some of the more hands-on labs on campus, as well as works with athletic training and medical students who get real-world experience assisting him with the Oilers.
"It's a great chance to sculpt minds and give them hands-on experiences and learning. I get to share that with students," he said. "I could have been a nurse or a doctor or a physical therapist. As athletic trainers, we can be a jack of all trades. It's a beautiful thing."
OSU-CHS celebrates 50th anniversary for OSU College of Osteopathic Medicine
For more articles from this edition of STATE magazine on OSU Medicine:
OSU-CHS growing footprint in Tulsa, NE Oklahoma: https://okla.st/3PXGbq8
OSU College of Osteopathic Medicine's legacy is growing: https://okla.st/3AFEAzL
Couple to donate bodies, most of estate to OSU-CHS: https://okla.st/3wLioTr
---
Photos By: Matt Barnard
Story By: Sara Plummer | STATE Magazine