Oklahoma State University's College of Human Sciences presented seven alumni awards during its 2018 Homecoming celebration on October 26. Kristin Atchley, Nellie Perry (posthumous) and Kristen Smith were presented with Distinguished Alumni Awards; Tim Gowin, Benjamin Houltberg and Samantha Johnson were honored as Rising Stars; and Rick Green was recognized as an Honorary Alumnus of the College of Human Sciences.
Kristin Atchley, 2018 Distinguished Alumni Award
Kristin Atchley is a two-time graduate of the department of human development and family science. She completed a bachelor's degree with a specialization in child and family services in 2005 and followed by earning a master's in marriage and family therapy in 2007. A certified school counselor and a licensed marital and family therapist, Atchley currently serves as the executive director of counseling for the Oklahoma State Department of Education, where her team coordinates and leads professional development opportunities for school counselors and brings crisis trainings to communities across the state. Most recently, she has worked on a statewide summit focused on trauma-informed intervention for schools. Prior to taking on her current role, Kristin was a school counselor and student advocacy coordinator in school districts in Norman, Moore, Mustang and Guthrie. While Atchley was a school counselor in Plaza Towers Elementary in Moore, an EF5 tornado destroyed the school on May 20, 2013. Kristin committed to use that experience to make a difference, making it her mission to help schools, students, communities and families in the healing process.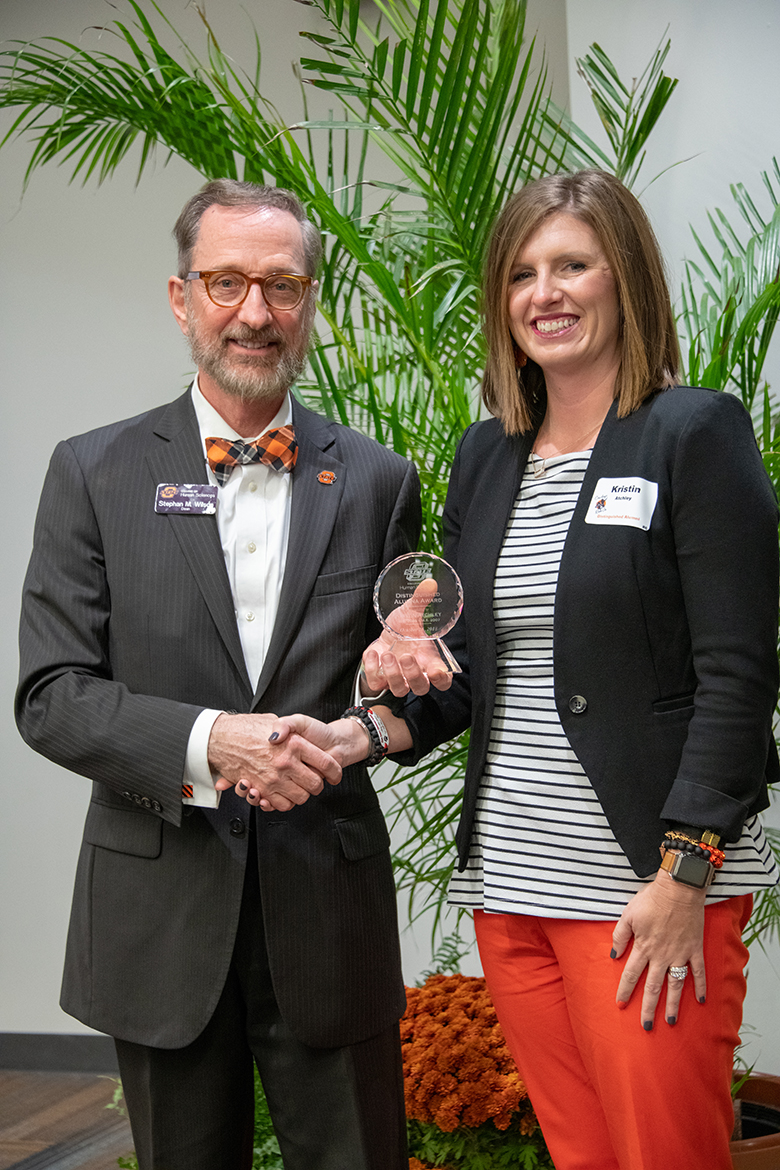 Nellie Perry, 2018 Distinguished Alumni Award
Nellie Perry earned a Bachelor of Science in Home Economics with honors from Oklahoma A&M in 1950. She passed away on May 28, 2016 and is receiving the Distinguished Alumni Award posthumously. A remarkable woman, Perry was a writer, teacher, lawyer and mother. She was a reporter for the Hobart Democrat-Chief and taught junior high home economics, English and science in Midwest City and Hobart. At age 50, Perry decided to go to law school. She graduated near the top of her class at the University of Oklahoma in 1982 and joined her husband Johnny at the offices of Perry, Gentry, Perry and Marsh. A renowned bankruptcy attorney, Perry represented small businesses and farmers in financial trouble, and helped many Oklahoma farmers stay on family farms they otherwise would have lost. She served on the Oklahoma Board of Bar Examiners and as a trustee for the Oklahoma Bar Foundation and provided legal services pro bono for family and youth organizations. Perry was honored with the Mary Emma Wilson Award for outstanding work in prevention of child abuse in Oklahoma. In 2008, The Journal Record named Perry as one Oklahoma's Fifty Women Making a Difference.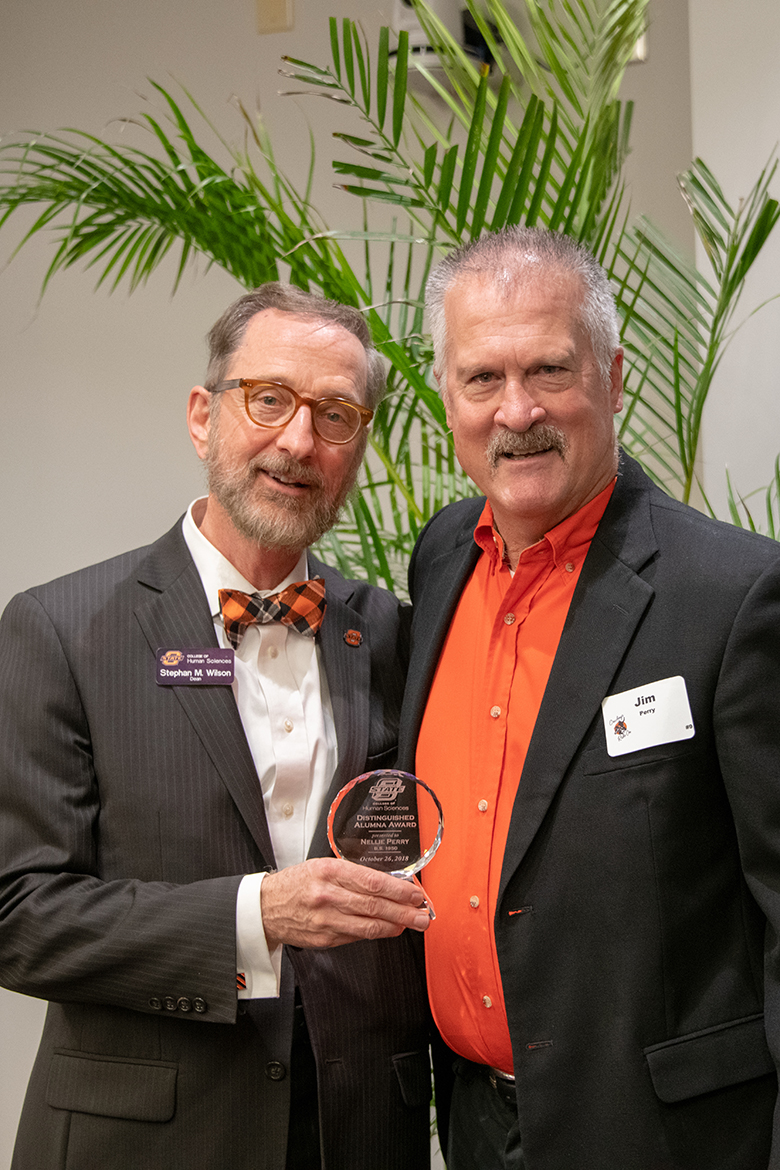 Kristen Smith, 2018 Distinguished Alumni Award
Kristen Smith graduated with a Bachelor of Science in Nutritional Sciences in 2004. She completed the dietetic internship program at New York-Presbyterian Hospital and went on to earn a Master of Science in Nutrition and Dietetics from New York University. Smith is a registered dietitian who has devoted her career to providing wellness and nutrition services to her community. She has worked as a clinical dietitian in both New York and Georgia and currently serves as the program coordinator for bariatric surgery at Piedmont Healthcare in Atlanta. Smith founded 360 Family Nutrition in 2012, and through this family-focused blog, she provides nutrition tips and resources as well as counseling for weight loss clients. Smith is one of 30 nationwide spokespersons for the Academy of Nutrition and Dietetics and has appeared on national television and been quoted in more than 100 print and online articles.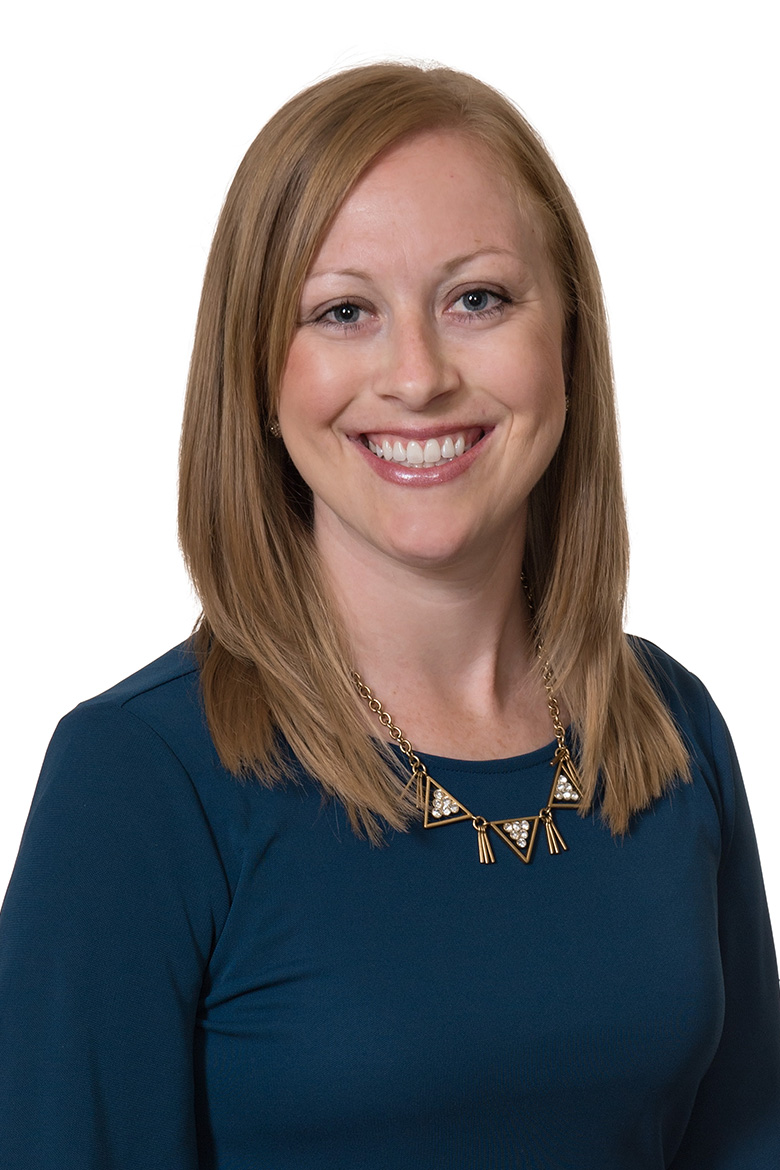 Tim Gowin, 2018 Rising Star
Tim Gowin completed a bachelor's degree in human development and family science in 2009. He is the executive vice president of operations for Big Brothers Big Sisters of Oklahoma, serving the organization in a statewide role. Prior to joining Big Brothers Big Sisters, Gowin was the executive director for Emergency Infant Services, an organization that provides basic services to families with young children who are in crisis in Tulsa. Gowin dedicated the first part of his career to serving Tulsa's runaway and homeless young adult population at Youth Services of Tulsa. He began working at Youth Services Tulsa in 2007 and became Director of Outreach in 2012. At Youth Services of Tulsa, Gowin helped find job opportunities, educate, house and provide medical care to hundreds of homeless youth.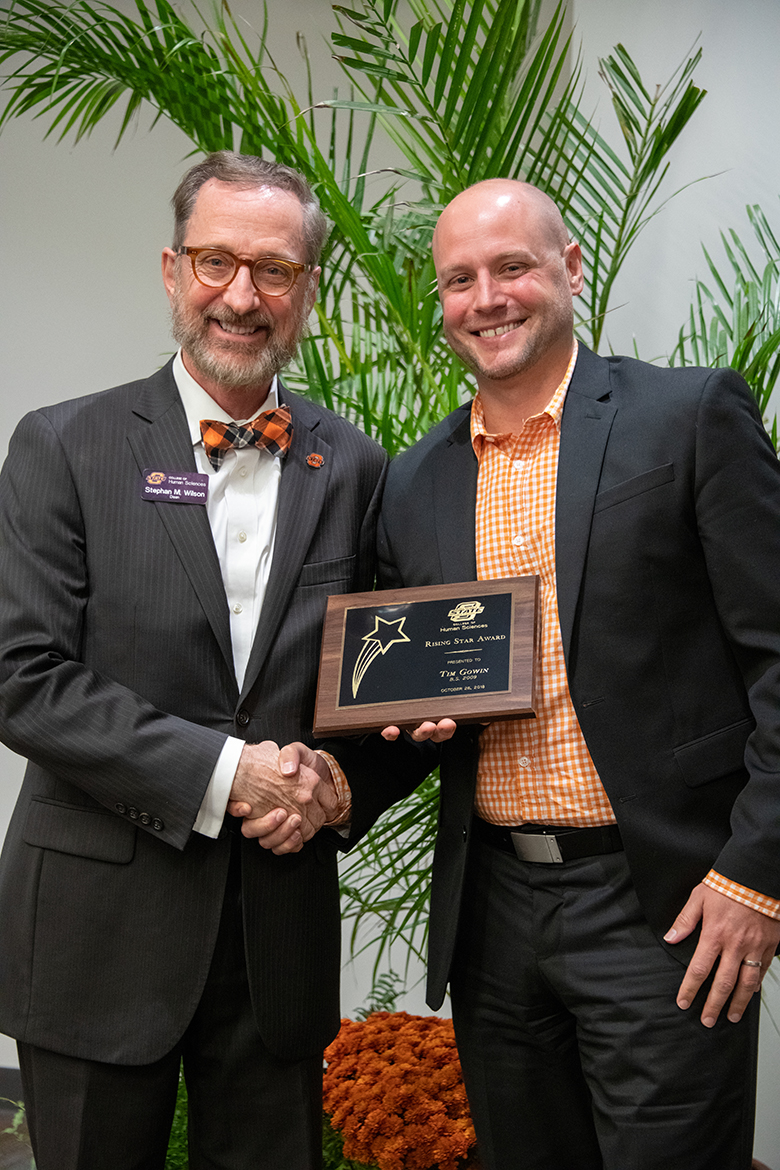 Benjamin Houltberg, 2018 Rising Star
Benjamin Houltberg earned a Ph.D. in human development and family science in 2010. Since 2014, he has served as associate professor in the department of marriage and family therapy at the Fuller Theological Seminary in Pasadena, California. In December, he will become the Director of Research in the Performance Science Institute at the University of Southern California. Prior to his appointments in California, Ben worked at Indiana University-Purdue University at Fort Wayne where he was an assistant professor of professional studies and coordinator for the couple and family counseling program from 2010-2014. While pursuing his Ph.D., Houltberg was the family and youth development project coordinator in the department of human development and family science at OSU Tulsa. In addition to his accomplishments in academia, Houltberg is a founding member of Hope Sports, a non-profit that connects athletes to a greater sense of purpose through building homes in impoverished countries. More than 400 collegiate, professional and Olympic athletes have built 20 homes in Mexico in just over two years with Hope Sports.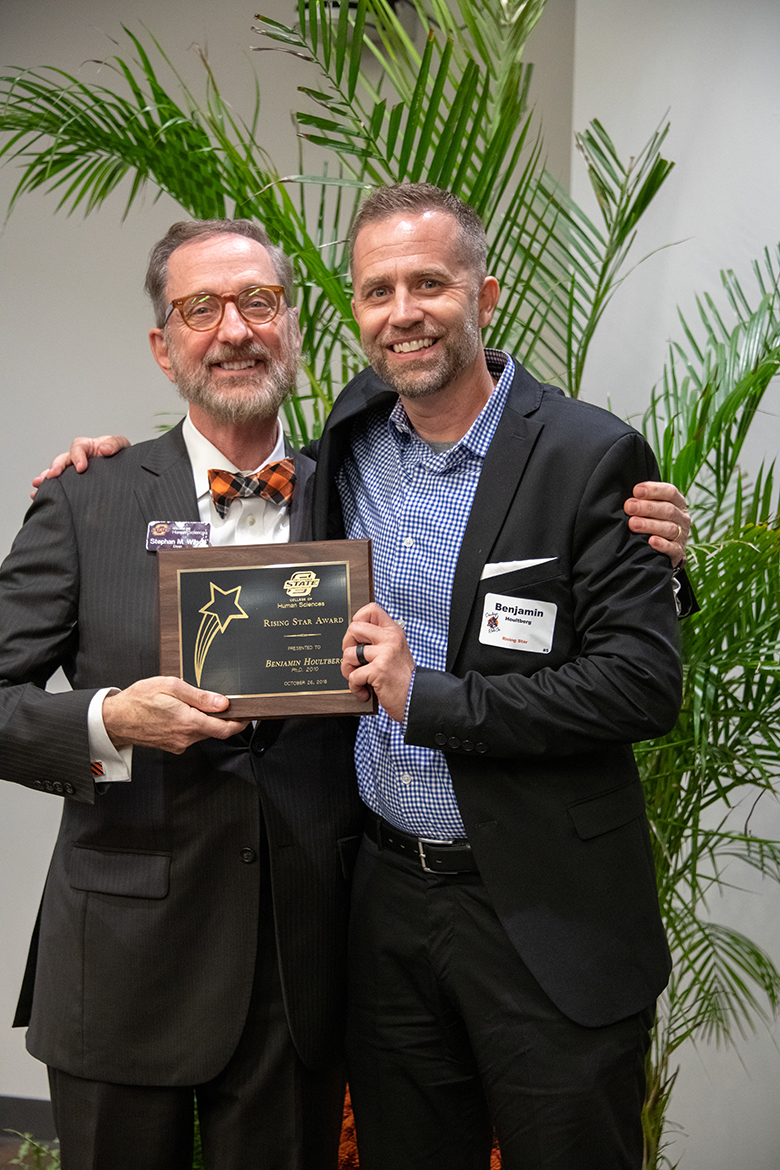 Samantha Johnson, 2018 Rising Star
Samantha Johnson holds a 2014 bachelor's degree and a 2017 master's degree in human development and family science. After graduating with her bachelor's degree, Johnson began working as a Recovery Coach for young adults at ClearView Communities, a residential rehabilitation center for adults with mental illness near Washington, D.C. After earning a master's degree, she began working at Youth Services of Tulsa with the health education and prevention program, serving at risk youth ages 13-24 in Tulsa and surrounding communities. Johnson's achievements also include being chosen as one of 50 participants for the Oklahoma Policy Institute in 2016. In January 2018, she was selected as an inaugural fellow for the New Leaders Council Oklahoma.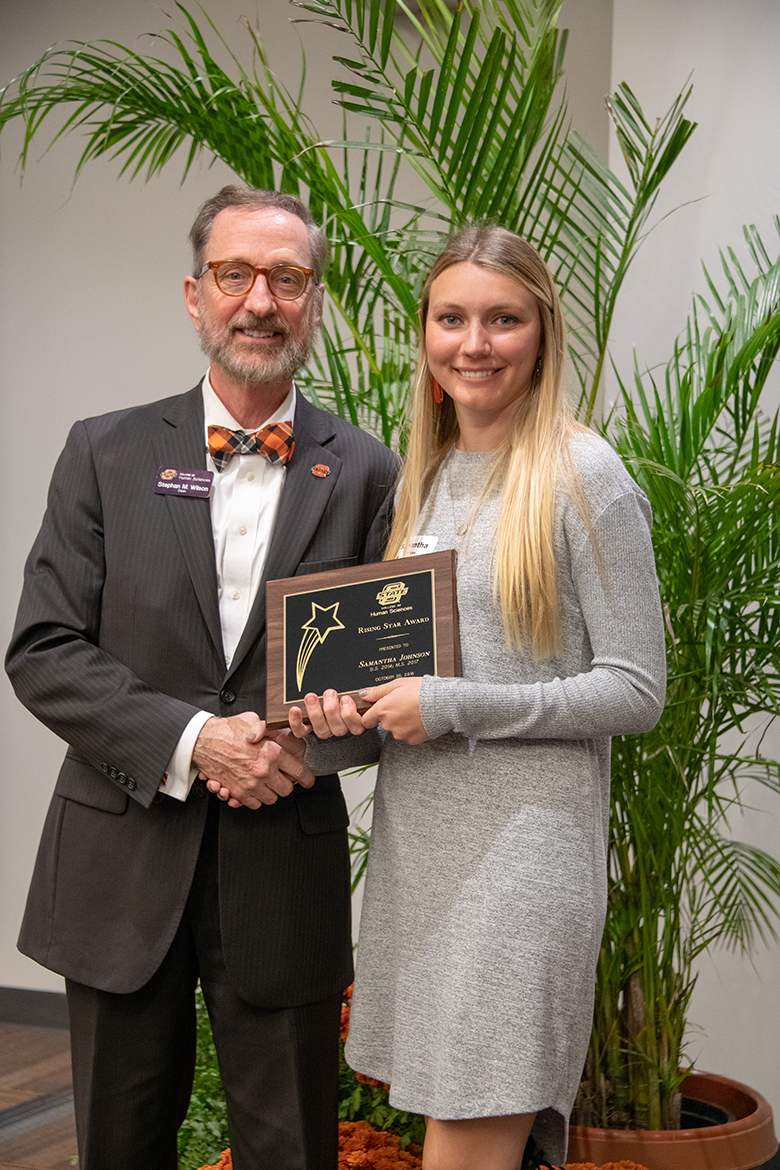 Rick Green, 2018 Honorary Alumnus Award
Rick Green received his Bachelor of Science in Marketing and Finance from the OSU Spears School of Business in 1970. Green began his career with Stillwater National Bank as a collector in training in 1972. Over the course of his career, he moved into leadership roles with the bank, eventually becoming Chief Executive Officer in 1998. Green retired in 2012 after working 40 years at Bank SNB. He has assisted in raising funds for College of Human Sciences student scholarships and served with the college Partners' Alumni Group for many years. He has been heavily involved in student success as a mentor, partner and friend and the Oklahoma Foundation for Excellence presented Green its Outstanding Mentor award. In addition, he has received many honors from the Spears School of Business, including induction to the school's Hall of Fame. Long active in serving the Stillwater community, Green is also a lifetime member of the OSU Alumni Association and a member of the OSU Foundation Board of Governors. Five generations of his family have attended OSU.