Oklahoma State University's College of Human Sciences recognized eight individuals during its 2019 Alumni Awards dinner on August 17 on the Stillwater campus.
Teddie Price (Bentonville, Arkansas) was presented with the college's highest honor for graduates, the Alumni Hall of Fame Award. This award recognizes alumni for service to society, professional achievements and impact on their community and or profession. Rhonda Paul Ashburn (Washington, D.C.), Amanda Baker Kendall (Dallas) and Ladd (Washington, D.C.) were recognized with the Distinguished Alumni Award. This honor is presented to alumni who are established as leaders in their respective fields and who have advanced the reputation of the OSU College of Human Sciences.
Sheri Glazier (Loyal, Oklahoma), Hayley Goodman (Enid, Oklahoma) Brooke Kusch (Enid, Oklahoma) and Melissa G. Oliver (Stillwater, Oklahoma) were honored as 2019 Rising Stars. This award is given to College of Human Sciences graduates who have distinguished themselves and achieved significant professional accomplishments within the first 10 years of their careers.
Teddie Price, 2019 Alumni Hall of Fame Award
Price, a 1991 OSU graduate in Design, Housing and Merchandising (DHM), has worked for the Walmart Corporation for 28 years and is currently the Director of Replenishment for Ladies Apparel for Walmart Stores, Inc. In both 2017 and 2018, Price received the Walmart Apparel Division's Quarterly Above and Beyond Award, given in recognition of hard work, dedication and willingness to exceed customers' expectations. She also received Walmart's Quarterly Merchandising Spot Award – recognizing best-in-class performance in apparel merchandising, leadership and strategy efforts, in 2017. Price was part of Walmart's Buying Teams of the Year in 1995, 1996 and 1997. An original member of the OSU College of Human Sciences Partners, she served as the group's president from the spring 2017 to spring 2019. Price has also been active as a member of the DHM Advisory Board since 2013 and often shares her expertise and experience with current DHM students by reviewing resumes and presenting to classes. In 2010, Price was presented with the College of Human Sciences Distinguished Alumni Award.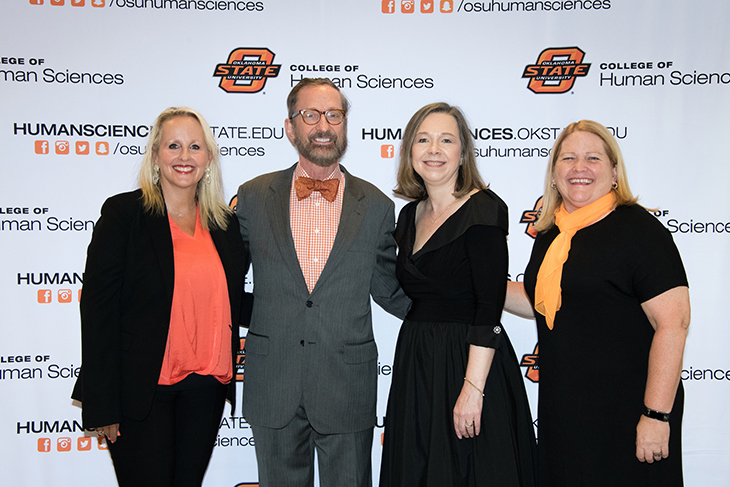 Rhonda Paul Ashburn, 2019 Distinguished Alumni Award
Rhonda Paul Ashburn earned her bachelor's degree in home economics education and community services from OSU in 1986. She also holds a Nonprofit Management Executive Certificate from Georgetown University's Center for Public and Nonprofit Leadership. Since 2016, Ashburn has worked as the executive director for the American Financial Services Association Education Foundation in Washington D.C. She is responsible for the administration, programs, strategic planning and annual development efforts for the organization. The non-profit's aim is to heighten consumers' awareness of personal financial responsibility. Prior to her current position, Ashburn worked for the National Foundation for Credit Counseling as the Senior Director of Financial Education Programs. She has also worked as the Director of Development for the Family, Career and Community Leaders of America in Reston, Virginia. Ashburn received FCCLA's National Distinguished Service Award and the National Foundation for Credit Counseling recognized her as Board Chair Making a Difference.
Amanda Baker Kendall, 2019 Distinguished Alumni Award
Amanda Baker Kendall is a senior associate at Gensler, a global design and architecture firm in Dallas, Texas. The Stillwater, Oklahoma, native received her bachelor's degree in interior design from Oklahoma State University in 1996. Kendall is a registered interior designer in Texas. She is a member and has held leadership positions in both the International Interior Design Association and the Texas Association of Interior Designers. She joined Gensler in 2007 and has worked on a variety projects from interiors for consulting and technology firms to large-scale headquarters like AmerisourceBergen, the Dallas Cowboys World Headquarters, and Devon Energy. Kendall is actively involved in the OSU Women's Council of Dallas, the OSU Design, Housing and Merchandising Advisory Board and the Dallas Children's Theater Board of Trustees.
Ladd, 2019 Distinguished Alumni Award
Ladd completed her bachelor's degree in human dietetics at OSU in 1990. Currently, she serves as the Senior Technical Director for Nutrition with ACDI/VOCA, an agricultural development organization that helps small farmers participate in the world economy through improved agriculture and market systems. After graduating from OSU, Ladd took a position at a therapeutic feeding center for malnourished children in the Philippines. Ladd then returned to school to focus on international nutrition and earned her master's degree in public health and nutrition at James Madison University. She then moved to Somalia where she worked in feeding camps during the famine and war. She continued to take appointments in war zones, including Liberia, South Sudan, Darfur, Sudan, Iraq and Afghanistan working with nutritionally vulnerable women and children. After over a decade of working internationally, Ladd returned to the United States and took a position at the Colorado Department of Public Health and Environment as a nutrition consultant for the Women Infant and Children program. In 2007, she returned to her passion for international nutrition in Washington D.C. as a nutritionist for the International Medical Corp., an emergency medical group that responds to disasters worldwide.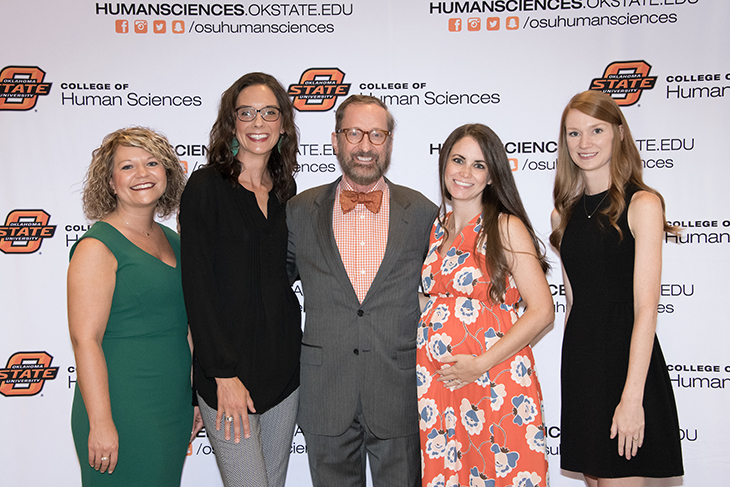 Sherri Glazier, 2019 Rising Star Award
Sheri Glazier, RDN, LD, received her bachelor's degree in human sciences in 2010 and earned her master's degree in nutritional sciences along with completing her dietetic internship in 2012. As a Registered Dietician, Glazier has worked in various aspects of dietetics including clinical, outpatient and food service management. Glazier enjoys assisting clients and working to implement nutritional plans that can forever impact the trajectory of the patient's health and wellness. She is currently a clinical/outpatient dietitian at Mercy Hospital in Oklahoma City. Most recently, Glazier founded a consulting business, Dirt Road Dietitian, LLC. In 2016, she became the consultant dietician to the Oklahoma Beef Council, serving as the health and nutrition liaison between Oklahoma's beef farmers and ranchers and the medical and health professional communities within the state. Glazier has been active with the Oklahoma Academy of Nutrition and Dietetics Board of Directors, serving as member services chair.
Hayley Goodman, 2019 Rising Star Award
Hayley Goodman graduated with a bachelor's degree in human development and family science with an option in early childhood education and completed teaching certification in 2015. Goodman works for Enid Public Schools at the Northwestern Oklahoma State University Early Childhood Center. The center is a cooperative preschool between Enid Public Schools and Northwestern Oklahoma State University which provides education for four and five-year olds while simultaneously functioning as a lab space to prepare Northwestern Oklahoma State University students to become the next generation of teachers. Before her current position, Goodman worked with Enid Public Schools' intergenerational program at the Commons Retirement Center where students were able to interact with residents. Goodman also tutors students aged kindergarten through eighth grade at the Enid Learning Academy.
Brooke Kusch, 2019 Rising Star Award
Brooke Kusch graduated Summa Cum Laude from the University of Central Oklahoma with a bachelor's degree in education with an emphasis in family and consumer sciences education. In 2012, Kusch obtained her master's degree in family financial planning from the OSU College of Human Sciences. She earned an additional Master of Education in School Counseling from Southwestern Oklahoma State University in 2016. Kusch is a member of the OSU Human Sciences Advisory Board and has served as a mentor teacher to five OSU teacher candidates. She has recently taken a position as a career counselor at Autry Technology Center in Enid, Oklahoma. Prior to this new position, she was a family and consumer sciences instructor at Drummond Public Schools, where she developed a successful shadowing program for family and consumer sciences students. She is the current president of the Oklahoma Association of Career and Technology Education.
Melissa G. Oliver, 2019 Rising Star Award
Melissa Oliver, a Licensed Marriage and Family Therapist, is a two-time graduate of the College of Human Sciences. Oliver graduated Summa Cum Laude with a bachelor's degree in human development and family science with an emphasis in child and family services in 2009. She earned her master's degree in human development and family science in 2011 with an emphasis in marriage and family therapy. In January of 2019, Oliver co-founded Stillwater Counseling Center, which provides therapy services to the local community. Before forming her own practice, Oliver worked for Wings of Hope Family Crisis Services where she worked with victims of domestic violence, sexual assault, stalking and harassment. She has also served as an adjunct instructor at Oklahoma State University and been an active researcher with many professional publications and presentations.
Media contact: Christy Lang |405-744-9740 | christy.lang@okstate.edu