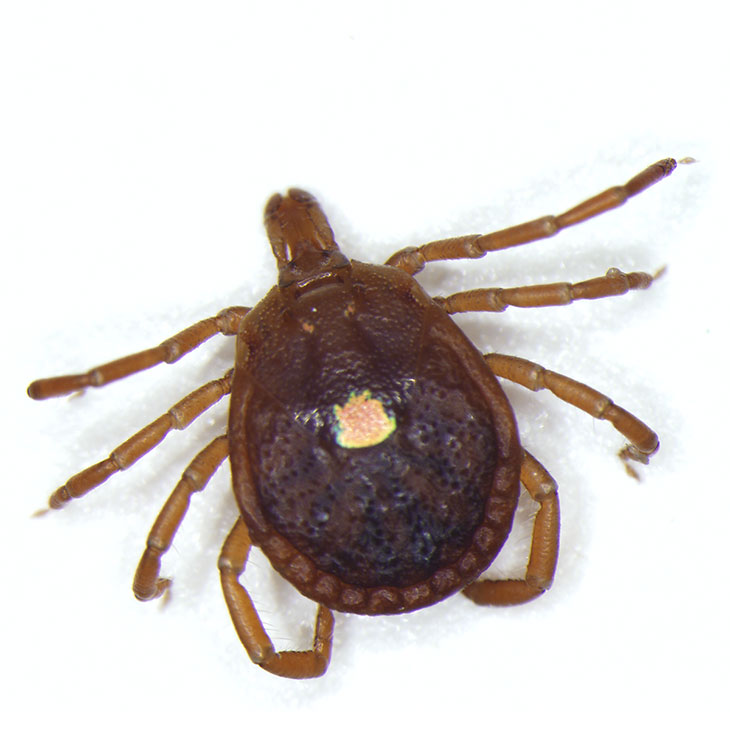 The OSU Tick Team
Thursday, September 26, 2019
Have you ever found a tick on your pet or on yourself? These tiny creatures are growing in numbers in North America and Northern Europe. With the explosion in tick populations and increasing geographic distribution in the tick species, more people and more animals are at risk of acquiring a tick bite and becoming infected with a tick-borne disease. For your health and that of your pets, the work being done by OSU's Tick Team is more important than ever before. Understanding the patterns and processes responsible for those changes, how the ticks make their way in the world, how they are able to transmit the infections are really important for protecting veterinary health and public health.
"At Oklahoma State University, the tick team represents a large number of faculty whose research programs focus on ticks and tick-borne infections," explained Susan Little, DVM, Ph.D., DACVM (Parasit.), Regents Professor and Krull-Ewing Professor in veterinary parasitology at OSU's College of Veterinary Medicine. "Several faculty in the veterinary college work on tick-borne diseases of people, large animals, dogs and cats. We also have faculty in the College of Agriculture in the department of entomology who work on ticks and tick-borne infections and faculty in the College of Arts and Sciences in microbiology and molecular genetics who work on tick-borne diseases. There's a lot of intellectual passion for ticks and tick-borne infections. We have scores of tick species in the United States so there is no shortage of ticks to study. There are about six to eight species that are of great medical and veterinary importance that we focus most of our resources on. We work together collaboratively and at the center of it all, the department of entomology runs a tick resource center. They actually provide research resources to people who work on ticks and tick-borne infections worldwide. Even before I came to OSU in 2005, I was already collaborating with the folks at OSU because of that tick resource center."
Individual researchers have their own labs, grants, graduate students and research programs but share responsibilities for graduate students and draw on each other's strengths to complete projects.
"We might be on the same graduate student committee as they progress through our training programs," continued Little. "We teach together in the curriculum both in veterinary medicine and in entomology and then we work on collaborative research projects. We're trying to come up with strategies that will protect veterinary and human health from the threats posed by ticks. It's also basic biological research to understand the patterns and processes responsible for the ticks in nature, for the seasonality we see, and when they do manage to find a host, the dynamics involved in transmitting the infection from the arthropod vector (tick) to the host and from the host to the tick. Because we are all here at Oklahoma State, that critical mass of faculty really allows us to make vertical advances in research that we would not be able to make if we were scattered across the country in different programs."
Specifically at the veterinary college, several research programs focus on ticks.
"Dr. Mason Reichard, professor of parasitology, identified the transmission system for the most important tick-borne infection of cats," said Little. "Known for that internationally, he is the world expert on Cytauxzoon felis infection in cats. Dr. Kelly Allen, assistant professor in parasitology, was the first to identify Hepatozoon canis, which is a European tick-borne infection that she found here in the United States for the first time. Her lab is now researching a nematode that is transmitted by ticks that had not been recognized in the central United States until Allen's lab found it. Dr. Yoko Nagamori, who runs our clinical parasitology program, was instrumental in a national survey of ticks on cats, which is published and well regarded as a landmark study for the importance of ticks on cats."
In Dr. Little's lab, researchers are mapping tick-borne infections that are shared by dogs and people throughout North America.
"We have an on-going national survey of ticks on dogs and cats as an index of what the risks are to people," added Little. "We look at the ticks on dogs and cats because we know that they share their environment with people and some of the same tick problems. We're finding new species in new places and we're finding entirely new to North America ticks on the dogs and cats."
Oklahoma State's veterinary college has a long standing commitment to excellence in parasitology.
"Dr. Wendell Krull, an internationally acclaimed veterinary parasitologist, was one of our founding faculty members," said Little. "He discovered the life cycle for a trematode that's maintained in ants and sheep. Dr. Sidney Ewing is also a world renowned faculty member who spent much of his career at Oklahoma State. He discovered not one but actually three tick-borne infections that were new to the United States. One of them had been discovered previously in Asia but he found it in the U.S. for the first time. The other two were entirely new pathogens, one named in his honor, Ehrlichia ewingii. The other is an important tick-borne infection of dogs that he and Dr. Roger Panciera, another well-known and much loved OSU faculty member, discovered together and described the clinical disease. And there have been so many other incredible tick-borne disease researchers at OSU's veterinary college, like Drs. Eileen Johnson, Kathy Kocan, Jose de la Fuente and Ed Blouin, who contributed greatly to the understanding of ticks and tick-borne infections for decades and really just made incredible shifts in our understanding of tick disease.
"I had an established research program at the University of Georgia when the position opened up here at OSU, and it was the ticks that drew me here. Together we're just recognized for that world-wide. That history has been with Oklahoma State since the beginning of the veterinary school in the 1940s and I think it will be with Oklahoma State into the future. It's something that I'm very proud to be a part of."
MEDIA CONTACT: Derinda Blakeney, APR | OSU College of Veterinary Medicine | 405-744-6740 | derinda@okstate.edu