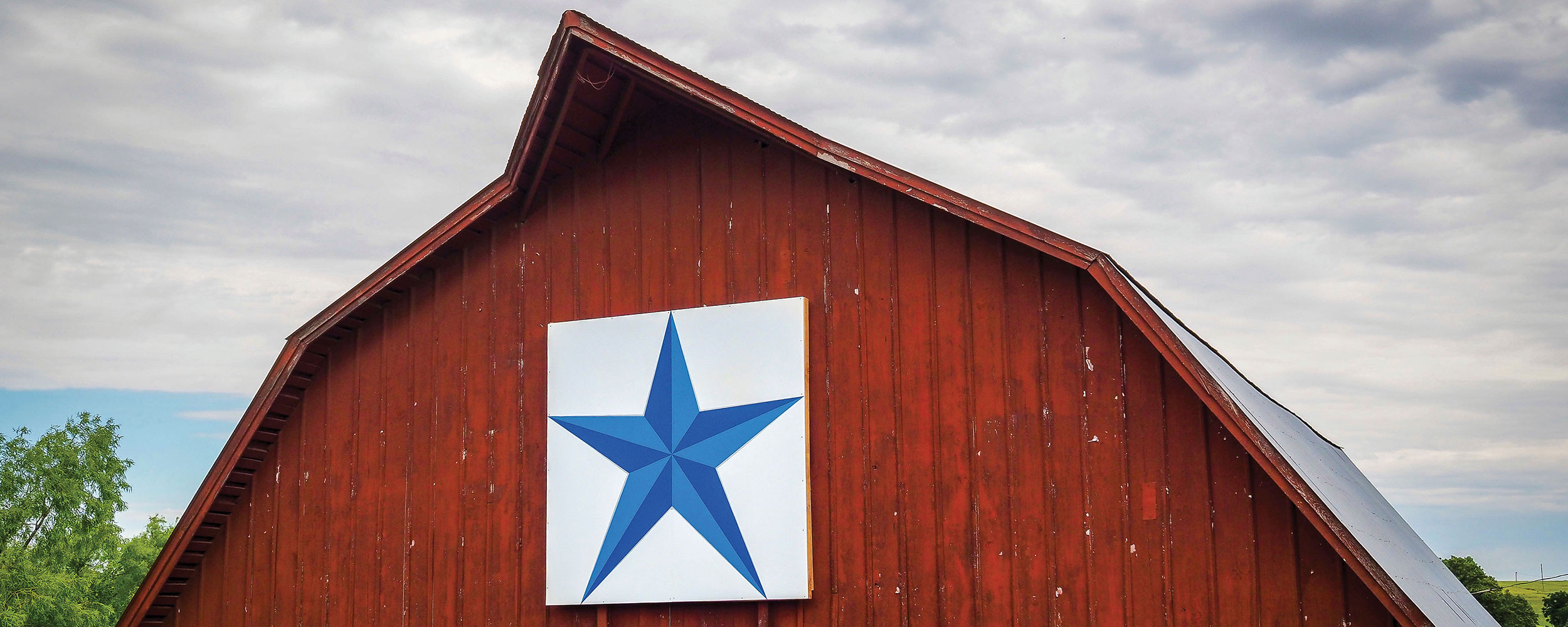 Brightening Rural Oklahoma
Thursday, June 10, 2021
Media Contact: Samantha Siler | Communications and Marketing Manager | 405-744-2977 | samantha.siler@okstate.edu
The colors of an Oklahoma sunrise fill the sky as farms and ranches come alive. These vibrant colors also are seen when exploring the Oklahoma Quilt Trail.
Across the state, barn quilts can be spotted from roadways as they hang on barns, houses and fences.
Starting as a piece of medium-density overlay plywood, these wooden quilts are transformed into a piece of artwork with paint.
Oklahoma's history and traditions are relayed through these unique art pieces, said Lynda Latta, Ellis County family and consumer sciences/4-H Extension educator.
"The quilting history of Oklahoma is important to preserve family traditions," Latta said. "Everyone who has a family quilt knows how precious they are and the meaning behind each color and symbol being used."
The Oklahoma Quilt Trail was established five years ago and is growing at a tremendous speed, Latta said.
More than 350 barn quilts are registered throughout the state.
"The main goal of the Oklahoma Quilt Trail is to promote the history of quilting in Oklahoma," Latta said. "The barn quilt trail is a way to pull people into our smaller communities and explore rural Oklahoma."
Each barn quilt is named and placed on a structure. Barn quilt dimensions range from 2 feet for beginners to 8 feet for advanced quilters, Latta said. However, quilts can be created to fit any space, she added.
The Oklahoma Quilt Trail commit-tee recommends specific supplies to create a barn quilt — an MDO plywood board, primer, paint, a quilt pattern, pencil, ruler and painters' tape.
"Once sectioned off with tape, starting with the lightest color, you begin painting," Latta said.
A barn quilt is a painted wood surface featuring quilt blocks from a specific quilt pattern or any other design, said Joy Rhodes, Garfield County FCS/4-H Extension educator.
"Starting with one color at a time, the area must be taped off, painted and left to dry completely before moving on to the next color," Rhodes said. "This ensures the colors and shapes come out correctly at the end."
Barn quilt projects can take hours or days to complete, depending on how detailed and big each art piece is, Rhodes said.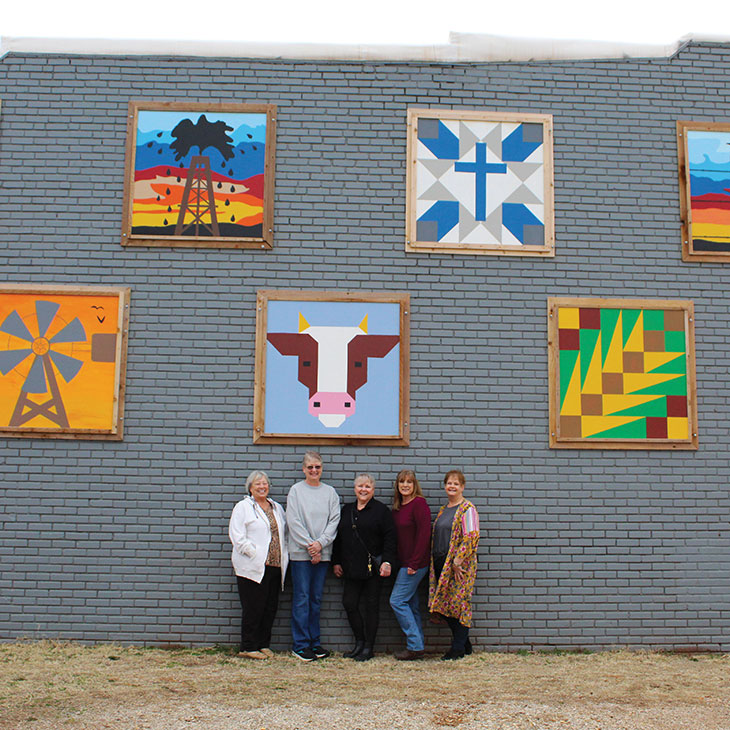 "It is amazing how communities come together to create these wonderful pieces," Rhodes said. "It can really add life and something special to the smaller, rural counties in Oklahoma."
Several rural communities are making enhancements to local property and businesses to display barn quilts, said Recia Garcia, retired northwest district FCS program specialist.
"People actually use these art-work pieces to show their skills and show how beautiful their property is," Garcia said. "They have a sense of pride in their artwork and what their town and history mean to them."
The quilt trail maps convey history and culture, Garcia said. This has been a goal to formalize Oklahoma's quilt trail map, Garcia added.
"Having a statewide map is necessary to develop quilt trails into a tourist attraction capable of generating economic income as drivers dine, shop and refuel," Garcia said. "This is especially true for rural areas."
One community on the Oklahoma Quilt Trail map will be Covington, Oklahoma, where locals Cindy Bolz, Sandy Davis, Barbara McHendry and Annette Tooman transformed the Tri-County Senior Citizens Center into a piece of art.
"Our big project was to bring some life to the outside of the community center and brighten it up," Tooman said. "We chose objects and symbols that represent Oklahoma and the traditions centered around it."
With careful consideration on colors and figures, sketches came to life on board, Rhodes said.
"We wanted to draw people to come see the history of our town with these barn quilts," Davis said. "It's like a museum on the senior center. This building is 100 years old."
The senior center is a community place where people gather for activities and meetings in Covington, Bolz said. What used to be a booming oil town has turned into a quiet and small community, she added.
"The locals of Covington love seeing the barn quilts hanging on the building," Bolz said. "They draw the interest of people to come inside the community center and learn about the history of our town."
Coming up with ideas and being creative are what barn quilts allow an individual to do, McHendry said.
"The fellowship you gain with others is the best thing," Davis said. "You also gain a sense of accomplishment from what you created from drawing to painting a barn quilt."
---
Story By: Lauren Raley | Cowboy Journal