Cultural Diversification
Thursday, June 10, 2021
Media Contact: Samantha Siler | Communications and Marketing Manager | 405-744-2977 | samantha.siler@okstate.edu
Using games, music and professional speakers, the Oklahoma State University Ferguson College of AgricultureMulticultural Programs Leaders hosted Celebrate AgriCULTURE in March 2021.
The goal of Celebrate AgriCULTURE is to expand the understanding of culture, diversity and inclusion in the agriculture, food and natural resources industries, said José Uscanga, director of multicultural programs in Ferguson College.
"We had more than 20 options of activities for participants to attend in person or online," Uscanga said. "Participants could choose what they liked during the event."
Cynda Clary, associate dean of Ferguson College, said Celebrate AgriCULTURE was not only about education but also a celebration in the college community.
"It not only brought our community together," Clary said, "but also it helped build friendships, understanding and a shared vision for where we are going in the future."
Celebrate AgriCULTURE was designed to increase awareness of the different cultures within the agricultural industry, said Ethan Attebery, agribusiness senior and multicultural programs leader.
Event participants interacted with Temple Grandin, animal science professor at Colorado State University, and Thomas RaShad Easley, assistant dean for community and inclusion at Yale University School of Forestry and Environmental Studies. Participants also learned the unique stories of faculty, staff and students, Clary said.
"Over the course of three days, each activity targeted different aspects of diversity and inclusion in agriculture," Attebery said.
Grandin, who has autism, showed students anything is possible, he said.
"She has never let autism stop her in her field," Attebery said. "She is a world-renowned expert on animal handling. She is very motivating and has inspired many people."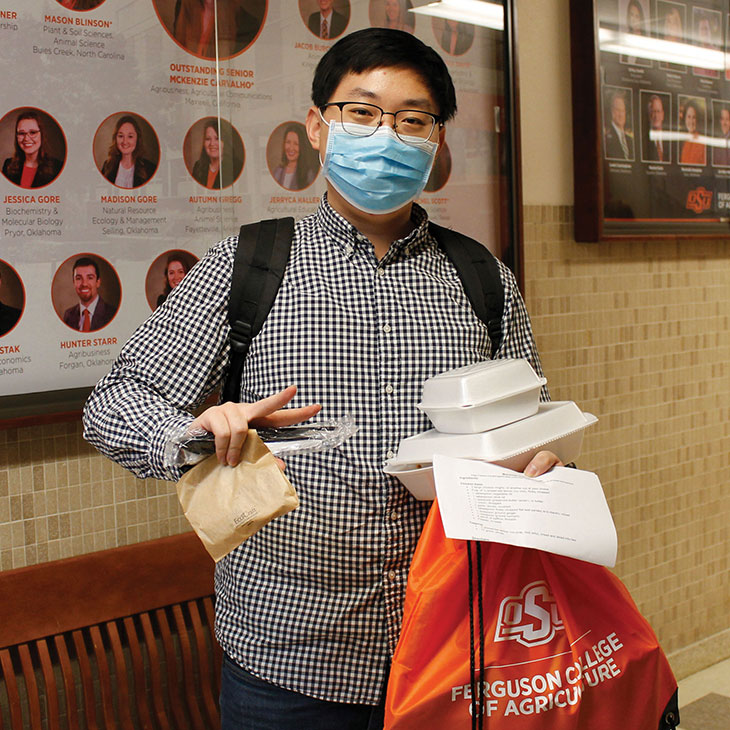 Grandin revolutionized animal husbandry practices and brought change to the animal agriculture industry, said Ashley Di Agostino, animal science sophomore and multicultural programs leader.
"We are both women in agriculture," Di Agostino said. "Seeing Grandin's work is inspiring. Her work ethic is something that I can relate to and I aspire to have when I am working a job."
Easley shared with participants about the challenges he faced as an African American in the forestry and natural resources industries and how diversity works in a unique way, Attebery said.
"Easley told the participants we can use hip-hop music as a way to elevate people and put some teaching in," Uscanga said.
In the agricultural industry, leaders discussed what diversity and inclusion means to their specific organizations in their hiring process, what they value in the company, and initiatives they use to promote diverse workplaces, Attebery said.
Through a women's panel, participants learned about the agricultural industry from a female's perspective, Uscanga said.
"I found myself inspired by the different speakers and panelists from the industry," Clary said. "Listening to their stories and seeing their enthusiasm and happiness in talking to students made me so proud.
"This event was an opportunity to celebrate all our differences and to learn more about how differences contribute to building a stronger community and a stronger world," Clary said. "I hope students, faculty and staff were inspired by the event and will take the next step forward."
Participants left each activity with a better understanding of how careers look in diverse workplaces or how to work with peers from different backgrounds, Attebery said, giving them a greater respect of different cultures.
Agriculture has a strong foundation in diversity, said Dalee Barrick, agricultural communications and agribusiness junior and multicultural programs leader. Culture can affect the way agriculturalists strategize and make tactical decisions, she added.
Celebrate AgriCULTURE celebrated diversity and individuality within the agricultural industry to bring people together, Di Agostino said.
"It is more than the skin color you have or the sexual orientation you claim," Barrick said. "It is more than your political affiliation or your religious opinions.
"It is your ideologies, your strengths, your weaknesses, what makes you happy, what makes you sad, and so much more," she added.
Barrick said she hoped participants felt challenged to be open-minded and open to change.
"We are all so unique and so beautiful in our own ways," Barrick said. "If we can stop seeing diversity as our skin differences, we can progress in agriculture and in everyday life."
Although the Ferguson College hosted this event, everyone at OSU was encouraged to come, Di Agostino said.
In the week prior to the event, the multicultural programs leaders set out a booth in front of Agricultural Hall to recruit students who walked by to sign up for the event, Attebery said.
More than 500 people attended the event based on the attendance recorded, Uscanga said. About 300 people attended on Zoom and about 200 people attended in person, he added.
"That gave us an estimate of what we can expect next year," Uscanga said.
People have come through a tough time being isolated last year, Clary said. This event was an opportunity to bring everybody together and to connect with each other in a different way, she added.
The multicultural programs leaders started working on this event in the Fall 2020 semester, Di Agostino said, and much collaboration was done to host the event.
"We formulated the idea and worked every week up to the event to find sponsors, create panels, craft game ideas, and find club members to help," Barrick said. "It was a lot of pressure, but it was the kind of pressure you feel when you know you are on the verge of making a positive impact on others."
Barrick said she hoped participants left the event with positive perspectives on their roles in agriculture.
"It doesn't matter if you have a huge background in farming or none at all," Barrick said. "You have a place in the Ferguson College of Agriculture."
---
Story By: Jiawen Li | Cowboy Journal