Opening the Pantry
Thursday, June 10, 2021
Media Contact: Samantha Siler | Communications and Marketing Manager | 405-744-2977 | samantha.siler@okstate.edu
Food fuels the brain, and Oklahoma State University students use their brains every day toward completing their education. However, recent research proves some students worry about where they will get their next meal.
To combat the situation, members of the OSU Student Government Association's food insecurity committee created an initiative to help food insecure students.
According to the "Assessment of Food Security among Oklahoma State University Students," food security is emerging as a serious problem in the U.S., including in Oklahoma.
Through a survey distributed to a random sample of OSU students, 43% of the respondents reported being food insecure.
This research project shows rates of food insecurity at OSU are higher than the national average of 12%.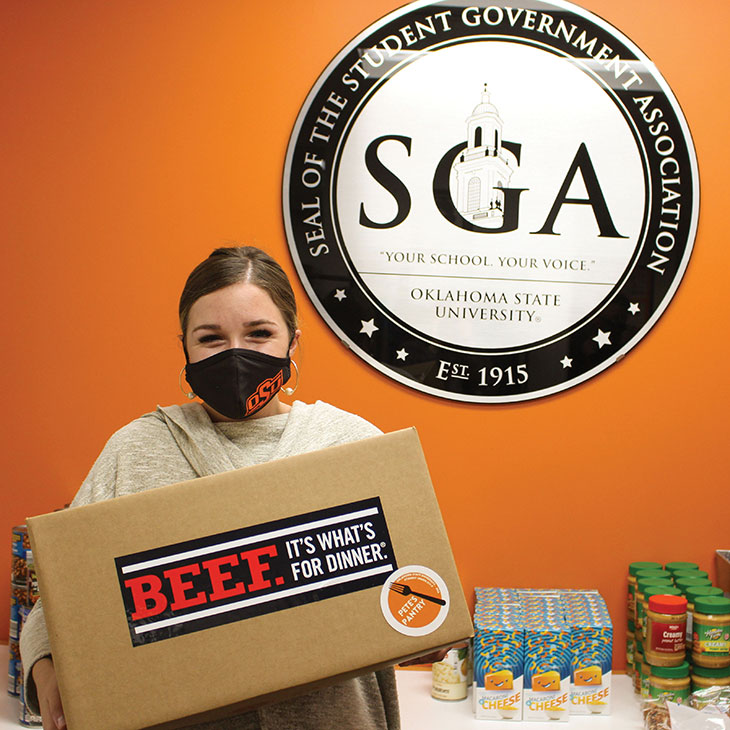 "These numbers are organized into low food security and mild to moderate food security, but the bottom line is we realized we had a problem," said Amarie Griffeth, agribusiness and agricultural communications junior. "The students' perspective showed an on-campus pantry would be beneficial because the majority of food insecure students work full-time jobs and need-ed something at their disposal."
Vanessa Wiebe, 2018 SGA vice president and OSU agribusiness and agricultural communications alumna, set the foundation for what is known today as "Pete's Pantry."
The pantry was developed through cooperation among Big 12 schools, campus administration and other SGA legislators, Wiebe said. She said she recognized a problem existed on campus for food insecure students and knew she had to be proactive to change the circumstances at hand.
"After realizing we were the only Big 12 school without a food pantry for its students, I developed a sense of guilt for not doing anything earlier," Wiebe said. "From there, I developed a strong passion to ensure the continuation of success for fighting food insecurity."
Wiebe appointed Griffeth as the SGA director of food insecurity in April 2019.
As of fall 2020, members of the SGA food insecurity committee began the SGA food pantry, better known as "Pete's Pantry," Griffeth said. The pantry is a "no questions asked" welcoming process where students can obtain resources from Room 211 of the OSU Student Union, she added.
"We are great partners with Our Daily Bread, the local food resource center that does mobile markets on campus, making them our benefactor in the sense that they donate extra or leftover items to us," said Melisa Echols, OSU SGA programs coordinator.
Our Daily Bread Food & Resource Center can offer something SGA's committee cannot offer to students, which are perishable food items, Griffeth said. The partnership is valuable not only for the pantry but also for the students to have access to more options of food, she added.
Pete's Pantry has done a great job of diversifying the food products available for students, Echols said. Students can find foods of high nutritional value to supplement a healthy diet of a college student, she added.
"We try to pay close attention to dietary needs for different students when purchasing food for the pantry," Echols said. "By supplying vegetable and plant-based items, we are able to provide more than just your common nonperishable goods."
Other resources are accessible to students through Pete's Pantry, which supplies non-food items to assist students in financial stress.
"We have hygiene products such as toothpaste and shampoo, articles of clothing and heavy coats, and menstrual products," said Luke Muller, agribusiness and plant science senior. "There are resources about things on campus, too, whether that be about Supplemental Nutrition Assistance Program help, mental health aware-ness or graduate school resources.
As the SGA vice president, Muller was key to starting Pete's Pantry, Griffeth said.
"Coming from a production agricultural background and coming to a land-grant university like OSU, we pride ourselves in feeding and clothing the world, but we weren't doing a good job of that with our neighbors on campus," Muller said. "Pete's Pantry truly helps students on campus in a whole new way."
Seeing people with children enter the pantry is an eye-opening experience, Echols said. Not only single individuals receive help from Pete's Pantry, but also families and the community get aid, she added.
The whole goal from the beginning was to impact and uplift the Stillwater community, Echols said, and that goal is the most important part.
Four years ago, Pete's Pantry began as a small portion of non-perishable food on a shelf and fridge in the SGA vice president's office, Wiebe said. The platform of Pete's Pantry has expanded tremendously through hard work and leadership, impacting students on an entirely new level, she added.
"Honestly, I am grateful to be surrounded by caring leaders who want to serve other students," Griffeth said. "The joyful way in which a difference can be made and the happy place that students can spend their time is incredible."
---
Story By: Mark Scalmanini | Cowboy Journal