CAS Student Researcher Profiles
Tuesday, September 12, 2023
Media Contact: Elizabeth Gosney | CAS Marketing and Communications Manager | 405-744-7497 | egosney@okstate.edu
The College of Arts and Sciences fosters groundbreaking research across its 24 departments. Here are five students doing outstanding work in their fields under the mentorship of CAS faculty.
Devanshi Patel, Houston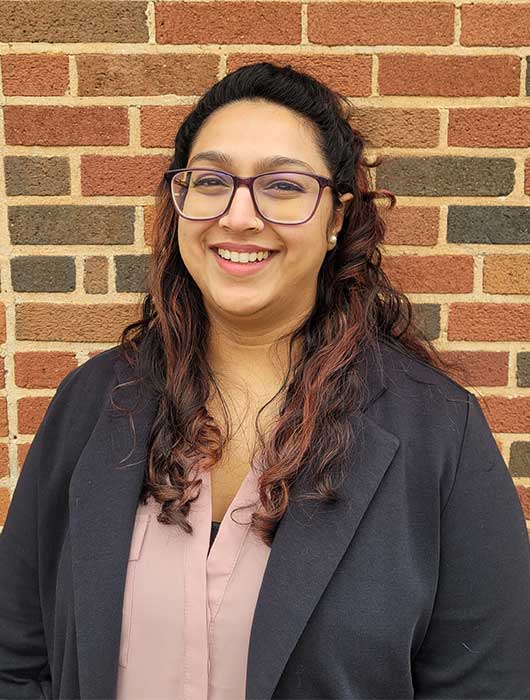 Ph.D. | Clinical Psychology
Research Mentor: Dr. Jaimie Arona-Krems
How did you begin your research?
I joined my first psychology research lab as a freshman and quickly grew to love disseminating research at conferences and community events. As a doctoral student, I found my own research interests by working with families and children, listening to the issues they experience. I now work to better understand stigmas directed at parents and families.
How has it had an impact on you?
I conduct research on stigmas that people face, specifically why people might stigmatize parents of children with higher weights. Weight-related stigma is pervasive and painful to experience. I hope that the work I do brings awareness to the lived experiences of this community. I recently published my first-authored manuscript in Psychological Science on parental stigma. It's the second paper to empirically demonstrate that people do stigmatize parents of children with higher weights, and it's the first to explore a model as to why people do this in the first place. I am now working on extending that work.
What are your future plans?
My next step is a clinical internship to complete my doctorate. I am looking forward to continuing my research trajectory by collaborating with leaders in our field who are also researching obesity, stigma and families. I think research illuminating the psychology underlying weight-related stigma will have important real-world implications.
Carrie Pratt, Kollweller, Germany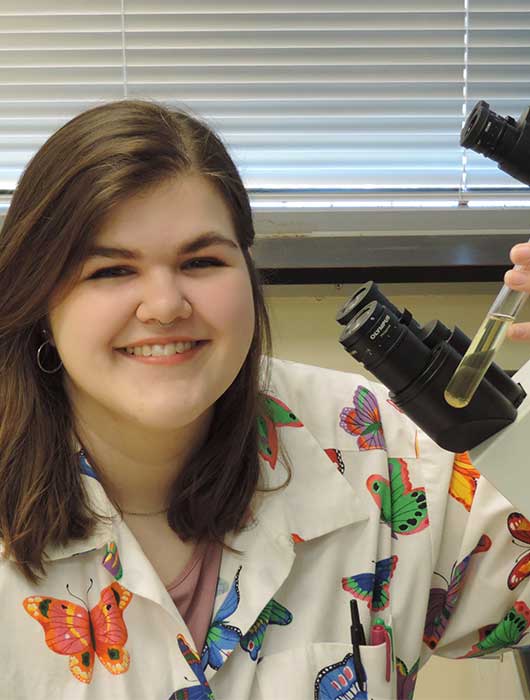 Ph.D. | Microbiology and Molecular Genetics
Research Mentor: Dr. Moustafa Elshahed
How did you begin your research?
I wanted to improve my medical school application, so the summer before my senior year at the University of North Dakota I joined a research lab studying Lyme disease. I ended up falling in love with research and deciding that medical school wasn't for me. I took a gap year and worked in another lab where I studied pollinator taxonomy and their microbiomes.
How has it had an impact on you?
My research focuses on anaerobic gut fungi that live in the digestive tracts of herbivores. I'm specifically working with non-standard hosts like birds, reptiles and marsupials. The most exciting part of my research has been my discovery of two new genera of anaerobic gut fungi that were cultured from tortoises. I presented at the 2023 Annual Meeting of the Missouri Valley Branch of the American Society for Microbiology and I recently earned the Women's Faculty Council Student Research Award, the Distinguished Graduate Fellowship and the Norman Durham Endowed Graduate Fellowship in Microbiology. I also just had a paper accepted to the International Journal of Systematic and Evolutionary Microbiology.
What are your future plans?
I'm considering pursuing a postdoctoral position in Europe, hopefully somewhere close to where I grew up. I've always planned on joining academia to be a professor, but I'm also open to opportunities in industry or government. Ultimately, I just want a position that allows me to conduct research I'm interested in.
Maghin Brewer, Tulsa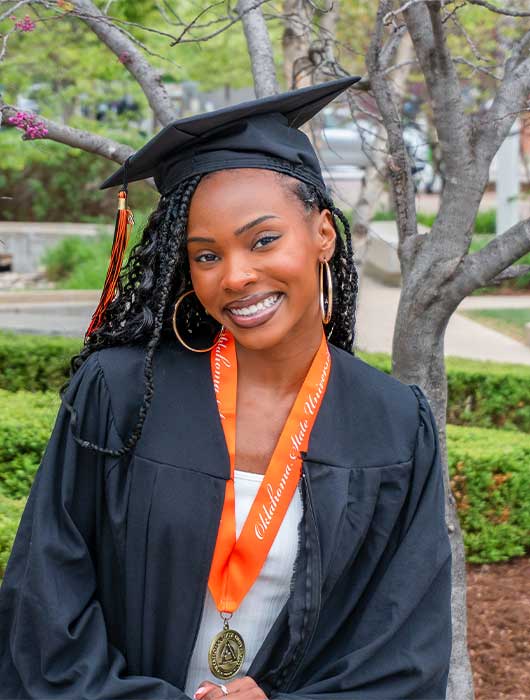 Major | English (Screen Studies)
Research Mentor: Dr. Sarah Loss
How did you begin your research?
I started doing research during spring semester 2021. I applied for the Advancing Undergraduate Research or Creative Activity (AURCA) program and wanted to do research in the English department. At first, I was hesitant because I did not know anything about linguistics, but I wanted to step out of my comfort zone, so I applied to be a research assistant.
How has it had an impact on you?
My research project is important because I was able to broaden the diversity within the study. I looked at minority groups and asked them questions that researchers in the past did not think to ask. I made the data more diverse, while being more inclusive of demographics that are often overlooked. I've presented my research a few times, including at the OSU Undergraduate Research Symposium in April and the Center for Oklahoma Studies. These were great opportunities for me to not only share my work, but also get experience with presenting to groups of people that I am not familiar with.
What are your future plans?
I graduated from OSU in 2023 with a bachelor's degree in screen studies, and I will be staying at the university to complete my master's in the screen studies program. After completing my master's, I would love to get my Ph.D. and become a professor.
Mary Vang, Sallisaw, Oklahoma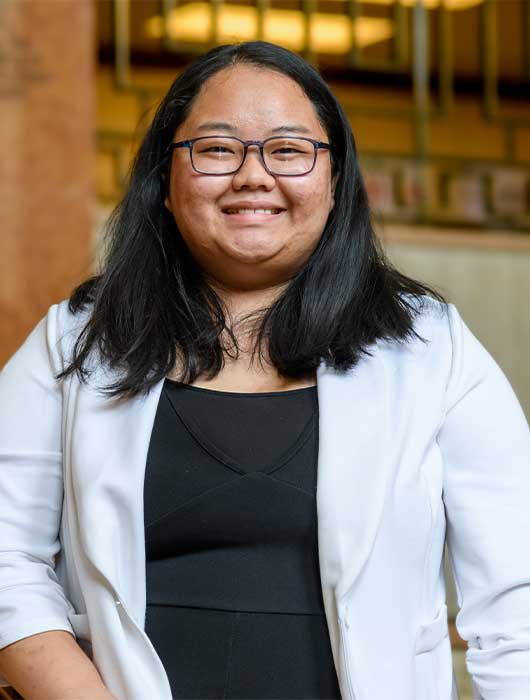 Major | Communication Sciences and Disorders
Research Mentor: Dr. Valerie Freeman
How did you begin your research?
I was first introduced to research during my second year in college through an Honors add-on course: Deaf Experience, Deaf Expression (DXDX). I was quickly drawn into the field after spending a semester on the DXDX team and through my introduction to research class. I was then accepted into the Ronald E. McNair Scholars program that assists underrepresented students with goals of obtaining doctoral degrees. Through McNair, I grew my interest in research and developed my project under the guidance of my mentor.
How has it had an impact on you?
I recently received the Student Preparing for Academic and Research Careers Award from the American Speech-Language-Hearing Association to fund my research project. I have presented my research at a variety of conferences recently, including the OSU Summer Research Expo and national McNair Scholars Conferences in California, Texas, Maryland and Missouri. I also presented my ongoing DXDX project at the Oklahoma SpeechLanguage-Hearing Association Annual Conference.
What are your future plans?
After graduating from Oklahoma State University, I plan to attend graduate school to obtain a master's degree and clinician certifications as a speech-language pathologist. In the future, I will continue my research career in a communication sciences and disorders Ph.D. program.
Hadlee Shields, Amarillo, Texas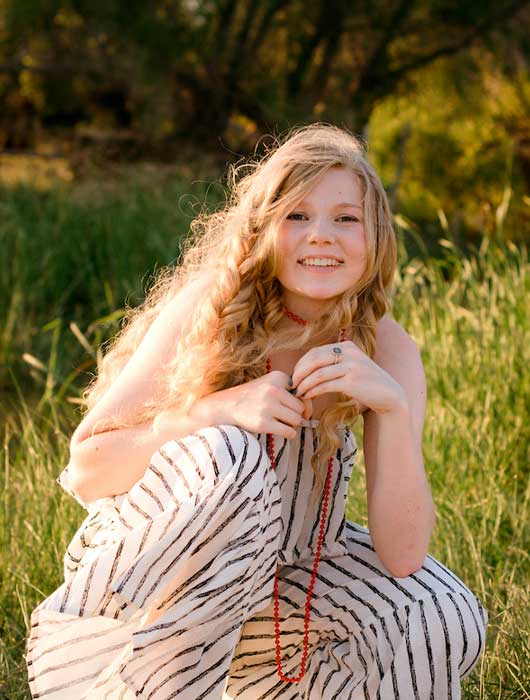 Major | Biology (Pre-med)
Research Mentor: Dr. Allison Dorko
How did you begin your research?
I knew that I wanted to get into research as soon as possible, but as a freshman, I didn't know where to start. Then I got an email about a program designed to help first-year research students find a position. I applied to AURCA, interviewed with as many possible mentors as possible, matched with a mentor and got to work.
How has it had an impact on you?
I have been working with Dr. Allison Dorko on a study looking at the learning process and how students best learn specific concepts. For example, we have found that students learn the material from lectures but truly begin understanding it when they are doing homework. Giving students more homework would allow them the chance to reinforce what they learned in class. Ultimately, I am looking for ways to improve student success. I helped Dr. Dorko create a poster, which we presented at the Oklahoma-Texas Conference on Research in Undergraduate Mathematics Education and the OSU Undergraduate Research Symposium.
What are your future plans?
I want to become a Doctor of Osteopathic Medicine. They take a more holistic approach to medicine, which I really appreciate. I would love to do my part by continuing to do research, as it plays such an important role in medicine.
---
Compilations By: Rachael Eaton | CONNECT magazine