Some people may only visit Yellowstone National Park once in a lifetime, but for Dr. Julie Angle, associate professor of secondary science education in the College of Education, Health and Aviation, once just wasn't enough — try nine times!
While the breathtaking scenery initially drew her to the world's first national park, it's undoubtedly the shared educational experience that brings her back time after time. June 2018 marked the third time Angle has led a group of Oklahoma State University students on an adventure to Yellowstone.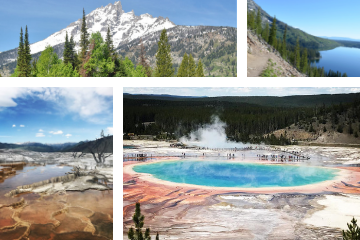 "Yellowstone is an amazing natural phenomena," Angle said. "I get such a thrill sharing this with students! This hands-on course is very dynamic and remains one of my favorite classes to teach."
The trip is open to all majors and part of a three-credit hour course designed to teach students about the biological and physical phenomena of Yellowstone and the importance of preservation. The first five days were spent on the OSU campus, introducing students to the science of plate tectonics, supervolcanoes, extremophiles, the environmental impact of humans, the reintroduction of wolves and much more.
The group spent the next seven days at Yellowstone, where the natural park became the classroom and students combined educational content with real-world experience.
"It's powerful to learn about hot springs when you're standing over the Grand Prismatic, or to learn the differences between a black and grizzly bear by seeing them in person," said Erin Hensley, a sophomore natural resource ecology and management major in the OSU College of Agricultural Sciences and Natural Resources. "You can experience the science in person; you can touch the spruce and fir needles to feel the difference as opposed to reading about it in a textbook."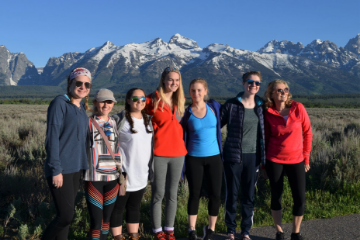 Throughout the week, students got an up-close look at earth's natural wonders. From mud pots to hot springs, geysers, alpine rivers and canyons, students explored all the park has to offer. Trip highlights included seeing 13 bears (12 black and one grizzly), hiking the Grand Canyon of the Yellowstone and the Lower Falls area, learning about the hydrothermal features of the West Thumb Geyser Basin and visiting with Yellowstone's park rangers.
"It's such an amazing experience and by far the best and most fun natural science class you can take at OSU," said Cathryn Adams, secondary education junior.
Students learned and explored every day, recording their findings in personal journals. Journal entries ranged from scientific information such as water temperature and pH levels found in geysers to the excitement of watching wildlife mere feet away to the overwhelming sensation of earth's natural artistry.
Venturing outside the classroom helped facilitate important conversations and learning experiences, and ultimately, the group returned united in its passion for preserving natural treasures like Yellowstone for future generations.
"This is not just about textbook learning, it's about taking what you've learned and applying it," Angle said. "My hope is that this experience has changed students' life trajectories, to think differently, act differently and do differently."