Every five to seven minutes, an Oklahoma State University student pilot is taking off or landing at the Stillwater Regional Airport. With a rich tradition of excellence and storied history, OSU aviation is the fastest-growing program in the College of Education, Health and Aviation.
"Our aviation program has a strong reputation, and our visibility continues to increase with the recent college name change," said John Romans, dean of the College of Education, Health and Aviation.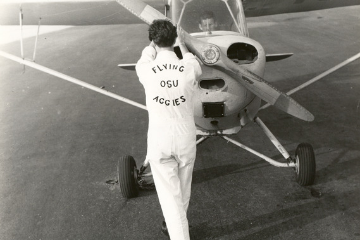 Dating back to 1935, the Civilian Pilot Training program, offered by Oklahoma A&M College and the Stillwater Flying Service under the supervision of the federal government, trained civilians who would eventually become World War II pilots. It's reported that more pilots from the Oklahoma A&M College program went into the U.S. armed forces than from any other college civilian program in the country, and that no student completing OAMC's basic training ever "washed out" of the U.S. Army Air Forces.
Today, the OSU aviation program enrolls more than 300 students annually, offering undergraduate degrees in aerospace logistics, aerospace security, aviation management, professional pilot and technical service management. It is also one of only 18 universities in the nation to offer graduate-level aviation degrees.
Within the last five years, overall enrollment in the program has increased nearly 40 percent, with the professional pilot option experiencing almost 50 percent enrollment growth. The fall 2018 freshman class is nearly double in size over last year's incoming class. This directly reflects industry demand.
According to the International Civil Aviation Organization (ICAO), 620,000 pilots will be needed to fly aircraft by 2036. To put that into perspective, that means hiring almost 492,000 new pilots, or 67 per day for the next 20 years. The ICAO also forecasts a need for 94,000 new air traffic controllers and 1.3 million maintenance professionals.
Now is one of the best times to pursue a career in aviation as airlines work to fill thousands of positions vacated by retiring pilots while demand for air travel increases. According to Boeing Global Services, more than 80,000 pilots are expected to retire within the next 20 years in the U.S. alone. Additionally, the International Air Transport Association predicts that air travel will double over the next 20 years.
"We are excited to meet the demand and secure OSU as a premier choice for aviation education," Dean Romans said. "We are committed to having the best academic-based aviation program in the country as we proudly prepare outstanding aviators who will make their mark on the industry and the world."
Upon graduating, professional pilot students will have logged at least 250 flight hours, attained Federal Aviation Administration certifications and completed high-quality aviation related coursework.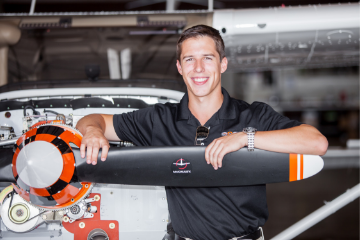 "Oklahoma State provided me with the opportunity to get all of my [aviation] ratings here as well as some of the more advanced ratings like certified flight instructor, instrument instructor as well as multi-engine instructor," said Jared Jacobs, a 2012 OSU graduate and current sales demonstration pilot for Textron Aviation. "All those things allowed me to build [flight] time quickly and get into the workforce much more rapidly."
However, OSU students earn more than just their wings during their time here; they also earn a four-year degree and have access to an exceptional college experience. The program's holistic approach allows students to balance time spent perfecting their skills with taking advantage of all OSU has to offer.
"I think that's one of our biggest selling points — the fact that aviation students are fully immersed in the OSU community," explained Meredith Shepard, prospective student services coordinator for the College of Education, Health and Aviation. "Students know they are going to receive top-notch, intensive flight training without sacrificing the full college experience."
Professional pilot students are trained at the OSU Flight Center, located north of the Stillwater Regional Airport. The 29-aircraft fleet includes new Cessna 172 and Piper Seminole multi-engine planes equipped with top-of-the-line Garmin G1000 all-glass avionic systems. High-tech simulators like the full-motion, enclosed cockpit RedBird MCX provide enhanced training for aspiring pilots.
"Safely and efficiently accommodating students is our priority," said Lance Fortney, program manager for the OSU Flight Center. "We are continuously working on upgrades to our facilities, fleet and equipment so our students have a high-quality learning experience."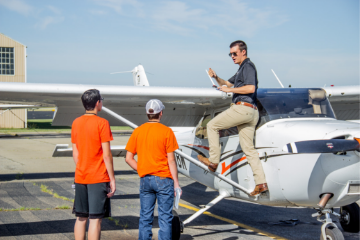 Internships and real-world experiences are central to the OSU aviation program. Students enjoy unique opportunities to interact with professional partners through the OSU-Envoy Airlines pipeline program, which gives students early access to employment opportunities while still pursuing their degrees at OSU.
"Our culture and program approach is what sets us apart," said Chad Depperschmidt, associate professor in aviation and space. "I can guarantee our students receive individual attention and cultivate meaningful relationships with peers, faculty and instructors."
Some aviation enthusiasts flock to OSU because of the historic and nationally recognized Flying Aggies. Founded in 1948 by former World War II pilot Hoyt Walkup, the student flying club has had swagger from the beginning. Members of the flight team compete at regional and national competitions, including the National Intercollegiate Flying Association's annual competition. Throughout its 63-year history, the Flying Aggies won the prestigious Loening Trophy 21 times. As the rarest and oldest of all collegiate aviation awards, it's presented annually to the outstanding all-around program in the nation. With this legacy comes an enormous amount of pride and support from alumni.
"History has shown that pilots and people trained in aviation at OSU are an elite group," said Steve Roberts, former Flying Aggies adviser. "The reason it carries that status is because of the traditions carried over the years with the Flying Aggies. I guarantee anytime I walk through an airport while I'm wearing a Flying Aggies hat or jacket, I get approached by a former member. There's a lot of rich traditions that are carried here."
Dreams become a reality as students join the Cowboy Family to pursue their passion. Whether they aspire to be pilots, air traffic controllers, airport managers or other aviation professionals, OSU graduates are ready to serve on a global scale.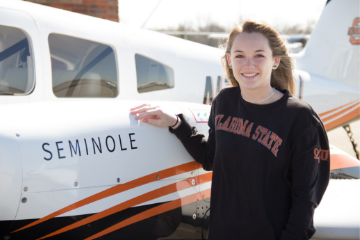 "Before choosing to come to OSU, I toured numerous schools around the country with great aviation programs," said Heather Atkinson, a sophomore professional pilot major. "Oklahoma State stood out to me for many reasons, including its small-school feel, Big 12 sports, additions to its growing aircraft fleet and clear path to the airline industry. Along with the friendly community of the OSU aviation program, I have built strong relationships with the aviation faculty and flight instructors. OSU continues to prove that I made the right decision."
The aviation program is quickly outgrowing its current space and exploring ways to keep up with increased demand. Student experience remains the top priority as the college plans for the future.
"We are strategically planning for enrollment growth, and we are steadfast in our commitment to recruit and retain the next generation of aviators," Dean Romans said. "Plans are underway for the development of a new aviation complex, which would significantly improve the student learning environment and elevate our national reputation. Our program was born from a proud beginning, and everyone involved wants to see it thrive."