Honoring Inclusion
Wednesday, October 23, 2019
Oklahoma State University continues to garner national recognition for its community engagement efforts. A project from the College of Human Sciences is the latest effort to be honored by the Association of Public and Land-Grant Universities. OSU's honored project, Engagement to Improve the Lives of Individuals with Intellectual and Developmental Disabilities, is spearheaded by Dr. Jennifer Jones, an associate professor in the Department of Human Development and Family Science.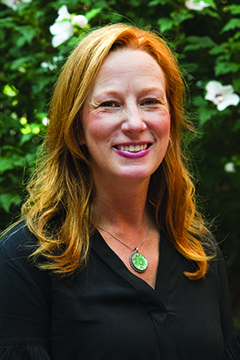 In June 2019, APLU recognized six institutions, four award finalists and two exemplary designees, for extraordinary community outreach initiatives, and OSU was included among the exemplary designees.
Jones and her team work with several community and state agencies to improve the lives of Oklahomans who have intellectual and developmental disabilities and their families.
"We are honored by this recognition because it helps bring awareness to an often-marginalized population," Jones said. "The work we do is based on the fundamental belief that disability is a natural part of human diversity and that everyone benefits from inclusion. I am grateful to work at a land-grant university that values and promotes inclusion and community engagement by providing support and resources that allow us to make a real difference in the day-to-day lives of individuals with intellectual and developmental disabilities."
This marks the second time in three years that OSU has been honored as part of this APLU awards program. OSU was one of four regional winners of the W.K. Kellogg Foundation Community Engagement Scholarship Award in 2017 before being selected as the sole national winner of the 2017 C. Peter Magrath Community Engagement Scholarship for a health collaborative between the Department of Nutritional Sciences and the Chickasaw Nation. The award recognizes programs that demonstrate how colleges and universities have redesigned their learning, discovery and engagement missions to become even more involved with their communities.
"We are extremely proud of this year's recognition," said Dr. Jorge Atiles, coordinator of the OSU University Network on Community Engagement. "We continue to build on our efforts to maximize our ability to partner and effect positive impacts in communities and in student learning and success. Dr. Jones' work with individuals and families who are a part of the developmental disability community is indeed exemplary."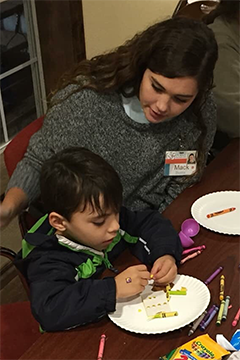 Since 2012, students in Dr. Jones' undergraduate course, HDFS 2123 Developmental Disabilities, have been engaged in service-learning. Over the past eight years, more than 1,000 students have volunteered at community agencies or in programs where they are partnered with community members with intellectual and developmental disabilities. Service- learning helps students gain valuable real-world experience.
"Most students have little or no experience engaging with individuals with intellectual and developmental disabilities when they enter my undergraduate class. A good portion of our class time is spent unpacking the experiences they are having at their service-learning site and guiding students in critical reflection," Jones said. "I am intentional in our discussions and in writing assignments to assist students in challenging, but not necessarily changing, their attitudes, beliefs, assumptions and stereotypes regarding intellectual and developmental disabilities and diversity. By actively engaging in service- learning, students not only benefit from a better understanding of individuals with intellectual and developmental disabilities from these projects, they often gain a better understanding of themselves."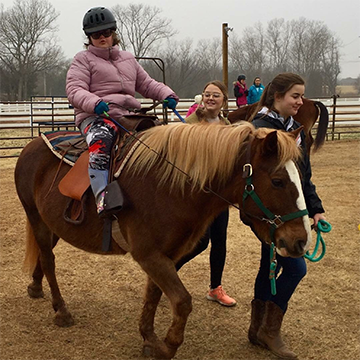 One of the community agencies that Jones and her team partner with is Turning Point Ranch, an accredited therapeutic riding center in Stillwater.
Through its partnership with Turning Point Ranch, OSU helps more individuals with intellectual and developmental disabilities receive horse therapy, which has significant benefits for the population, according to research. The partnership has also made possible the co-creation of several presentations.
"I have been so fortunate to connect with committed community partners who value students and help scaffold their understanding through the experiences they provide," Jones said. "The staff at Turning Point Ranch has gone above and beyond in their commitment to OSU students providing valuable instruction and feedback to students and exceptional communication with me and my team. Without strong relationships with community partners, students would not gain the benefits of these experiences."