A Legacy of Pioneering Vet Med Research Continues
Wednesday, February 21, 2018
For 70 years, CVHS research has touched both animal and human lives
By Derinda Blakeney
On March 1, 1948, the doors to the Oklahoma A&M School of Veterinary Medicine opened to 31 eager men. Twenty-six would complete the program, earning doctor of veterinary medicine degrees in May 1951. Oklahoma A&M changed its named to Oklahoma State University in 1957, and the school became the College of Veterinary Medicine until 2004 when the CVM became the Center for Veterinary Health Sciences (CVHS). The vet school's 70 years of instruction and research will be celebrated in 2018.
Throughout its history, CVHS has been home to world-class research in bacterial and viral diseases, parasitology and tick-borne infections, exercise physiology, lung and respiratory diseases, toxicology and many other areas impacting the health of both animals and humans. Here are the key research areas where OSU has had widespread influence in animal and human health:
Bovine Disease
Bovine respiratory disease (BRD) costs Oklahoma's cattle industry more than $200 million annually in lost productivity, treatment and deaths.
As early as 1969, Professor Emeritus Roger Panciera began researching BRD. Anthony Confer, Regents Professor and Eminent Faculty member, and Robert Fulton, Regents Professor Emeritus, with others, delved into bovine viral diarrhea, vaccines and bovine respiratory coronavirus. Clinton Jones, Sitlington Chair in Infectious Diseases, studies bovine herpes virus 1 (BHV-1) and herpes simplex virus type 1 (HSV-1). Since BHV-1 is one of the most important viruses associated with bovine respiratory disease, Jones seeks to make vaccines that protect animals from infection and prevent latency. Fellow scientist Jean d'Offay, who also studies BHV, examines viruses including an AIDS-like virus in baboons.
"Understanding what gets the virus to cause serious disease will allow researchers to develop a better vaccine," d'Offay says.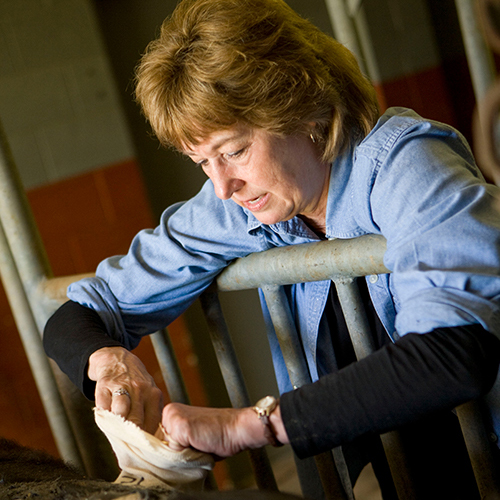 Ticks and Tick-Borne Diseases
Katherine Kocan, Regents Professor Emerita, spent more than 40 years researching ticks and tick-borne diseases. Kocan identified the pathogen Anaplasma marginale in ticks, described the complex developmental cycle and defined tick transmission patterns. She developed a cell culture system for A. marginale, reducing the need for animals in research. Kocan's team developed a new bovine anaplasmosis vaccine for cattle and a sheep model for the study of human granulocyte anaplasmosis.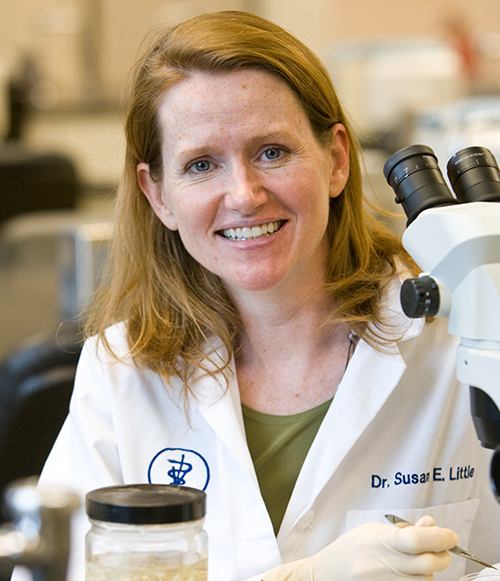 Parasitology
The founding department head was legendary parasitologist Wendell Krull. One of his students, Sidney Ewing, Eminent Faculty and Professor Emeritus, continues Krull's work. Ewing first described the bacteria Ehrlichia canis in North America, and later identified new species including E. ewingii, which was named after him.
Regents Professor Susan Little holds the Krull-Ewing Endowed Chair. A renowned parasitologist and tick expert, Little studies organisms and tick-borne diseases affecting dogs and humans. She also founded and is co-director of the National Center for Veterinary Parasitology, housed at CVHS.
Tularemia, or rabbit fever, research was started with Panciera, continued with Rebecca Morton, professor emerita, and continues with others in parasitology. Tularemia can be transmitted to people from ticks and infected wildlife and attacks many organs. While treatable, tularemia can be fatal.
Biomedical Laser Surgery Laboratory
Percutaneous laser disk ablation surgery for dogs was perfected by Kenneth Bartels, professor emeritus. Small needles are inserted into the intervertebral disk and serve as the fiber conduit for the holmium laser, which vaporizes the nucleus of the disk, preventing it from herniating.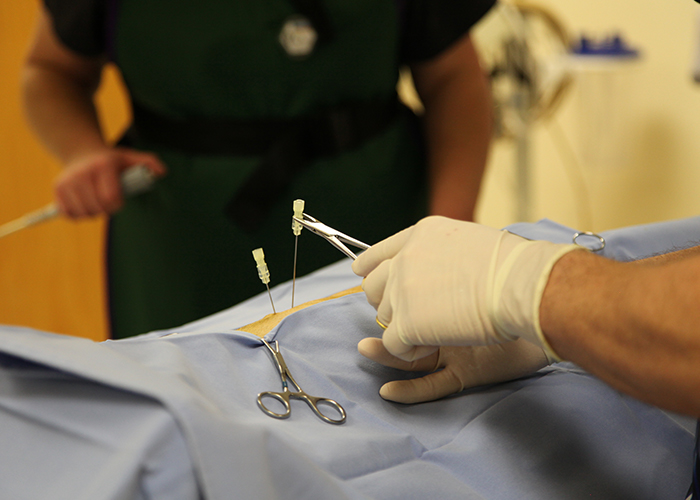 Animal Exercise Physiology
Michael Davis, the Oxley Chair in Equine Sports Medicine, has achieved research success through the center's Comparative Exercise Physiology Lab, including looking at how Iditarod sled dogs persevere in the grueling race in Alaska and how that equates to human behavior. The research could be used to enhance battlefield performance by military personnel during sustained deployments. Davis has demonstrated that explosive-detection dogs are susceptible to exercise-induced gastric ulcers, similar to other animal and human athletes.
Equine Research
Early veterinary medical researchers at OSU have been credited with important discoveries in equine surgery techniques and equipment including the development of one of the first gas anesthesia machines by E. Wynn Jones and abdominal surgery pioneered by Lester Johnson. Dianne McFarlane, Ricks-Rapp Professorship in Musculoskeletal Research, investigates biological changes that accompany aging and age-related factors that promote the risk of neuro-degenerative disease.
Interdisciplinary Neurotoxicology
Carey Pope, Regents Professor and Sitlington Chair in Toxicology, studies the effects of toxic compounds on humans, animals and the environment. His work impacts pesticide risk assessment and how chemicals in different classes are evaluated and regulated. Pope's lab is working with a group of scientists on a project to protect soldiers and first responders from nerve agents.
Pope was instrumental in establishing the university's Interdisciplinary Toxicology Program, which fosters collaborative research among faculty from different disciplines and cross-trains students in the use of multidisciplinary research.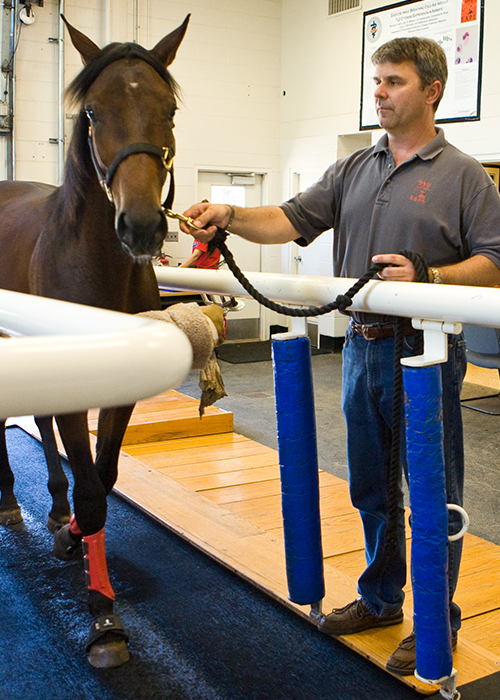 Oklahoma Center for Respiratory and Infectious Diseases
OCRID was established with an $11.3 million National Institutes of Health grant. The center is directed by Lin Liu, a Regents Professor who holds the Lundberg-Kienlen Professorship in Biomedical Research.
OCRID research includes the collaborative study of influenza virus infection and lung diseases conducted with OSU colleges, the University of Oklahoma and the Oklahoma Medical Research Foundation. Liu also works with the Oklahoma Center for Adult Stem Cell Research.
Results of early stem cell experiments suggest the treatment of many diseases and injuries could benefit including lung, heart, Alzheimer's and Parkinson's diseases as well as cancer, diabetes and spinal cord injuries.
Other CVHS research leaders
Richard Eberle, Lara Maxwell and Grant Rezabek focus on herpes viruses that affect primates, humans and horses. Monkey B virus and Herpesvirus Papio 2 (HVP-2) can produce horrific neurological disease and death in most infected people.
Maxwell and Rezabek are also working on a multidisciplinary team studying the mitigation and prevention of equine herpesvirus myeloencephalopathy.
Pamela Lloyd and her team study cardiovascular physiology in humans and animals.
"People with atherosclerosis would benefit where one of their arteries is blocked so the heart isn't getting enough blood," Lloyd says. "By getting blood vessels to grow around that blockage, this could potentially replace a bypass surgery and prevent heart attacks."
Ashish Ranjan, Kerr Foundation Endowed Chair, focuses his research on cancer.
"Current cancer therapy usually relies on systemic delivery often resulting in adverse side effects in normal tissues and insufficient drug delivery to the targeted cancerous tumor," Ranjan says. "Encapsulation of a chemotherapeutic agent into a nanoparticle has the potential to reduce systemic toxicity and enhance drug delivery."
A large part of the future at CVHS depends on training research scientists. Since 1995, veterinary students have participated in the Veterinary Summer Research Training Program where they spend 12 weeks immersed in a faculty-mentored research project. The goal of the program is to foster the development of the next generation of veterinary research scientists.